In this article, we will fully introduce you to the Instagram Threads social network, Twitter's competitor, and teach you how to use it.
We've known for some time that Meta, the company that owns Instagram, is working on a new social network to compete with Twitter. Now this social network has been released under the name of Instagram Threads or simply Threads and wants to challenge Twitter. But what is Instagram Threads and how can we use this program? In this article, we will tell you everything about the Instagram Threads program.
Twitter has changed a lot since Elon Musk, the richest man in the world, took over. These changes, which were sometimes not according to the wishes of users, made some go to alternative social networks, including Bluesky. Meta also used this opportunity and launched his new social network. Stay with Rayabaan in the future so that we can fully introduce you to Instagram Threads.
What is Instagram Threads?
Instagram Threads is a text-based version of the popular social network Instagram, which was developed to compete with Twitter. While Instagram focuses on photos and videos, Threads, like Twitter, focus on text, although you can share photos and videos as well.
The Threads app was released on Thursday morning for Android and iOS. This social network now also has a web version, but its functionality is more limited than its application. In addition, there is no news of Threads software. Therefore, to fully use this social network, you should go to its application on Android and iPhone phones.
It should be noted that the Threads app has some shortcomings right now. For example, to delete your Tradez account, you must delete your Instagram account. Or that there is currently no ability to send private messages or direct messages.
Download the Instagram Threads app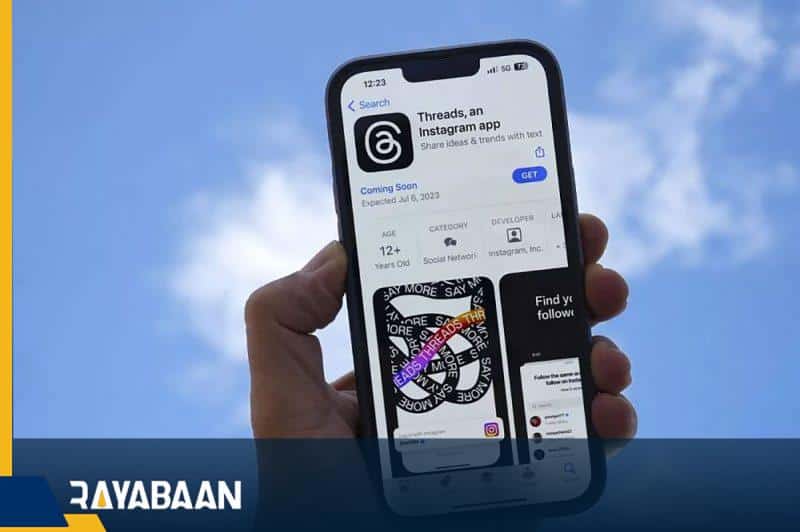 The Threads app is available for iOS or iPhone as well as Android phones. To download the Threads social network application, use the following app box:
Threads, an Instagram app for iPhone                                         Threads, an Instagram app for Android
How to register and log in to the Instagram Threads application
Now that you are familiar with InstagramThreads and have downloaded it for your Android phone or iPhone, we want to teach you how to register and enter it. By opening this program, at the bottom, you will see a bar with the words "Log in with Instagram" or login with Instagram.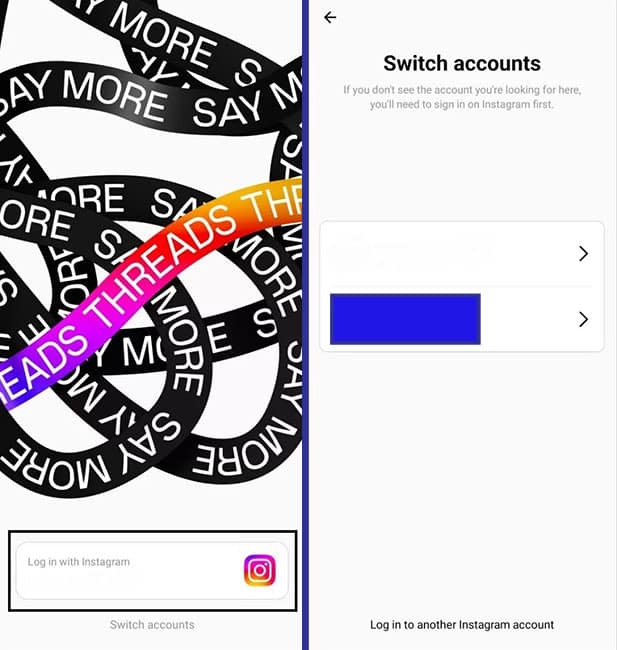 Due to this feature, you don't need to do anything special and you can enter Threads with your Instagram account. If you have several accounts, you can select "Switch accounts" at the bottom of the page. By doing this, you will go to a new page where your Instagram accounts will be in front of you. In general, after selecting your Instagram account, you will enter Threads.
How to use Instagram Threads
After entering Trends, you will face a screen with several options or icons in the lower part, which are as follows:
A home icon that takes you to the main feed.
The magnifying glass icon by which you can look for the account you want and it will take you to the search page.
Paper and pen icon that allows you to write a new crisp.
The heart icon shows your activities and of course, there are several options at the top of this page such as All and Replies.
A human-like icon that takes you to the Threads profile.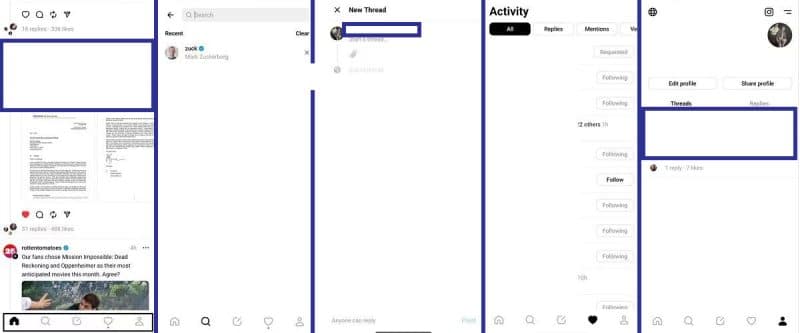 You can like, repost or quote posts on Instagram Threads and also share them on other social networks like Instagram and even Twitter.
To write a new trade, just click on the pen and paper icon and start writing the desired text. Of course, like Twitter, we are facing a character limit on this platform, and the Instagram Threads program has a limit of 500 characters. By selecting the paper clip icon, you can add a photo, video or gif file to your post.
It's good to know that there is an Instagram icon on the profile page above your photo, and by selecting it, the Instagram application will open and you will go to your profile on this social network.
Instagram Threads app settings 
Like any other application, Threads has its own settings. Meta decided to consider a separate icon for privacy settings, although there is also a privacy option in the main settings. In this section, you can make your account private or public, control mentions, mute accounts or hide words. Also, see the profiles you follow in this section and in the Profiles you follow option.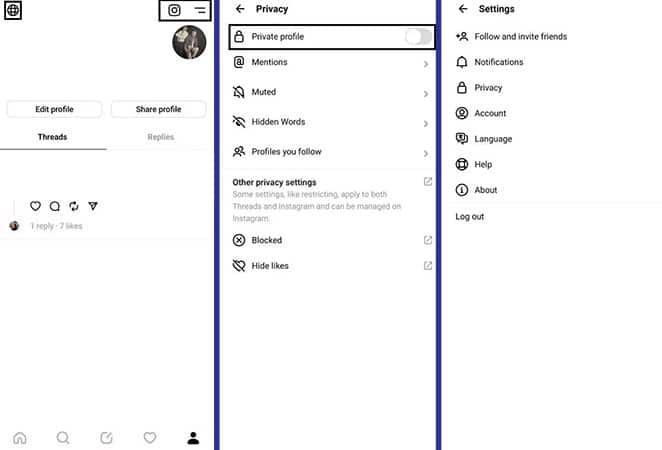 On the upper right side of the profile and next to the Instagram icon, there is an icon with two lines, by selecting it, you can access the settings of the Threads program. In this section, you can control notifications, change your account settings and even log out of your account. In the account section, it is also possible to temporarily disable your account, but as we said, to delete it, your Instagram account will be deleted.
Conclusion 
In this article, we told you everything about the Instagram Threads program. Instagram Threads is the new meta-social network that wants to compete with Twitter. Unlike Instagram, Threads does not have software for computers, but you can view different profiles in its web version, although for full use, you need to go to the Threads app on Android and iPhone phones.
Instagram's Threads app is still at the forefront and we have to wait for more features to be added to it, however, tens of millions of users have already joined it. Instagram Threads is expected to have hundreds of millions of users soon and become a serious threat to Elon Musk's Twitter.
---
Frequently asked questions about Instagram Threads
What is Instagram Threads?
Instagram Threads is a social network owned by Meta, which is a text-based version of Instagram and wants to compete with Twitter. The Threads application has been released for Android and iPhone, and it also has a web version.
Is the Instagram Threads app free?
Yes, Threads is free and you don't need to pay to use it.
How can we register and use Instagram

Threads

?
It is not possible to use Threads with an Iranian IP, so you must first go to the IP changing tools. After changing the IP, you can log in to Threads with your Instagram account and post on it, see other people's posts, and follow the accounts you want.
Where to download the Threads program?
You can download the Instagram Trends application for Android phones from Play Store and for iPhones from App Store.