Disabling the Instagram page or reducing its access level can happen for various reasons, including receiving reports from other users. Although such an event may not be a problem for personal user accounts, it is considered a serious threat to public pages, including businesses, and can cause serious damage to their activities. Fortunately, there are ways to solve the problem and fix the Instagram report in the mentioned cases, which we will discuss further.
Why is the Instagram account deactivated or reported?
The internal rules of Instagram, along with other social customs and terms of use of this social network, must be followed by the user accounts in it. In case of violation of the mentioned items, Instagram will block the accounts or reduce their access level. This phenomenon may occur as a result of receiving reports from other users, and if Instagram has confirmed the authenticity of the reports, it is possible that there is no chance to recover the account.
How to recover reported Instagram account
Most of the time, basic and simple methods such as asking for comments in English or changing the email and mobile number are used to fix the Instagram report. But the most effective way to do this is to contact Instagram support. You can state in your report that the reports were not true or that the error occurred unintentionally. If your user account has been reported, register a report by visiting this page and waiting for the result.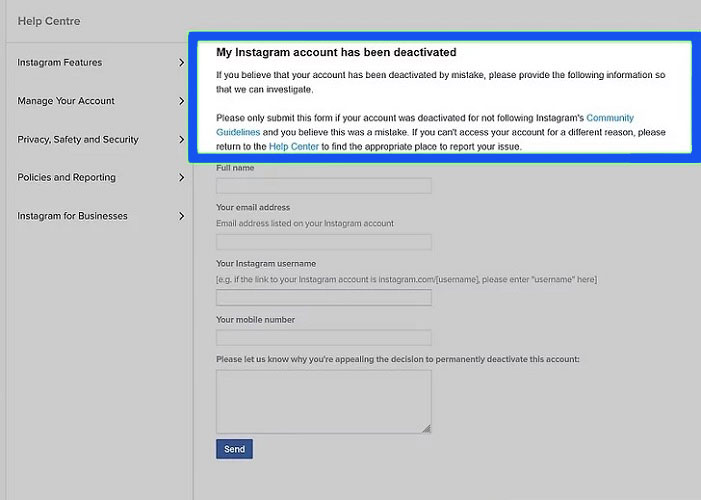 After entering your username and password, you may encounter a message that your account will be deleted in the near future. In such a situation, you will see two options "Download Data" to download all account information and "Request Review" to register a review request. Choose the second option and then explain the name, username, and reason for the error. Instagram's decision will usually be notified to you within 24 hours.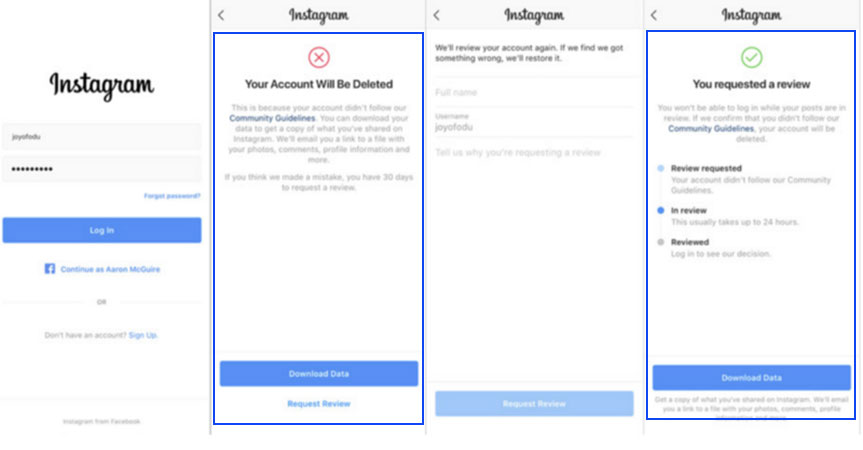 Sometimes there may still be access to the reported user account, but it is not possible to perform some activities such as liking other people's content and replying to direct messages. In this case, first, go to Settings and then click on "Help". Next, select "Report a Problem" and select "Report a Problem" again from the displayed window. Now register your request to remove restrictions along with other details.
Reinstalling the application, changing the IP and using the usual Internet network, connecting Instagram to the Facebook user account, logging into the account through other devices, and even waiting for a while can be other methods that help to fix the Instagram report. But without a doubt, filing a report and contacting support will be the most effective way.
Frequently asked questions about How to recover reported Instagram account
How to get out of the Instagram report?
There are several solutions to get out of the Instagram report, which you can read in the article.
What are the reasons for being reported on Instagram?
There are many reasons for reporting, some of them are serious and some are less important. In general, anything that is considered a violation of Instagram rules can disrupt your activity. This is fully explained in the article.
How long does Instagram report take?
Depending on the account being reported, your activities will be limited for several days. If this process takes a long time, you can try different solutions as mentioned in the article, or send your problem report to Instagram.
Does leaving an English comment make us leave the report?
No, leaving English comments, even in large numbers, does not have an effect on removing your account from the report, and it is better not to bother yourself with these things.
In this article, we checked what we should do to fix the Instagram report. Do you have the experience of being reported on Instagram? What method did you use to get out of that state? We are waiting for your valuable comments and experiences in the comment section.