How to use multiple WhatsApp accounts on desktop
If you are a professional WhatsApp user, you must know that with the web version, you cannot manage two WhatsApp user accounts at the same time, and this means a limitation; a limitation that affects people with multiple accounts. In fact, the mentioned limitation means that you have to log out of your current WhatsApp account to use the second user account, which is not interesting at all.
How to use multiple WhatsApp accounts on desktop
But fortunately, there is a solution for every software problem, and the solution to solve this problem is also given in the article in front of you. With two very simple solutions, you can simultaneously manage two WhatsApp accounts (or more than two accounts) in the Chrome browser. In the following, we will review these solutions together, so stay with us until the end.
The first method: "Incognito" mode to manage two WhatsApp accounts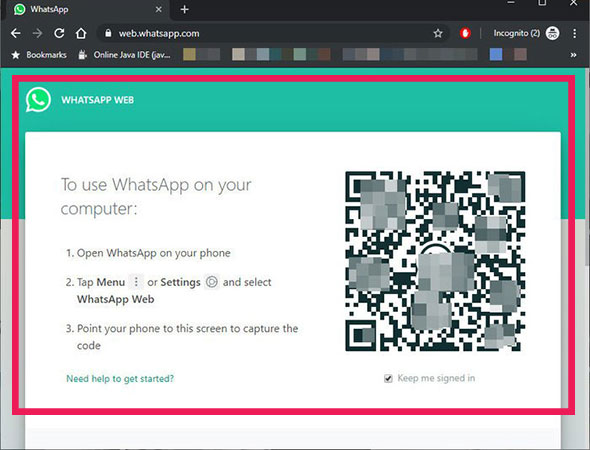 This is one of the easiest and fastest methods. All you have to do is open an "Incognito" tab in the Chrome browser. In a normal tab, you open WhatsApp on the web and do the same thing once again in an "Incognito" tab and scan the "QR Code" in both and that's it; Now you can manage two WhatsApp accounts simultaneously in one browser.
Of course, like all software solutions, this solution also has limitations. The first thing is that you will be immediately logged out of your user account by closing each tab and you will need to scan the QR Code again to log in (which, of course, the strange and illogical structure of WhatsApp is not to blame for such a limitation!).
With this account, it would be great if there was a way for the browser to somehow save your login information. But is such a thing possible? We will say in the second solution.
Note: Opening the Incognito tab is not limited to the Google Chrome browser. You can do this in Firefox and Opera.
The second solution: using the "Session Box" extension for the browser
The extension that we introduce to you is not only used for WhatsApp, but its applications can be very large and wide. Session Box allows you to create a separate session for each login; Whether it is for WhatsApp or Facebook or Twitter.
But the story does not end here. Session Box can save all sessions in the browser so that logging into different user accounts is as simple as pressing a button. Apart from these, you will be able to open a single session in different browsers (by sharing a link) and even create temporary sessions.
Download the Session Box plugin
Let's walk through how the plugin works.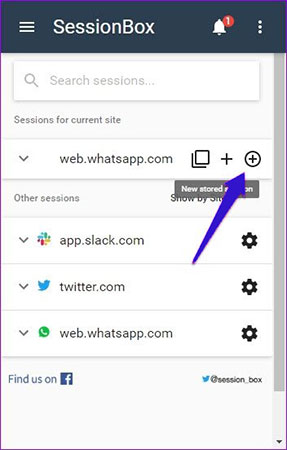 Step 1: After downloading and installing the extension, open WhatsApp on the web in the browser and log in to your main user account in this messenger.
Then click on the "Session Box" icon in the status bar. Now a card titled "Sessions for current page" will appear. Click the "+" icon to create a new "Session".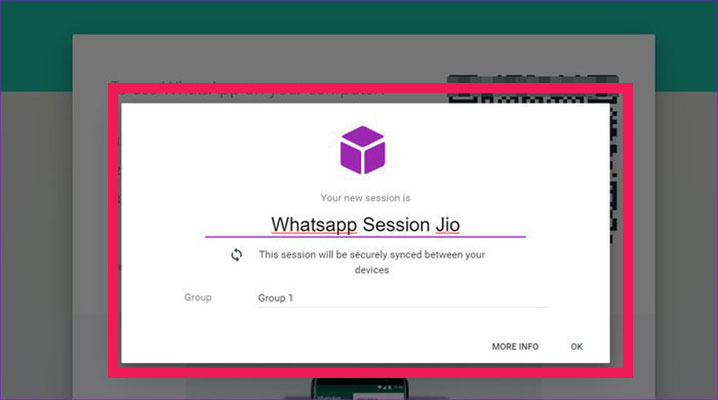 Step 2: Now you can name your session. Here, it is preferable to use simple names that will not confuse you later when switching between different accounts. Fortunately, the plugin allows you to consider a specific color for each session so that you don't confuse them.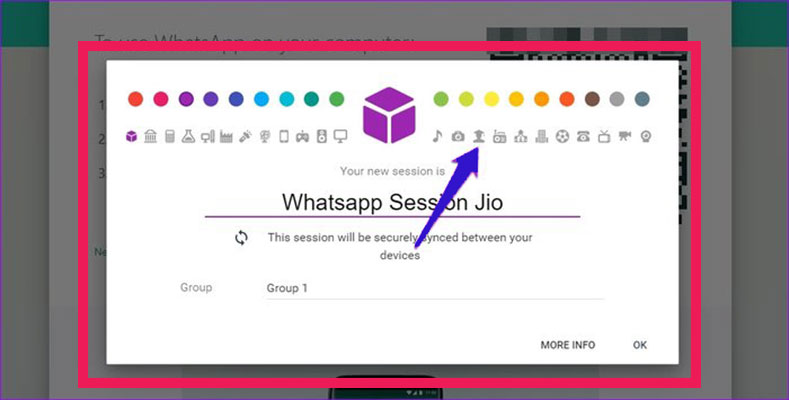 Note that the plugin synchronizes each session between different systems. To prevent this, just click on the "Sync" icon below the names.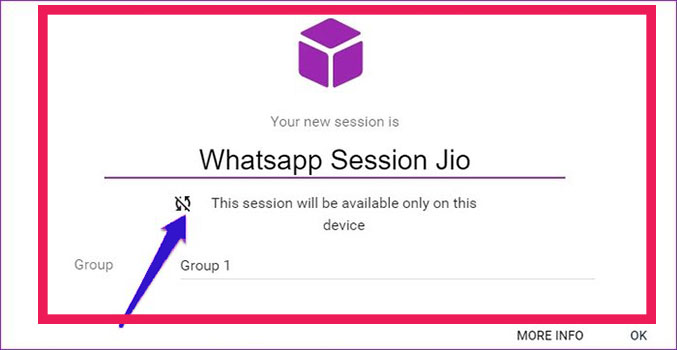 The best thing about this plugin is its ability to remember your login information. When you have done all the above steps, click "OK" to create a new session for you.
Step 3: In the next step, you need to scan the "QR Code" using your second WhatsApp account. Just this is enough to have two WhatsApp user accounts in the browser at the same time. In this mode, you can quickly switch between your different accounts by pressing the "Ctrl+Shift+Tab" keys at the same time.
But the great thing about Session Box is that it remembers your login credentials. Therefore, unlike the first solution, even if you close the browser tabs, when you log in again, you can point to the Session Box icon, select the session you want and log in to your WhatsApp account; simply.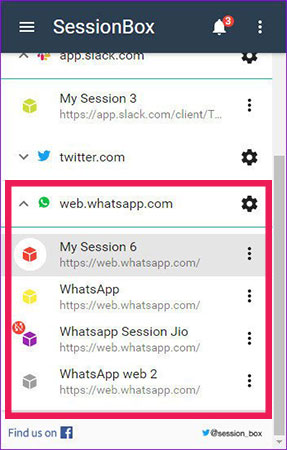 Fortunately, this feature of Session Box is not only limited to WhatsApp and its features can be used to open multiple user accounts on Twitter, Facebook, Instagram, and other social networks at the same time. Also, if you no longer need a particular session, you can simply delete it from the "Session Box" plugin memory. Just point to the plugin's three-point menu and click "Delete".
Note: The Session Box plugin allows you to create temporary sessions so that you will no longer be involved in the process of naming and determining the color and you will enter the login page directly.
Other features of the plugin
The Session Box plugin is not without flaws. Sometimes it has small and large bugs that interfere with its operation. In addition, all the features it offers are not free.
For example, to access the ability to create bookmarks and share links in the second system, you will need to purchase the pro version of the plugin.
Plugin keyboard shortcuts
Using Session Box keyboard shortcuts can save you a lot of time. So it is better to learn them.
Pressing "Ctrl+Shift+X" at the same time will open a new "Session", and "Ctrl+Shift+S" will bring up the plugin dialog box.
In this article, we talked about "How to use multiple WhatsApp accounts on desktop" and we are waiting for your experiences to use these methods. Please share your thoughts with us.