Telegram has been one of the most popular messaging applications in recent years, which, despite all the limitations, is still very popular among users. The bots of this messenger are one of its practical features that can be useful in different situations. In the following, we will introduce the best Telegram bots and how to access them.
We have a wonderful surprise for you: Create a Telegram Bot in 10 Minutes with ChatGPT!
See the video tutorial at the end of the article.
What is a Telegram bot?
A Telegram bot is a program that provides functions and automation that Telegram users can use in chats or channels or groups. To build these bots, you can use the bot maker of this platform called Botfather or its API. Certainly, the API method provides developers with more possibilities that can be used to build advanced robots.
The applications of Telegram bots are:
Automated newsletters
Sending content from social media or blogs to Telegram
Instant notification system
Providing support services to customers
Providing common questions and answers
file management
Translation
Best telegram bots
The number of bots developed for Telegram is very large, and each of them provides a specific function to those interested. However, some robots are more useful. Also, if you are looking for a robot with special features, you can contact our experts who will offer you the best:
@PollBot – Create and participate in polls
@gif – Search and send GIFs
@WeatherManBot – Get weather updates
@TodoBot – Manage and keep track of tasks
@SpotifyBot – Control Spotify music playback
@StickerBot – Search and send stickers
@Tarjimly – Translate text into different languages
@LikeeBot – Create and share short videos
@QuizBot – Take quizzes and test your knowledge
@StoreBot – Discover and explore new Telegram bots
@Botfather bot- (Telegram bot creation tool)
@IFTTT bot- (automation tool and connection with 360 other online platforms)
@NewFileConverterBot bot
@utuberabot- YouTube download bot
@LikeBot-The best telegram-like bot
@instatoolboxbot-Instagram download bot
@twittervid_bot-Twitter download bot
@mp3toolsbot-The best Telegram song-editing robot
@reddit_download_bot-Reddit download bot
@CryptoSignalBot
@EbayBot
@AmazinBot
@NewsBot
@BookBot
@MusicBot
@PodcastBot
@MovieBot
@GameBot
best telegram bots for music
Here are some of the best Telegram bots for music:
@deezerbot
@spotifybot
@mp3musicbot
@vkmusic_bot
@apple_music_bot
@ytmp3_bot
@pandorabot
@soundcloudbot
@playlist_sharing_bot
@rdio_bot
best telegram bot for students
StudyBot – for organizing study groups and sharing study materials@
best telegram bots for Instagram
Here are a few popular Telegram bots for Instagram:
InstaBot
InstaPy Bot
InstaRocket
InstaPlus Bot
InstaPromote Bot
These bots provide features such as auto-liking, auto-following, auto-commenting, and other automation services to help you grow your Instagram account. Keep in mind that using these bots goes against Instagram's terms of service and can result in your account being banned or penalized.
best telegram bots for Tamil movies
Here are a few popular Telegram bots for Tamil movies:
@tamilrockers_bot
@tamilmv_bot
@TamilMovies_bot
@tamilbluray_bot
@tamil_cinema_bot
best telegram bots for anime
Here are some popular Telegram bots for anime:
@Anime_Manga_Bot
@AnimeWallpapersBot
@AnimeBot
@MyAnimeListBot
@AnimeQuotesBot
@AnimeAiringBot
@AnimeFactsBot
@AnimeFunnyBot
@AnimeNewsBot
@AnimePicturesBot
In the following, we will learn how to use 10 top and practical robots.
1. Botfather bot (Telegram bot creation tool)
The Botfather is the official bot provided by Telegram. Users can create their desired Telegram bots using this bot according to their specific needs. The attractive features of this tool have made it the starting point for building most bots on the Telegram platform.


As you can see in the image above, you can access the "Botfather" command list by typing the / character. For example, the command "newbot/" is used to create a new bot and "mybots/" is used to view previously created bots.
2.
IFTTT bot (automation tool and connection with 360 other online platforms)
IFTTT or IfThisThenThat is a platform that focuses on connecting different web services and creating automation for users. The telegram bot of this platform can connect your group or channel to 360 external services including Instagram and Twitter and many other social networks and online services.

Also, this bot allows you to set actions based on the conditions of their occurrence to be executed automatically. For example, with this bot, you can automatically publish Twitter updates of certain user accounts in your Telegram group, or whenever your username is mentioned on Twitter, its message will also be sent to your Telegram.

The IFTTT robot provides you with straightforward and practical commands, an example of which you can see in the image above. For example, you can use the "connect_group/" command to connect IFTTT to your chat groups. In a similar way, you can use the "connect_channel/" command to connect IFTTT to your Telegram channel.
3. NewFileConverterBot bot
With the File Converter robot, you can convert all types of files to your desired formats. This robot is a versatile swiss army knife for converting files. To use this tool, you must send the desired file to its chat space. This robot will automatically recognize your file format and provide options to convert it to other formats. After choosing the final format you want, your file will be converted and you can download its new version in the new format.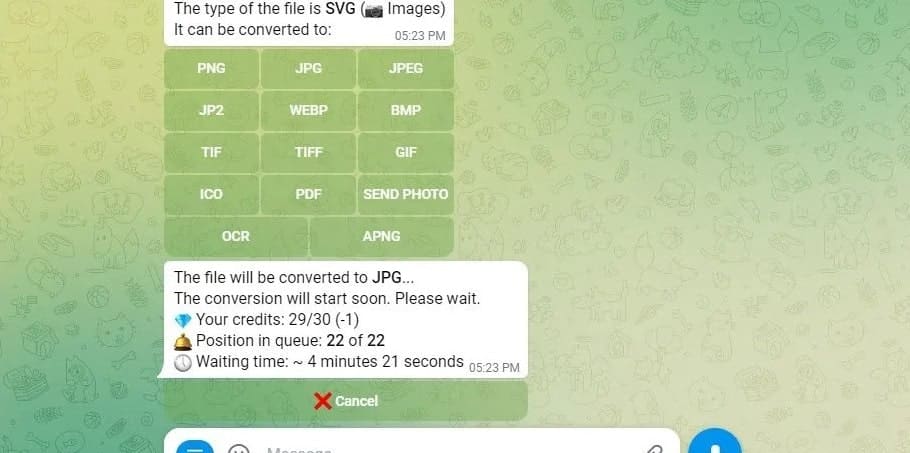 As you can see in the image above, we sent the SVG version of the logo to the bot and then converted it to JPG format. Depending on the size of your file, the process of converting and rendering the final file may take several minutes.
4. YouTube download bot
Downloading videos from this platform has always been one of the biggest challenges for users. Fortunately, various robots have been created to do this, which can upload the file in Telegram after receiving the desired video link. The bot "utuberabot" is an example of such a case, which shows stable performance.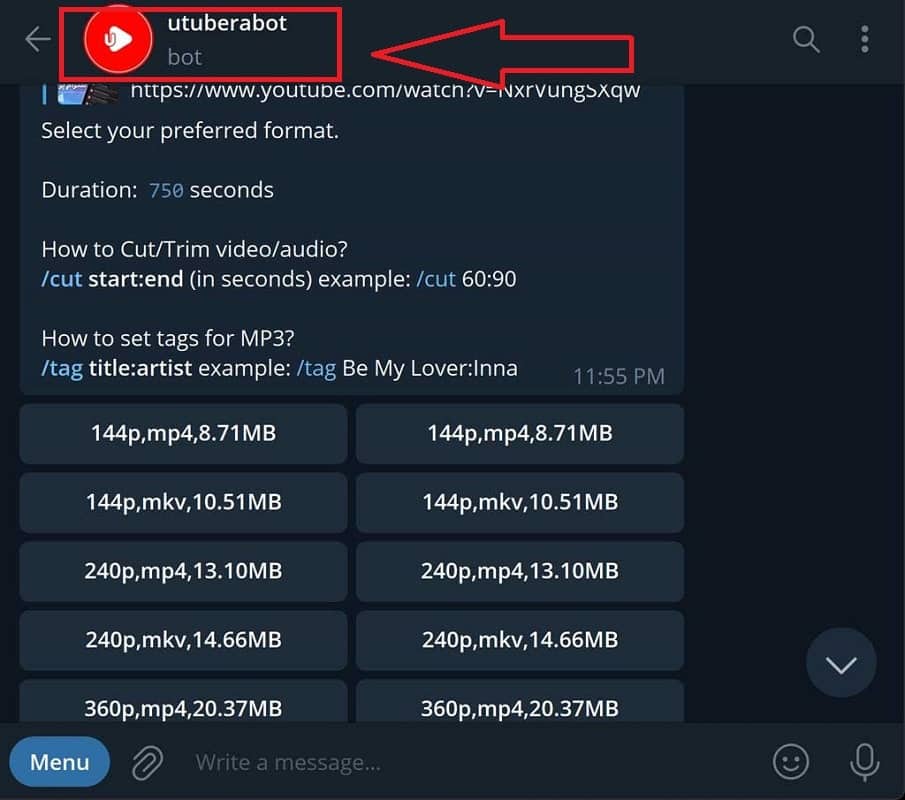 One of the capabilities of the mentioned bot is to display popular videos in different countries. To do this, just select the Trending option from the menu and then click on the desired country. It is also possible to select different qualities from a video to download and extract audio independently.
5. The best telegram-like bot
You have probably seen the presence of the like button under the posts of some channels. This tool can be a suitable option for measuring audience interest in published posts. Although it is now possible to react to posts with the help of emojis, the like button is still visible on many channels. To activate such a feature, you need to go to the "LikeBot" robot.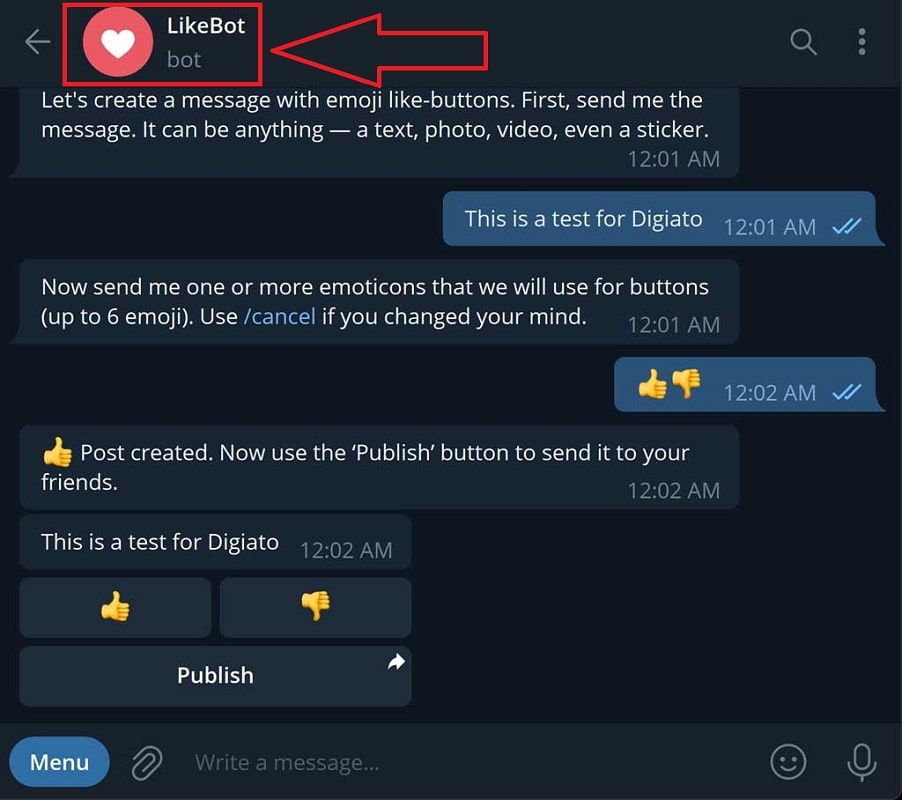 After searching for the name of said robot and entering its dedicated page, it is enough to press the "Start" key. Next, you can send the content of the desired post (including text, photo, video, etc.) to it and then send the desired emojis (up to 6 numbers). Finally, the post with the like button will be sent to you and you can send it to the desired channel or group by clicking the "Publish" option.
6. Instagram download bot
Content download bots from Instagram are associated with many ups and downs; So some of the best titles of the past years are now out of reach of users or most of their features can only be used for money. At the time of writing this article, the Instagram Toolbox bot is considered one of the best Telegram bots for downloading posts, stories, and IGTV, which will not cost anything to use.
To download various items from Instagram, first, enter the term "instatoolboxbot" in the Telegram search bar to enter the bot page and then press the "Start" key. Now you can have it in the form of a video uploaded in Telegram by sending the desired post or IGTV link to the bot. The case for downloading stories is different and if you enter the link of a story, all the stories available on that page will be sent to you. Also, if you enter a long IGTV, you will receive a direct download link instead of the uploaded file in Telegram.
7.
The best Telegram quiz bot
Quizzes are one of the common ways to attract an audience and entertain users in Telegram channels and groups, which can be created with the help of robots. The "Quiz Bot" robot is one of the items approved by Telegram, which is available for free to those interested and can be used to create custom quizzes.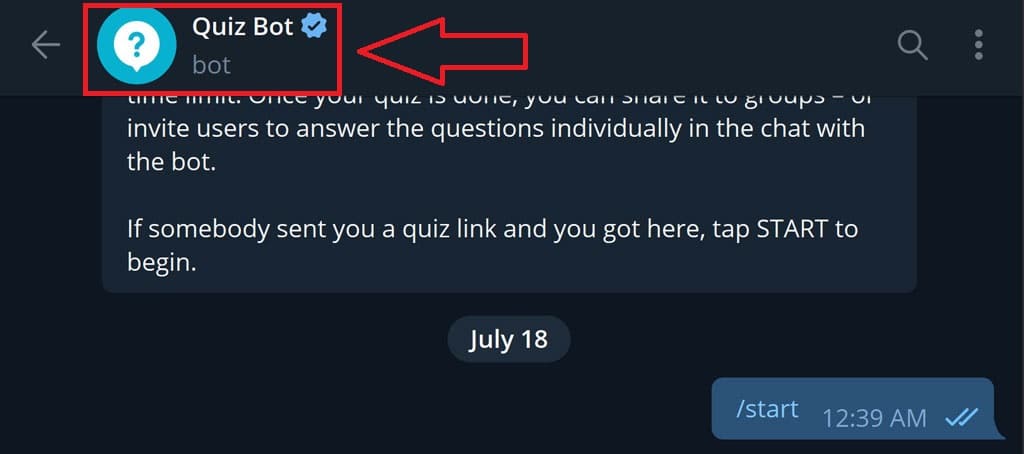 To use the quiz bot, just enter the term "QuizBot" in the search bar and select the icon similar to the image above. Next, after pressing the "Start" key, you will be able to start the quiz creation process. Fortunately, this robot supports many languages.
8. Twitter download bot
Twitter is one of the most popular social networks around the world, which is considered by some users to be a good place to share photos and videos along with text tweets due to fewer restrictions compared to Instagram. There are various ways to download content from Twitter, one of the simplest of which is the Telegram bot "Twitter Media Downloader".

The mentioned bot is available to those interested through the ID "twittervid_bot" and you can access the bot by searching for its name in Telegram. After pressing the "Start" button, you must enter the desired tweet link. Next, wait for a little until the desired photo or video is uploaded to Telegram and sent to you.
9. The best Telegram song-editing robot
As we mentioned at the beginning of the text, Telegram bots can be powerful tools for providing various features, and editing MP3 files is no exception. The MP3 Tools bot is specially designed to manipulate audio files and can convert them into Telegram voices. It also added file information editing including name and tags to its list of features.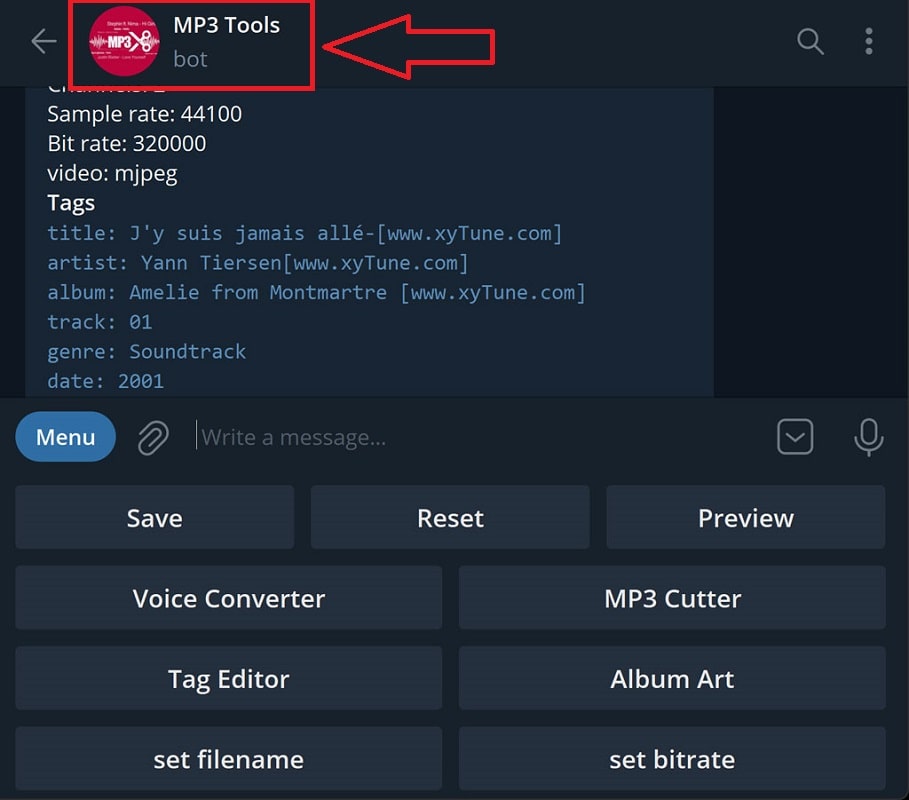 To access the song editor bot, you can search the term "mp3toolsbot" in Telegram. After entering the robot and pressing the Start button, you must send the desired song file to it and wait for the file to be loaded completely. Finally, in the menu at the bottom of the page, you can see various options such as Voice Converter, Tag Editor, and even bitrate settings. If you intend to convert only a part of the song to voice, by selecting the "MP3 Cutter" option, you will be able to determine the start and end points.
10.  Reddit download bot
Reddit is among the most popular social networks in the world; For this reason, it may be difficult to share the content with friends and acquaintances; Because they have to install the application or create a user account on the site. To solve this problem, you can use the "Reddit Downloader" robot, which provides the possibility of directly receiving all kinds of Reddit content in Telegram.
To take advantage of the aforementioned features, search for the term "reddit_download_bot" in Telegram. After the bot starts working, send the desired post link to it. If you have different qualities of the file available, the quality selection panel will be available to you. Also, the "Audio" option is intended to extract audio from videos independently.
Create a Telegram Bot in 10 Minutes with ChatGPT
---
Frequently asked questions about the best Telegram bots
What are the best Telegram bots to download from YouTube and Instagram?
Utuberabot robot is one of the popular options among users to download YouTube videos, which has shown good performance. You can also use the Instagram Tool Box bot to download posts, stories, and IGTV from Instagram.
How to convert the song to voice in Telegram?
The MP3 Tools bot is one of the best Telegram bots that offers various features in the field of editing music files and converting them to Telegram voices for free.
What are the best Telegram bots to download from Twitter and Reddit?
The "Twitter Media Downloader" bot works exclusively on receiving content from Twitter and uploading it to Telegram. The "Reddit Downloader" bot is also designed to download photos and videos or extract audio from Reddit files.
A Telegram bot is a program that interacts with users on the Telegram messaging platform, providing various features and services.
How do I find and use Telegram bots?
You can find Telegram bots by searching for their names or usernames in the Telegram search bar or browsing the BotFather's directory. To use a bot, you need to start a conversation with it by clicking on its name or username and following the on-screen instructions.
What are some popular Telegram bots?
Some popular Telegram bots include @PollBot, @WeatherManBot, @gif, @TriviaBot, and @QuizariumBot.
How can I create my own Telegram bot?
You can create your own Telegram bot using the BotFather bot, which will guide you through the process and provide you with a token to use your bot. You can then customize your bot and add functionality using programming languages like Python, Node.js, or PHP.
Telegram bots are generally safe, as long as you only interact with reputable bots from trusted sources. However, it's important to be cautious when providing personal information to any bot, as some may be designed to collect data for malicious purposes.
Can Telegram bots access my private messages?
Telegram bots cannot access your private messages unless you explicitly authorize them to do so by adding them to a chat or giving them permission to access your messages.
Most Telegram bots are free to use, although some may require payment for certain features or services. It's important to check the bot's description or website for any pricing information before using it.
How can I report a malicious or spammy Telegram bot?
You can report a malicious or spammy Telegram bot by clicking on the bot's name or username, selecting "Report," and choosing the appropriate reason for the report. You can also contact Telegram support for assistance.
---
If you also use a specific bot in Telegram(Best telegram bots), we will be happy if you share its name or ID with us and Rayabrand readers in the comments section.