How to convert photo to gif 2023
Gif files are a suitable option for expressing emotions and conveying concepts in social networks and messaging applications, which are widely used on different platforms today.
Making a GIF is very easy, and there are various tools available to users to convert photos to GIFs, the most important of which will be mentioned below.
How to convert photo to gif
You can use different devices such as computers and mobile to convert photos to gifs. There are dedicated websites along with numerous applications to do this, and according to the accessibility of each one, you will be able to choose the right option for you.
How to convert photo to gif
 with online services
The GIPHY website contains a huge collection of GIF files and provides its users with the tools needed to convert photos to GIFs. First, you must create an account in this service. Then you can convert it into a GIF file by entering the address of the desired image or video.

If the desired images are on the internal memory of the device, the website "GIFMaker.me" will be another option to convert photos to GIFs. After entering it and choosing the "Upload Images" option, you can choose the desired images and finally have your output in the "GIF" format. In the tutorial "Making a gif file with a computer", the different steps of working with this site are explained step by step along with the image of each step.
How to convert photo to gif with mobile applications
There are various applications for converting photos to GIFs available to owners of Android and iPhone devices, which can make the process of creating such files very easy and simple.
If you do not have access to a computer or do not want to use online services, it is better to go for such programs on mobile.
The Easy GIF application is one of the most popular titles for making GIFs on Android phones, which includes many features. After installing and entering the program, you can convert the videos stored on the internal memory into gifs and then add your favorite images to them. To learn about the various features of this app, you can refer to the introduction of the features of the Easy GIF program.
How to convert photo to gif with dedicated editors
Professional image editing programs on the computer can also be used to convert photos to gifs and edit files professionally. One of the most important titles in this field is Photoshop and GIMP. Such tools are more powerful than other methods, but relative familiarity with the environment and its characteristics will be necessary. In the tutorial for making GIFs with GIMP, the required steps are fully explained.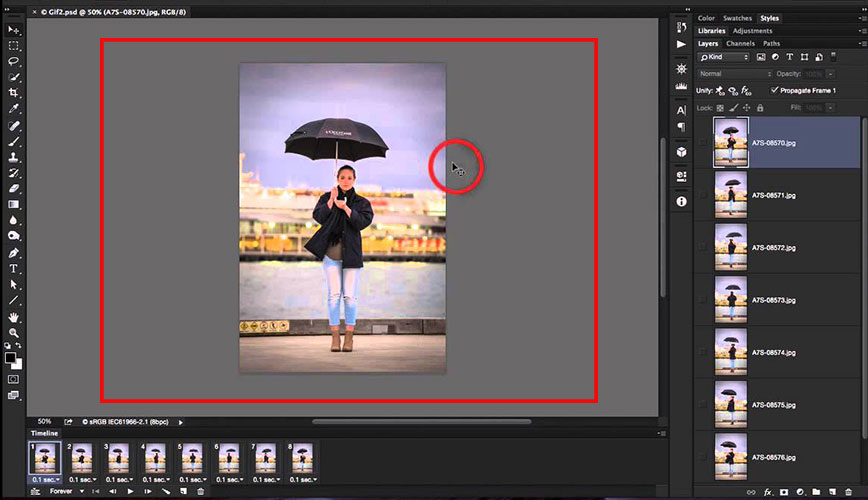 Frequently asked questions about How to convert photo to gif
With what devices can you make gif files?
You can use different devices such as smartphones or computers to create GIF animations. Dedicated gif-making software is available for all these devices.
Is it possible to make a gif file without installing the program?
There are many online services for converting photos into GIFs, the most popular of which are giphy.com and gifmaker.me. These websites can provide the tools needed to make GIFs without the need to install the software.
What is the easiest way to convert a photo into a GIF?
Undoubtedly, online services offer users the easiest way to create GIF files; But it may be a bit difficult to use them on small mobile screens. For this reason, it is better to go for special applications on your phone to do this.