"Does LinkedIn show who viewed your profile" and"LinkedIn who viewed my profile" are questions that arise for most LinkedIn contacts. Stay with us in this article to get your full answer
LinkedIn tells you who has viewed your profile with a professional feature called "Who's Viewed Your Profile". Read on to learn more about this feature.
Knowing who visited our LinkedIn account helps us expand our network of contacts and business connections in the best possible way.
Types of LinkedIn accounts
LinkedIn has free and subscription accounts. Your access to the feature mentioned above depends on your account, your account privacy settings, and who visits your profile.
Free LinkedIn account
If you have a free account, you can see up to five visitors who have visited your account, along with how many times you have been shown in search results.
Three factors can help you create a professional network:
Their job title
Where do your profile visitors work?
Where did they find you?
To see the mentioned items, you need to enable the display of your name and title on the profile settings page.
To activate your name and title, click the "Me" icon on your home screen, then follow these steps:
Click on "Settings & Privacy" and select the "Privacy" tab.
Scroll down to find the "How others see your LinkedIn activity" section. Click on "Profile viewing options".
In the "Select what others can see when you've viewed their profile" section, select the "Your name and headline" option. Changes will be saved automatically.
The information you can see about your visitors also depends on how you configure your profile settings.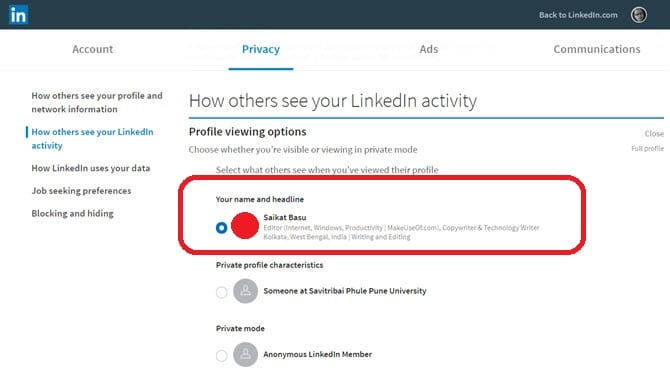 For visitors who have enabled the "name and headline" option, you can see their name, title, location, and industry.
Regarding those who are unknown; You can view limited information such as their title and industry or university.
Regarding users who have activated the "private" mode for anonymity; You will only see their overview.
Shared LinkedIn accounts
LinkedIn subscription users have no restrictions on viewing their history for the past 90 days. A slider at the top of the page provides information such as where visitors are from along with their common titles and how they found you on LinkedIn.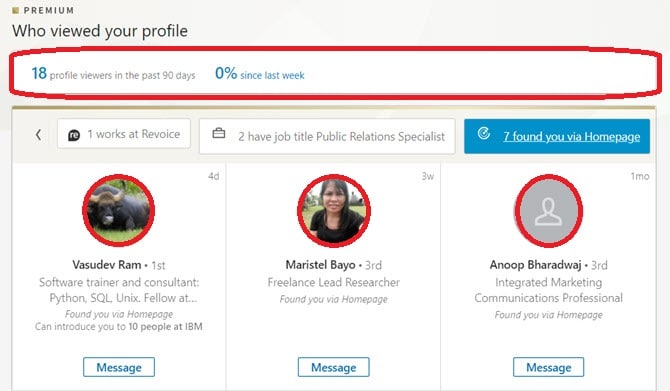 But remember that shared users will not be able to see any additional information about visitors who have enabled private mode.
Does LinkedIn show who viewed your profile
Undoubtedly, it can be said that profile views are visible only when visitors come to your page. Also, sometimes the actual time it takes for LinkedIn to show the number of visitors varies. But LinkedIn says it's trying to deliver at least five impressions per time frame.
There are three ways to check visitors who have viewed your profile in the last 90 days.
On your page, select the "Who's viewed your profile" option, which is shown on the left side and below the profile picture.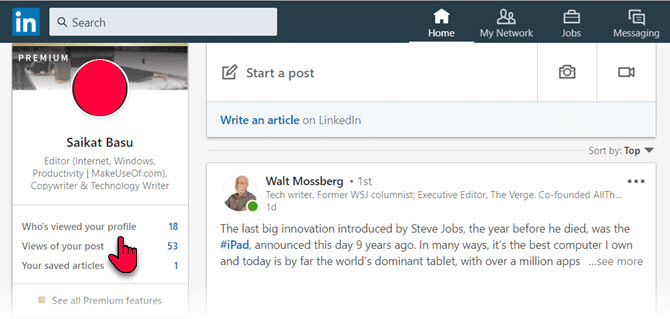 Click on the "Me" icon at the top of the page and then select View profile and select Who Viewed Your Profile in your dashboard.
Click on the "Access My Premium" option. Your profile information for the past 90 days is displayed under "Your personalized insights".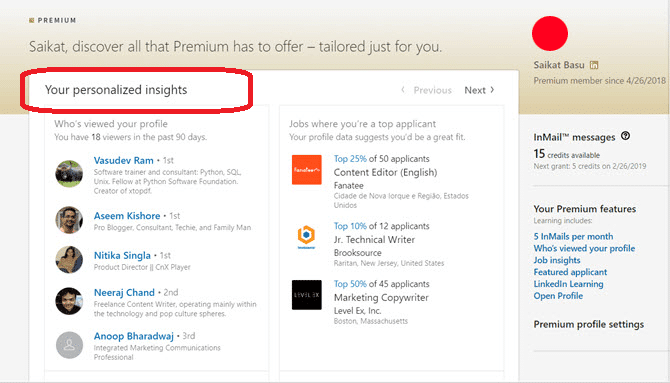 Benefits of the "Personalized Insights" section
Like other social networks, on LinkedIn, you will receive invitations from strangers. However, it's more sensitive to connect with people who are related to your industry rather than random strangers. The right person can give you a job opportunity.
LinkedIn says that having different people visit your profile allows you to take four immediate actions, which we will mention below.
For more information, read the example "what does 3rd mean on Linkedin".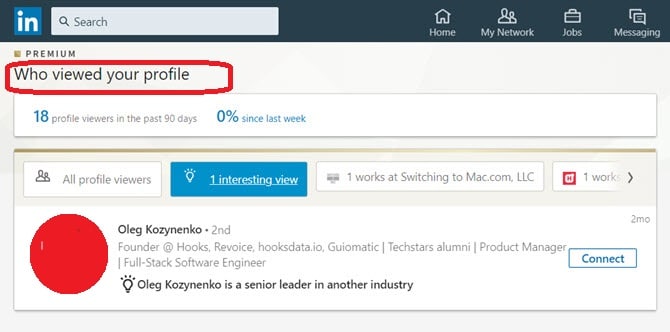 Make it part of your job search.
Visit the profile and the company they work for to see if there are any open positions available. If you gently ask the person visiting your profile, they may be able to help you on your current path
Check if your resume is of interest.
If HR has started looking at you, then your resume can be effective.
Use it to validate your efforts on LinkedIn.
Updating your profile at all times is one of the points that should be considered. The data that the "Who's Viewed Your Profile" feature provides tells you if you're attracting the right people.
Maybe you want to start a project; Offer your services with an introductory message and see if there is any activity. If you don't ask a question, you can't get it.
See what you have in common
You may be part of a common LinkedIn group or share common connections. Use this database to build strong relationships.
This is the most obvious way to use personal insight and grow your network with the right people.
Did someone check your first-hand communications? Reconnect with a message.
LinkedIn provides the absolute number and percentage increase or decrease of visitors to your account over a week. Challenge yourself. You can keep your profile updated, connect with new people, and write LinkedIn blog posts.
In this article, we tried to answer the question "Does LinkedIn show who viewed your profile" and"LinkedIn who viewed my profile".
If you still have questions or if you have any comments to complete the content of this tutorial, please share your comments with us.
---
Rayabaan team has developed a tool called LinkedIn Video Downloader and Pinterest video downloader for your convenience in order to download LinkedIn videos.