How to send WhatsApp messages without saving number 2023
WhatsApp Messenger is the most widely used messenger in the world and has countless users all over the world. But this messenger has limitations, one of which is the inability to send messages without saving contact numbers.
How to send WhatsApp messages without saving number
In fact, it is not possible to do this through the WhatsApp application; But there are ways to bypass these restrictions and send your message without saving the contact number. In this article, we examine three different methods, one of which is officially specified by WhatsApp. Stay with us.
1. Use the official method
If you visit the FAQ section of the official WhatsApp website, you will see that this messenger has provided a solution for this problem. According to the description in this section, if you want to send a message to the unsaved number +12345678900, you must go to the link https://wa.me/phonenumber and enter your desired number instead of your phone number. In fact, you should go to the website https://wa.me/12345678900.
Note that you do not need to use the + and 00 signs to type the phone number, and only the prefix of the country before the full number of the contact is sufficient. After entering the mentioned website, it will be displayed with a QR code that you need to scan using WhatsApp Web on your phone. After scanning, you can send your message.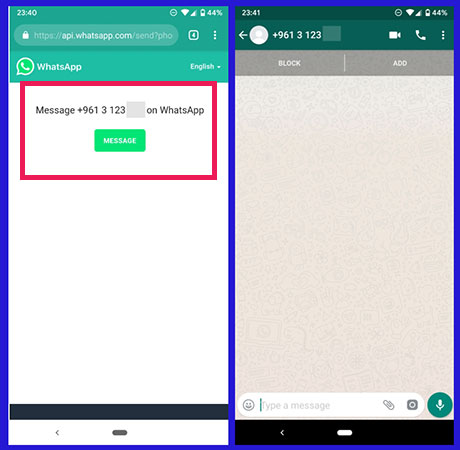 2. Using an application
If you feel that the previous method is a bit confusing and slow, you can use an application to send messages to people whose numbers you have not saved. For this purpose, there are several different Android applications that you can use to bypass this limitation, but they do not provide an interesting user interface.
One of the applications that work very well in this field is called "Click To Chat", which you can download from the Play Store. This small software is completely free, does not use any ads, and does not require any special access to run on the operating system.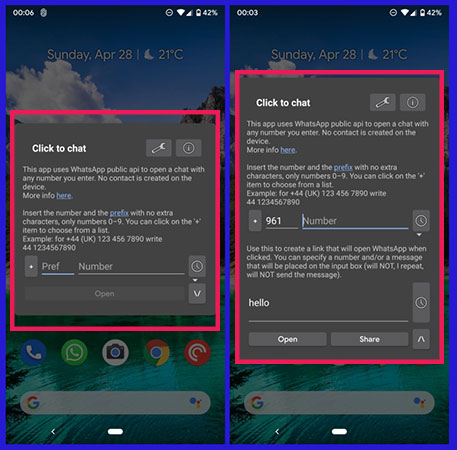 Using this application is very simple. After running it, just enter your contact's message and phone number and then click Open.
3. Using the text selection method
The third method is faster than the two mentioned methods, but it may not be practical for all Android phones. In this method, you just need to type your contact's phone number somewhere and then select the typed number completely.
By doing this, the operating system will provide several different suggestions, the main ones being a copy, cut, paste and call. But if you click on the icon with three horizontal circles in this section, you will see several more options, one of which is sending messages on WhatsApp.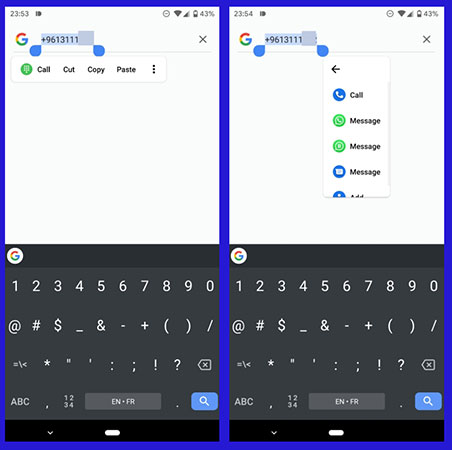 Of course, you should remember that this method has been tested on phones that use the original and raw Android operating system (such as the Pixel series phones) and is 100% feasible (at least in versions 9 and Q). As the method mentioned in Samsung's OneUI operating system, it does not work.
---
Frequently asked questions of users about How to send WhatsApp messages without saving number
How to chat without saving contacts on WhatsApp?
There are 3 ways to chat on WhatsApp without saving contacts. Use the application, using the wa.me a link or the method of selecting the text, which you can read about in this article.
How to go to someone's PV in WhatsApp group?
In any group you're in, hold your finger on the message of the person you want to send a private message to. There are three dots at the top right of the screen. Click on it and tap on "Reply Privately".
---
In this article, we talked about "How to send WhatsApp messages without saving number" and we are waiting for your experiences to use these methods. Please share your thoughts with us.