How to Backup WhatsApp Messages on iPhone and android 2023
People have different reasons for using WhatsApp. Some go to it because it's free and easy to use. Some use it as a work tool and others use it to chat with friends and acquaintances. It doesn't matter why you went to WhatsApp, there is no doubt that you have important information in your account that if it gets lost, will be a problem for you.
That's why in this article, we review how to backup WhatsApp together; Simple ways to back up your data for peace of mind. We will also explain to you how to restore data after the backup training. We invite you to stay with us until the end of the article.
How to install two Whatsapp on one phone
How to backup WhatsApp from android to iPhone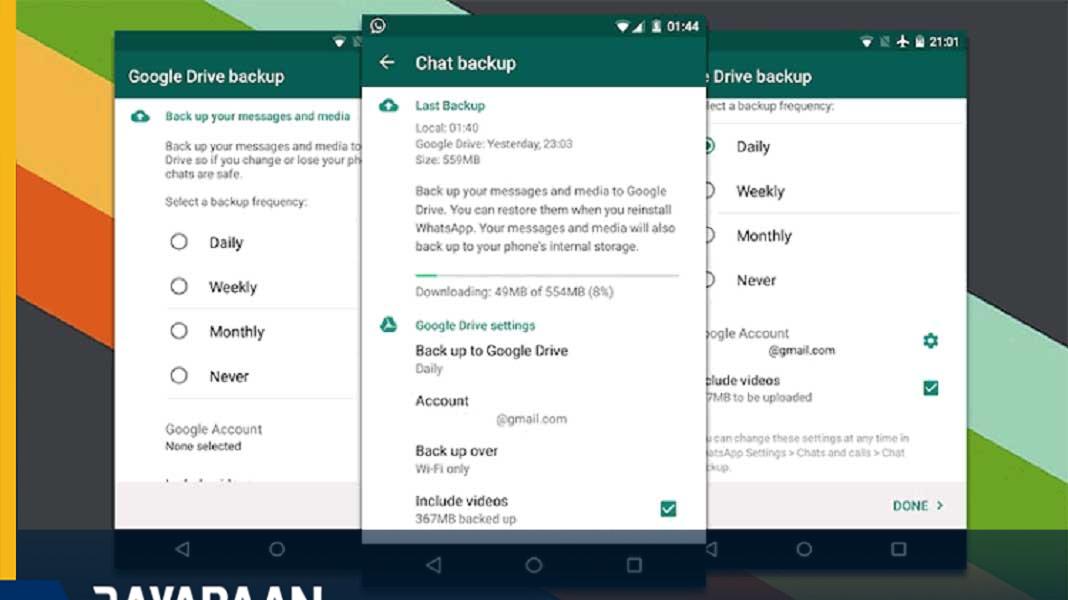 If you are planning to migrate from Android to iOS soon and take your WhatsApp messages with you, unfortunately, we have to say that you are out of luck. Because by making a WhatsApp backup in the Android version, your files are saved in Google Drive.
Also, the Android version relies on Google Drive to retrieve messages. However, the iOS version of the application does these two tasks in Apple's private cloud space, iCloud.
Even if you have the Google Drive iOS app, you cannot restore files from the Android version of the app. The iPhone and iPad version of WhatsApp only works with iCloud.
How to backup WhatsApp on Google Drive
Fortunately, WhatsApp automatically and daily saves your messages in the phone's memory. But depending on the settings you have considered, you will also be able to take a backup from Google Drive. In this case, even if you intend to delete the WhatsApp application, your messages will not be lost. Therefore, before deleting the application, make sure to make a backup copy of its files.
It is a simple and reliable way to back up Google Drive. Thanks to Drive, you can move from one Android phone to another and take WhatsApp messages and files with you. In addition, if WhatsApp has a problem and crashes so that you have to delete and reinstall it, the backup copy can help you here as well.
Below we will follow the steps for backups on Google Drive: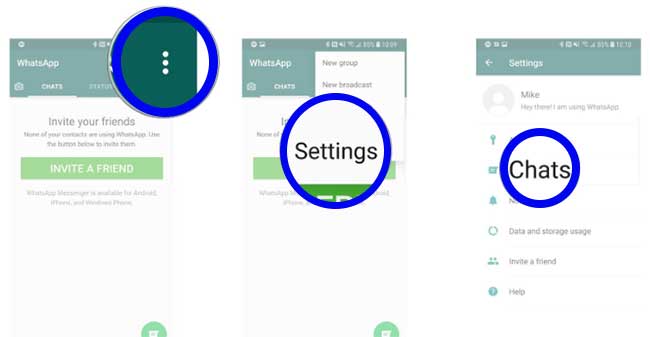 1. Run the WhatsApp application.
2. Point to the "menu" icon in the upper right corner of the application. The icon is in the form of three vertical dots.
3. Enter "Settings".
4. Go to the "Chats" section.
5. Click on "Chat backup".
6. Click on "Google Drive Settings" to set the backup interval.
7. Point to the "Account" option.
8. Select the user account you want to back up.
Point to one of the accounts in the list.

Tap "Add account" to create a new account.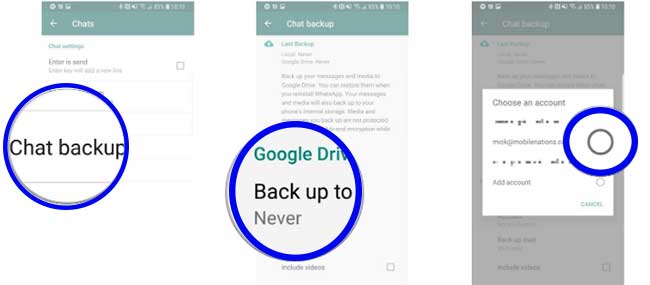 9. Click the "Allow" option.
10. Click on "Back up over".
By pointing to the circle next to Wi-Fi, you can back up only with Wi-Fi.
11. Check the "Include Videos" box to back up video messages.
12. Finally, click on "Back Up" to start backing up files.
Now that everything is backed up, you'll be able to restore chats every time you reinstall WhatsApp, no matter what device it's on. Note that while WhatsApp makes a backup of the files in Google Drive, it also saves another version in the internal memory of your phone. Therefore, you should expect the memory to fill up.
Depending on the number of files and the number of chats you have, the backup process may take some time. So it's not a bad idea to charge the phone while doing this. The good thing about WhatsApp backups is that with each backup, a new file will not be created, but new information will be added to the previous backup.
How to restore WhatsApp backup from google drive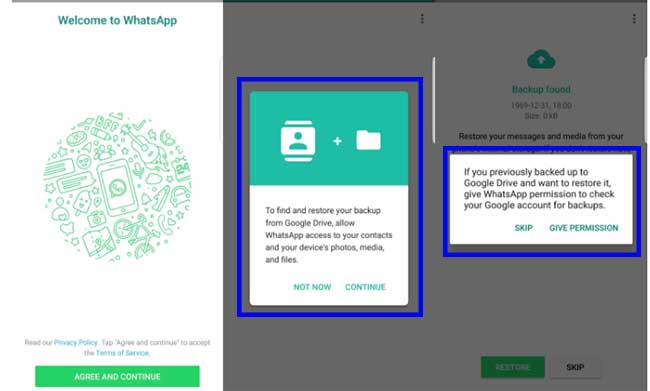 Great, you have everything backed up and now you can relax. If you want to change your phone, you need to reinstall WhatsApp. After downloading and installing, it's time to restore the backup files. Here's how to do it:
1. Run the Watts App app.
2. Refer to "Agree and Continue".
3. Allow the "Continue" to Watts App to allow your phonebook contacts. If you are reluctant, point to "not now".
4. Enter your country code and phone number.
5. Write the 6 -digit verification code received in the SMS in the blank field.
6. mention "Continue" to allow the Watts App to access Google Drive backups.
7. Tap "Give Permission" to start searching for Watts App to download backup from Google Drive.
8. Select the account where your backup file is.
9. Click the "Restore" option.
10. Finally reset your user profile.
Now you can access all your WhatsApp conversations on all Android devices. All you need to do is log in to your account.
How to delete WhatsApp backup on Android?
WhatsApp backup files are stored in the path /sdcard/WhatsApp/Databases/ on the internal memory of Android devices. However, it is not possible to access its folders outside the WhatsApp application; But to delete them, you can use file management tools. Just open your mobile file manager and enter the "WhatsApp" folder. Now a list of folders will be displayed, from which you should select "Databases" and finally click on "Delete" or "Remove".
How to backup WhatsApp on iPhone
It is natural to see Google Drive replaced by iCloud on the iPhone. Users can save a backup copy of their chat history after logging in to the program, first go to the Settings section and then enter the "Chat Backup" page by selecting the "Chats" option. Now you need to touch the "Back Up Now" option to manually backup. If you have enabled automatic backup, you will not need to do this manually.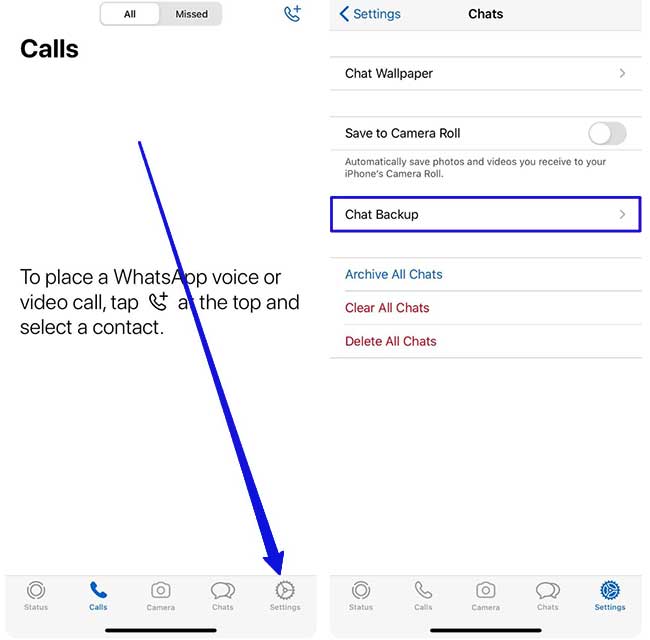 Note that you will need an Apple ID to back up WhatsApp and access iCloud. It is also necessary to use iOS 10 or newer versions and have iCloud Drive enabled. It is also necessary to have free space on the iCloud and the device's internal memory, which is equal to the size of the backup copy on the iPhone and twice as much on the iCloud.
How to disable WhatsApp automatic backup on iPhone
Although iCloud is capable of automatically storing backups of WhatsApp chats within itself, these are not covered by WhatsApp's end-to-end encryption. On its messaging support website, Facebook has advised users to disable iCloud automatic backup in order to use end-to-end encrypted backup.
To turn off the said feature, first, go to the Settings application of your device and then tap on your user account name. Now touch "iCloud" select "Manage Storage" and finally open the "Backups" page. Select your desired device and disconnect WhatsApp.
Note that unlinking iCloud from WhatsApp cannot automatically enable end-to-end encrypted backup. To turn on this feature, you need to go to WhatsApp settings and then enter "Chat Backup" from the "Chats" menu and click "End to end Encrypted Backup". Now turn it on and follow the on-screen instructions to generate a password or encryption key.
Finally, tap on the "Create" option and wait for WhatsApp to create the backup copy. Note that if you forget the mentioned password or key, you will no longer be able to access the backup version and WhatsApp does not provide a possibility to reset the password.
Why can't we backup WhatsApp on iPhone?
Make sure you're using the correct Apple ID to access your iCloud account.

Make sure that the "iCloud Drive" mode is active. To do this, go to iPhone settings, touch your name, and then enter "iCloud" and check if the mentioned option is turned on.

Your device may be running older versions of iOS; So, if possible, migrate to iOS 10 or newer versions.

You may not have enough space on your iCloud. Note that the required space on iCloud 2.05 is equal to the size of the backup copy, otherwise, the file upload will fail.

If you intend to backup WhatsApp via an Internet SIM card, you must first activate the "Cellular Data Usage" option in the iCloud settings.

If you still have problems, it is better to proceed to manual backup as described in the previous sections. Finally, it is better to change your internet network and move to a network with a higher speed.
How to restore WhatsApp backup on the iPhone
First, by going to the WhatsApp settings section and going to the "Chats" page, touch the "Chat Backup" option to make sure there is a backup copy on iCloud. If you can see the last backup file creation date, you can apply it by uninstalling and reinstalling the application.
Just re-enter your number and follow the displayed instructions to restore your WhatsApp backup. Because backups are unique to mobile numbers, there may be several different backups on one iCloud account.
Why can't we restore backup on iPhone?
Make sure that you intend to restore the WhatsApp backup on the mobile number and iCloud account where you made the backup.

If you are using a backup with end-to-end encryption, ensure that the password or encryption key is correct.

Note that you must have as much free space on your device as the backup size. This amount in iCloud space will be 2.05 times the size of the backup file.

If a backup was created using iCloud Drive, it can only be restored on devices running iOS 9 or later.

Finally, it is better to change your internet network. You can also turn iCloud Drive off and on using the path mentioned in the previous section. It may also work to sign out of your iCloud account, restart your device, and sign in to iCloud again.
Forgot encrypted backup password
To increase user information security, Watts App encrypts backups with a 2 -digit password or encryption key. These two are the only ways to access encrypted backups or transfer them to another device. Users can change it if they forget their password.
Just go to the "Chats" by visiting the app's settings and then from the "Chat Backup" page to "End to End Encrypted Backup" and select "Change Password". Click "I Forgot My Password" and then authenticate your identity with biometric parameters or a device pin. You can now set a new password for your backup.
Another option when you forget your password is to disable end-to-end encryption for backups.
For this, click on "Turn Off" from the "End-to-end Encrypted backup" section. Then select the "Done" option by touching "I forgot my password" again and pressing "Turn off". Users can only enter the wrong password or key five times, after which they must wait for a period of time to try again.
Some important points regarding how to backup WhatsApp
It is better to backup your WhatsApp in the cloud, and always have a backup copy of your important messages on your computer.

Deleting and reinstalling WhatsApp consecutively can temporarily block your account.

If you don't want to back up in Google Drive, you can also backup important WhatsApp information in SD memory and transfer it to your new phone. WhatsApp information is usually stored in the sdcard/WhatsApp/Databases path, which you can access with a file manager application.

To make a backup of WhatsApp chats in email, just enter the chat page and select the three dots icon and enter the More section, and point to the Export Chat option. In this case, you can send all the content of the conversation (including files) to your email.
---
Frequently asked questions of users about how to backup WhatsApp
How many methods are there to backup WhatsApp?
WhatsApp itself has created the ability to backup the content of your messages on a daily, weekly, monthly, and yearly basis in the settings section. In the settings section of the account and backup section, the backup option is in front of you.
Is it possible to backup iPhone phones from WhatsApp?
This is no different for iPhone and Android. WhatsApp backup is active in both versions of this application and only their storage location is different.
Is all the WhatsApp data backed up or is a part of the data backed up?
If you save your backup on a daily basis, all data will be preserved and restored.
---
In this article, we talked about "How to Backup WhatsApp Messages on iPhone and android" and we are waiting for your experiences to use these methods. Please share your thoughts with us.