How to set up two-factor authentication on Instagram 2023
Social media user accounts like Instagram can contain a lot of small but sensitive information that could have unpleasant consequences if compromised. A two-step login is a safe way to increase the security of such accounts.
How to set up two-factor authentication on Instagram
Instagram separately supports authentication applications and users can also use SMS for two-step login. Now it is possible to use WhatsApp as an alternative method to receive confirmation codes. Now with several different options, users are advised to be sure to enable one of the multi-factor authentication methods so that they no longer rely solely on a password as a security barrier to their account.
Using authentication apps
If you are currently using a standalone authentication application to log in to your account on other social networks such as Twitter, you can also use it for a two-step Instagram login. To start, after opening the Instagram app on your mobile, go to the profile tab and touch the menu icon in the upper right corner and then select Settings from the list that appears.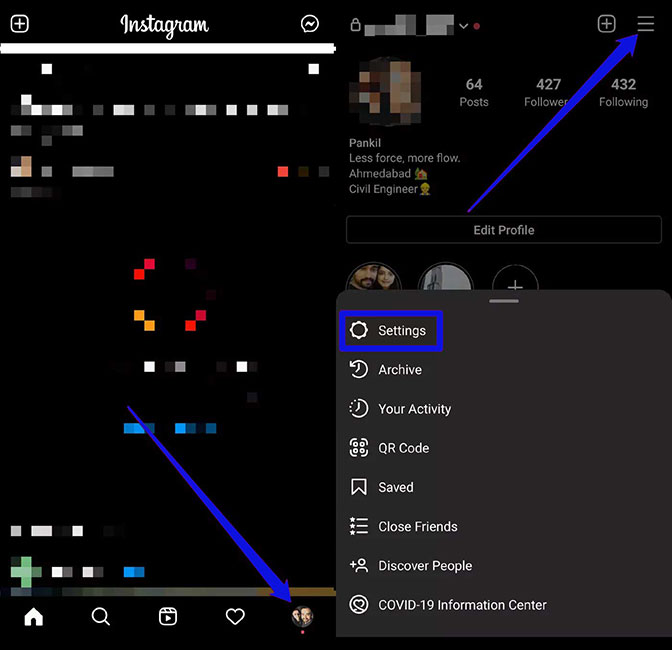 Next, go to the "Security" section, and on the next page at the bottom of the "Login Security" section, select "Two Factor Authentication" as shown in the image below. Finally, touch the "Get Started" button.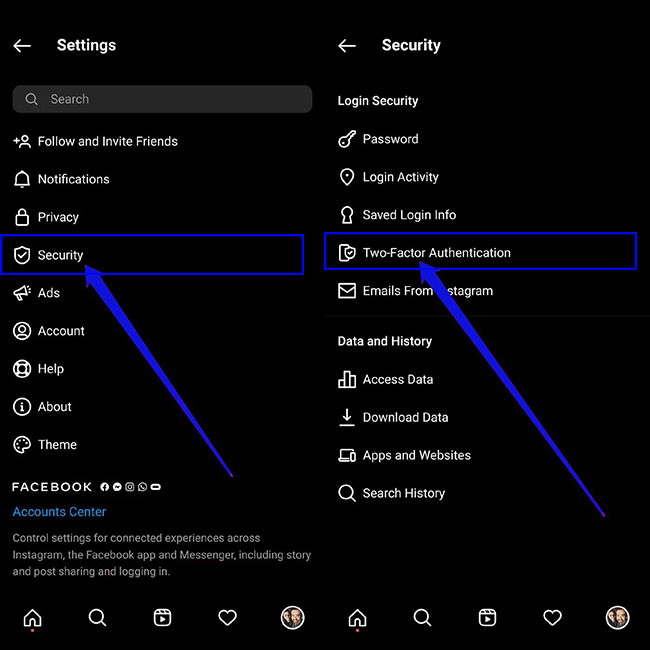 In this section, various cases are considered to be used for two-step login. To enable authentication through an independent application, select the "Authentication App" option, which is also recommended by Instagram itself as the best method.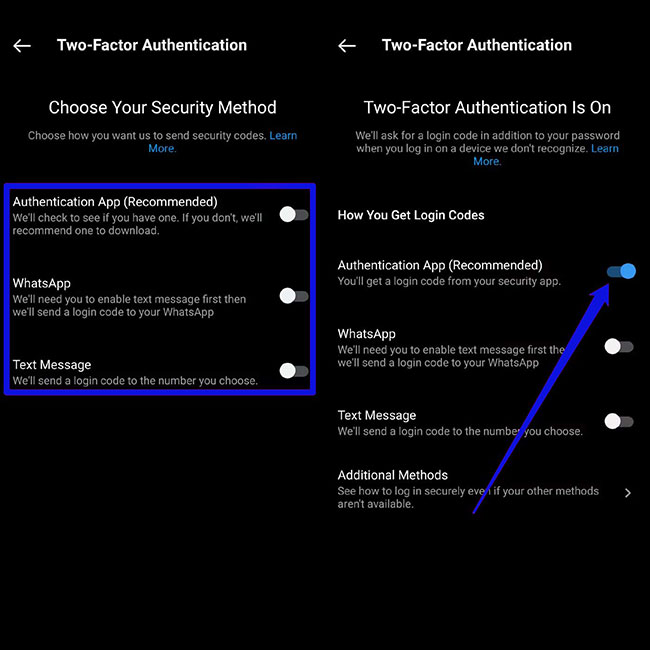 In the next step, if you have not installed any authentication application on your mobile in the past, Instagram will ask you to download an active app in this field. By default, Instagram offers two applications, DUO and Google Authenticator, to its users, but it is possible to use other titles such as Authy, Microsoft "Authenticator" and "LastPass".
After downloading each of the mentioned items, you can enter the program by following the displayed guide. After that, you must copy the code inserted in the authentication application and enter it in the special section on Instagram. If all the steps are followed correctly, Instagram will display a message that the two-step login activation process has been successfully completed. Touch the "Done" key to finish.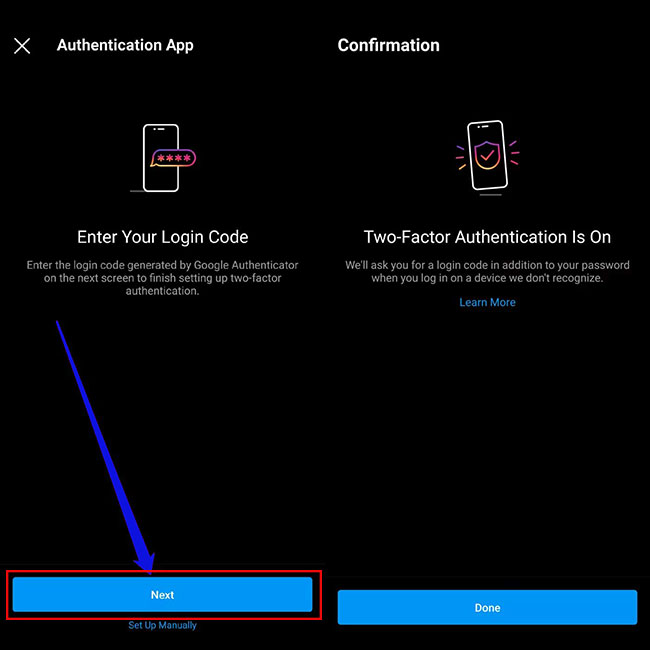 From now on, if you want to log into your Instagram account on a new device, after entering the password, you must receive a new code through the authentication application.
Two-step login with WhatsApp
If you are not interested in using independent authentication applications, you can also receive the login code through your WhatsApp account. To start again, go to the "Two Factor Authentication" section through the profile tab and the settings page, and then choose WhatsApp from the options in "Choose Your Security Method".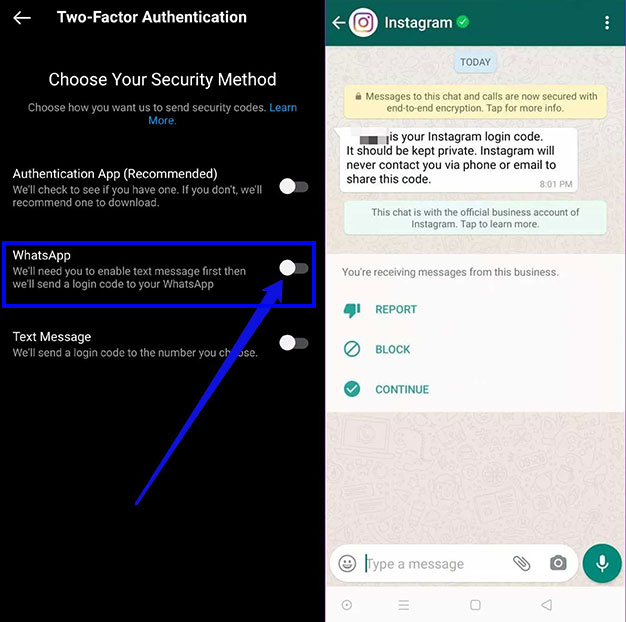 Next, you must enter the mobile number with which you created a WhatsApp account and click Next. After that, Instagram will send a confirmation code to your WhatsApp account, which you must copy and re-enter on Instagram.
Now, the steps to set up step-by-step login to Instagram via WhatsApp are over, and in the next logins, a confirmation code will be sent to the mobile number's WhatsApp.
Two-step login method with mobile number
The oldest method for two-step login to the Instagram user account is by sending a confirmation code as an SMS to the account owner's mobile number. To set this method, follow the same path as mentioned in the previous sections to reach the "Two Factor Authentication" section and finally select the "Text Message" option as the authentication method.
By default, Instagram sends the initial verification code to the mobile number you entered in your account information. If you have not connected any number to your account in the past, you must enter a new number to receive the verification code. After entering the number, click "Next".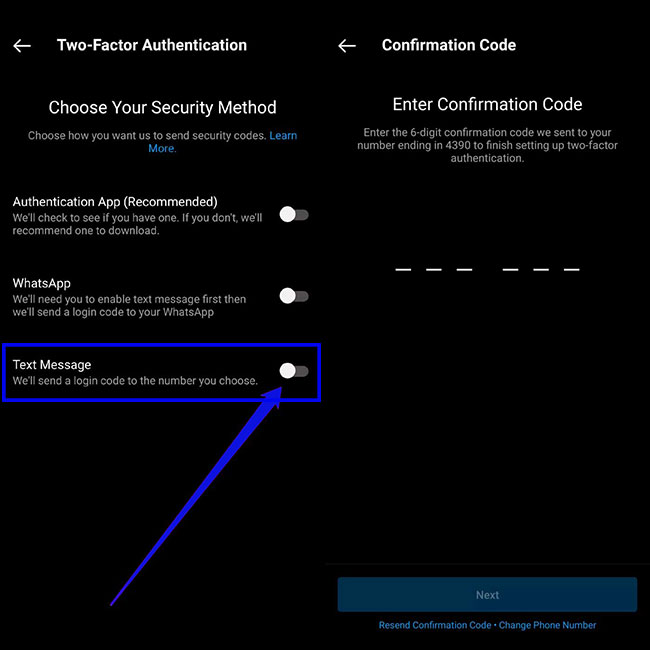 After confirming the mobile number via Instagram, the two-step login will be activated and from now on the login code will be sent via SMS.
In this method, there will be no need for additional authentication programs or WhatsApp messenger, and only the activation of the entered SIM card number is sufficient.
Log in to the user account with the recovery code
Although a two-step login can be a very safe way to increase the security of user accounts on different platforms, including Instagram; the failure of the authentication program or failure to receive an SMS containing a verification code may cause you to no longer be able to access your account.
To solve this problem, various companies make recovery codes available to users for use in emergency situations when multi-step login is enabled, and Instagram also supports such a feature. Of course, each recovery code is intended for one-time use only and will become unusable after use.
The best way to ensure that the codes are kept correctly is to write them down on paper and keep them in a safe place. You can also take a screenshot of the screen while viewing the codes and save it in a valid folder or memory. Note that any person can enter another user account by accessing such codes, so be extremely careful in maintaining their security.
To prepare the codes, after entering the Instagram settings section, go to the "Security" section, and in the section related to two-step login, refer to "Additional Methods" and access them by selecting "Backup Codes".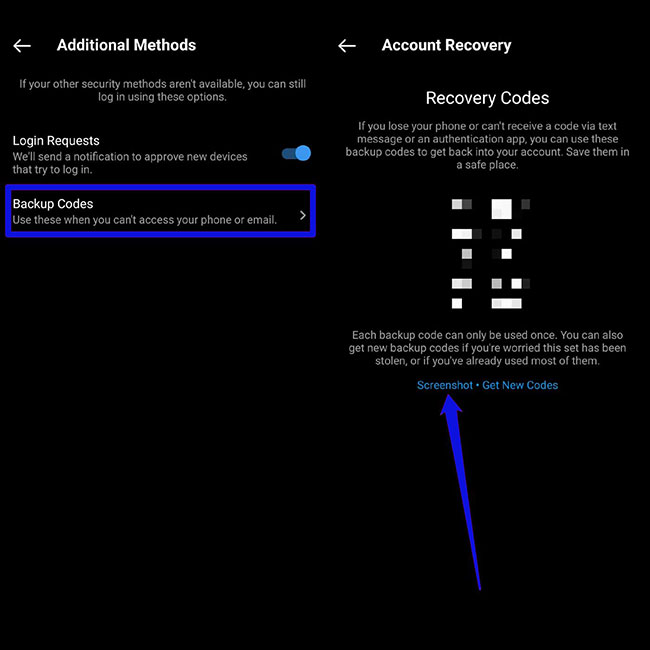 If you use all the codes over time, you can get new codes by visiting the said page again.
Disable login prompts
Once you enable a two-step login on Instagram, all logins from then on will be possible by default only by requesting and registering a verification code.
In such a case, if the user enters the account with the recovery codes, the login notification will be sent again through the specified routes. The user account login warning will be visible in the "Activity" tab, and the user can approve or reject the login request.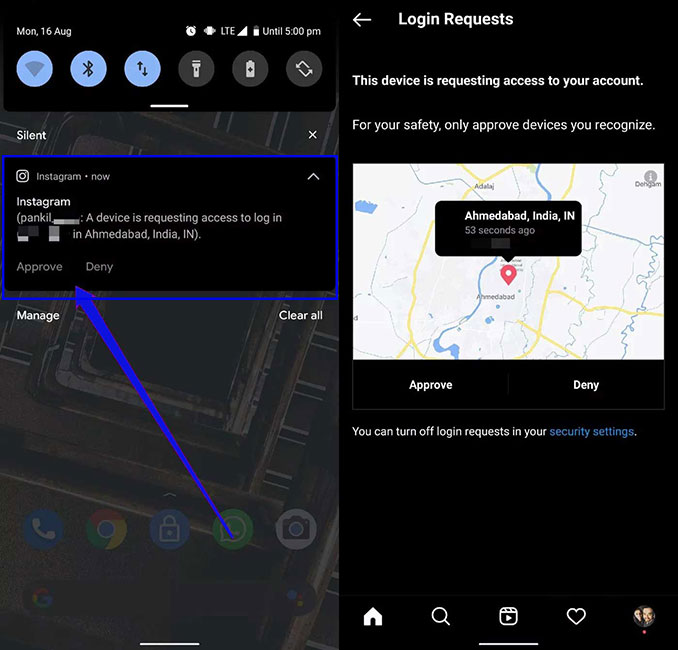 The ability to request a login helps the user to secure his account again if someone else has access to the recovery codes. If you are not interested in such a feature, you can easily disable it. To disable it again, we go to the "Two Factor Authentication" section and by entering "Additional Methods", disable the key related to the "Login Requests" feature.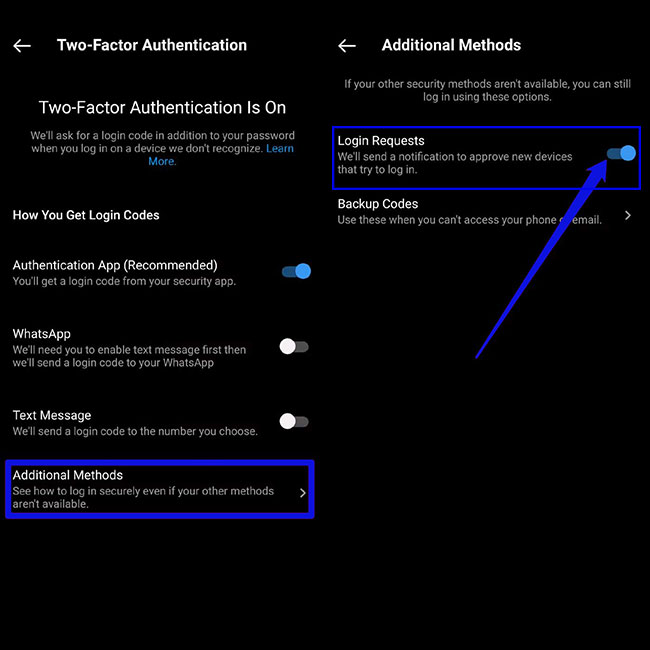 From now on, the login warning will no longer be displayed by Instagram, and permission will not be required for login requests. You can activate this feature again by following the same path.
The steps mentioned above are very good solutions to increase the security of your Instagram account.
Remove Instagram's two-step verification
Although many Instagram users around the world currently use the two-step authentication feature of this program to keep their account safe, sometimes someone may want to disable this feature for various reasons.
One of these reasons can be the intention to change the user's mobile phone line, which we mentioned in the previous paragraph. Sometimes, users have problems logging into their Instagram account while Instagram's two-step verification is active, and it is difficult for them to use this method.
For example, people who have a large number of Instagram accounts with different information and numbers and constantly have to log out of one account and log in to another account may be part of this category. Also, some people are sure that their Instagram user account is not hacked and this can be done in different ways; Therefore, they do not see the need to use Instagram's two-step verification feature. However, if you want to remove Instagram's two-step verification, you can do it through the following steps:
1. First, run the Instagram app and log in to your account.
2. Then touch the dummy symbol at the bottom of the screen and on the right side to enter your user information page.
3. Touch the three lines on the top right side of the screen.
4. Touch "Setting" to enter your user account settings.
5. Select the "Security" option.
6. Then touch the "Two-Factor Authentication" option.
7. In this step, if any of the text message or Authentication App options are active, disable them by selecting the turn-off option.
Sometimes you may not have access to your mobile phone or the backup or recovery codes and you want to disable and remove Instagram's two-step verification. In this case, you can do this in the following way: First, take a screenshot of the two-step verification page, then copy the following text. Then send it to the Instagram support email and ask them to remove the two-step verification for you:
Hi, I'm hacked, someone put my number in my account and double-checked the invoice in my account now I can not get the code to login to my page, please remove the two-step confirmation option or a backup Send out.
Note: You can contact Instagram support via email at [email protected].
Note that people who are active as security managers on Instagram and provide services to other users only use these frameworks to increase the security level of their customers' user accounts. Also, always try to set an unguessable password consisting of special characters (such as # @ % $) for your account, and do not enter anonymous and cryptic links.
You can use all the mentioned items for your user account on other social networks and messengers such as WhatsApp, Facebook, and Twitter.
Conclusion
In this article, we examined the importance of using Instagram's two-step verification feature and how to create and delete it(How to set up two-factor authentication on Instagram). As we mentioned before, we suggest you use all the possible and standard methods recommended by the Instagram team to increase the security of your Instagram account. Please share your thoughts with us.
Frequently asked questions about How to set up two-factor authentication on Instagram
How to disable two-step verification on Instagram?
To remove Instagram's two-factor authentication, you must disable the options in the Two-Factor Authentication section of Instagram settings. The deactivation steps are fully explained above.
What is Instagram code recovery?
Instagram recovery codes are generated when Instagram's two-step password is activated. If you have problems receiving the verification code, you can use the recovery codes generated by Instagram.
Why doesn't two-factor authentication work on Instagram?
To use Instagram's two-step password feature, you need to update your application.
Note that this option may not be enabled by Instagram yet.
Why is the confirmation code SMS not sent to me?
* There may be various reasons for not sending the confirmation code.
* Ensuring the correctness of the phone number registered in the Instagram user account
*Using Instagram recovery codes
*Using the Switch Accounts method and selecting the login with the Facebook option
* Changing the phone's Internet IP or using another phone (this method will be applicable if your IP is blocked by Instagram.)
When does Instagram's two-step verification error occur?
Various factors may lead to errors:
*If there is a problem with your internet connection, you will get an error message.
*If the verification code entered is not correct, you will receive an error message.
*The verification code entered may have expired. (This mode is related to when you use the application to receive the confirmation code.)
Which Instagram accounts can use Instagram's two-factor authentication feature?
This feature is currently active for all Instagram user accounts.
Is it possible to hack Instagram's two-step verification?
no, In order to hack an Instagram user account that has two-step verification enabled, you need to have the verification code sent via SMS or application in addition to the password.