Best cool screen name generator online free 2023
Most people are looking for a different and attractive username and display for their accounts on social networks or other online spaces. If you are one of these people, you can go to the screen and username generator websites and find your favorite name.
A screen name can reflect your personality. The display name you choose can be unique, and long, and display information about you, such as your interests. For this reason, some users face problems in choosing such a name, however, such a task is not difficult.
Important tips for choosing an Instagram username
Be related to your field of work.
It should be short and attractive to easily stay in the user's mind.
be special
Suitable for use in all social networks.
Use fewer characters and numbers.
Where can we get ideas for choosing an Instagram username?
brand name
Your personal name
family name
first name and last name
Site domain
The identity of the service or services you provide.
How to create the perfect username
To choose your screen name, you can go to name generator websites and choose from the names they make. In the rest of this article, we would like to introduce you to 6 websites that generate display names and usernames, stay with Rayabaan until the end.
1. SpinXO
SpinXO is considered one of the best screen name generator sites. Various categories from Instagram to YouTube can be seen on this site. So if you're looking to pick a name for your account, SpinXO has you covered. In addition, using this tool, you can personalize the name you want according to your characteristics.
First of all, you should enter some information about yourself on this site so that it can provide you with suitable offers. On the main page of this site, under the "Username Generator" section, start typing in the box corresponding to your name or nickname. In the following, there are other boxes for entering more personal information:
Something you are interested in
your hobbies
important words
numbers
Letters
You don't need to fill all these boxes, but this way SpinXO can better suggest a screen name. In fact, the suggested names will show more of your personality.
After entering the information, just click the!Spin button. Now, this website lists some unique screen names for you. You can choose one of the names in this list or get a new list again by changing the information in the above sections. You can continue this process until you get the name you want.
2.

Generator Land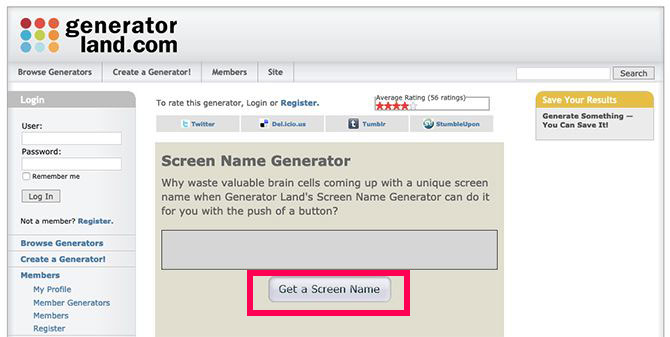 The operation of this website is very simple and you do not need to enter any information at all. Just click on the "Get a Screen Name" button and a name will be displayed for you. If you don't like the displayed name, click this button again. Continue doing this until a suitable name is produced, of course, from your point of view.
3. Name Generator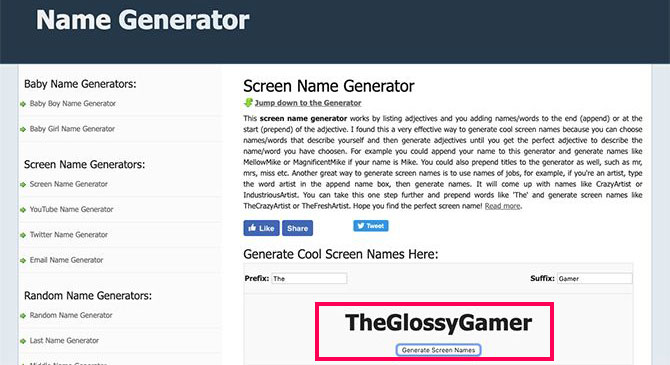 This website gives you more freedom compared to other tools. Unlike other screen name generators, you can specify some features. On this website, you can write an extension and prefix for the display name you want. Therefore, you specify the beginning and end of this name yourself, and the "Name Generator" will be responsible for its middle production.
After entering the prefix and suffix, click the "Generate Screen Names" button to generate a name. Each time you click on this button, a new name will be created, which will of course be moved to the list below it.
The list below this button contains two columns, one of which shows the created names and the other is a column for choosing your favorite examples. To add names to the second column, just click on the generated names. By doing this, you will get a list of names that you find attractive.
4

. Online Name Generator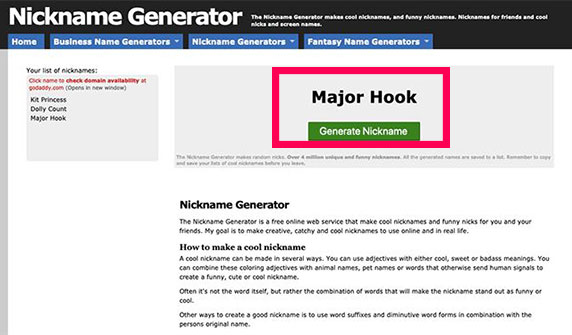 This website provides you with various ideas that you can use to create your desired display name. These ideas range from fancy names to superheroes. You can even create a name for your business within it.
Each category includes several options that can generate unique names for you. Select the category you want and click on the "Generate Nickname" button on the related page. With this, a name is created and there is no need to enter additional information. Any names that are generated are moved to a list on the left for you to access them.
5.

Cool Screen Name Generator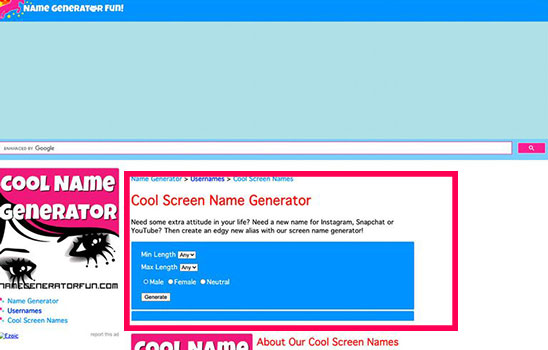 This tool is one of several display name generators you can find on the "Namegeneratorfun" website. This website is also an efficient tool for creating suitable screen names for use on social platforms such as YouTube, Instagram, and Twitter.
This website has a simple user interface and there is no need to enter specific information into it. To use Cool Screen Name, you only need to select the minimum and maximum length of the screen name and specify your gender. Next, click on the Generate option to get a list of production names.
6.

Jimpix Username Generator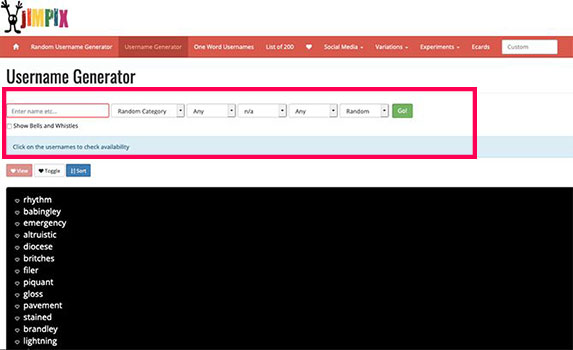 Let's go to the last website that produced the display name and username of this article. This tool, like the above sites, creates a username or display name for you, and of course, it has many options for such work.
To create a username, click on the "Random Category" drop-down menu. Select the category you want and then click on the "!Go" option. Now a new page will open showing a list of generated display names. Of course, it also gives you more options to personalize the names.
If there's an option in the list of product names you're interested in, click on it and Jimpix will check its availability on social networks. Clicking on each platform will take you to its page to find out if it's free.
If the username you are looking for is already being used by someone else, Jimpix will provide you with a list of alternative usernames. You can get ideas from this list and achieve a different combination.
Generator Name
Advantages
Disadvantages
SpinXO
1. Offers various categories for generating screen names.

2. Provides customizable options.

1. Interface may be overwhelming for some users.

2. Requires registration to save generated names.

Generator Land
1. Simple and easy-to-use interface.

2. Generates unique and creative screen names.

1. Limited customization options

2. May not offer as many categories compared to other generators.

Name Generator
1. Allows users to specify preferred word types for generated names.

2. Provides a wide range of categories to choose from.

1. Interface may appear outdated.

2. Limited customization options.

Online Name Generator
1. Offers a large selection of categories and themes.

2. Provides random name suggestions with a single click.

1. Customization options are relatively limited.

2. Some categories may have repetitive results.

Cool Screen Name Generator
1. Generates unique and interesting screen names.

2. Provides an intuitive and user-friendly interface.

1. Limited categories compared to other generators.

2. Customization options are limited.

Jimpix Username Generator
1. Offers a wide range of customization options, including length, language, and word types.

2. Provides a large database of available words.

1. Interface may appear cluttered

2. Requires manual input for some customization options.
The cool screen name generator for social networks
Social networks are a big part of our daily lives, so for most of us they are very important and we want them to reflect who we are. Therefore, we go for a unique and special username or display name. For such work, you can use the websites that we introduced in this article to make your work easier.
Please let us know if you know another website so that I can share it with all users.
---
Common user questions about the Best cool screen name generator
How to find a nickname on the Internet?
One of the best solutions is to use services that suggest nicknames and…
What are the best name-suggestion services?
SpinXO service, Generator Land, Name Generator, and Online Name Generator is among the name suggestion services.
What are the name suggestion services?
These services do not end only with generic name suggestions. Most of these services have targeted name-selection systems. Nicknames of IDs of social networks are the names of businesses and… among the services of these services.
---
In this article, we talked about "the Best cool screen name generator" and we are waiting for your experiences to use these methods. Please share your thoughts with us.