Top & Best hashtags for LinkedIn 2023 + 16 important points
In this article, we decided to repeat together the principles of writing hashtags on LinkedIn, present special tips and tricks for using hashtags on this social network and present the most popular hashtags(Best hashtags for LinkedIn and top Linkedin hashtags) used in English.
But it's good to know that the hashtags used on LinkedIn are a bit different than on other social networks. Like Instagram and Twitter, LinkedIn hashtags are a combination of letters, numbers, or emojis that are placed next to the familiar # symbol.
If you can use LinkedIn hashtags correctly, you will be able to expose your content to different audiences. This will help you connect with people who are likely to be interested in your company and what you do.
But since LinkedIn is a unique platform for professional activities, proper hashtags should be used in it. Hashtags that are popular in other media may not align with your LinkedIn content strategy.
Over 850 million members in more than 200 countries and territories worldwide search and apply for jobs, join groups, and share business news on LinkedIn.
Connecting is the main purpose of LinkedIn, whether you're building your network or promoting your business. Adding relevant hashtags to your LinkedIn posts helps people find you and encourages those connections.
Best hashtags for LinkedIn 2022
#india: 67,360,203
#innovation: 38,650,162
#management: 35,844,362
#humanresources: 33,123,193
#digitalmarketing : 27,273,534
#technology: 26,327,716
#creativity: 25,093,900
#future: 24,467,571
#futurism : 23,381,734
#entrepreneurship: 22,626,998
#careers: 22,448,611
#markets: 22,154,438
#startups: 21,151,974
#marketing: 20,295,801
#socialmedia : 19,619,207
#venturecapital: 19,229,984
#leanstartups : 18,916,003
#economy: 18,584,630
#socialnetworking: 18,961,318
#economics: 17,970,152
#branding:17,955,601
#advertisingandmarketing: 17,120,017
#motivation: 15,752,148
#personaldevelopment: 14,645,706
#investing: 14,345,706
#jobinterviews : 14,281,334
#money: 14,093,240
#bankingindustry: 13,529,854
#sustainability: 13,232,060
#alternativeenergy: 12,740,933
#personalbranding : 10,422,227
#hiringandpromotion: 10,018,943
#healthcare: 9,698,892
#education: 9,608,278
#customerrelations: 8,578,081
#productivity: 8,425,215
#whatinspiresme: 8,064,773
#bestadvice : 7,642,999
#bigdata: 7,111,237
#travel: 6,966,184
#gettingthingsdone : 6,960,588
#businessintelligence: 6,886,347
#softwareengineering: 6,608,694
#programming: 6,624,055
#analytics: 6,439,957
#softwaredesign: 6,205,483
#datamining: 6,166,388
#data: 6,127,025
#socialentrepreneurs : 5,789,609
#sales: 5,854,637
#fundraising: 5,724,552
#law: 5,479,581
#lawandlegislation : 5,458,459
#legalissues: 5,273,712
#strategy: 5,061,263
#projectmanagement : 4,786,900
#culture: 4,716,024
#userexperience: 4,628,117
#fashion: 4,189,680
#cloudcomputing: 3,875,491
#mobileapplications: 4,019,048
#consultants: 3,947,817
#productmanagement : 3,603,779
#business: 3,688,345
#networking: 3,562,106
#leadership: 3,258,693
#hiring: 2,963,907
#artificialintelligence: 2,430,322
#health: 2,269,109
#jobseekers: 2,012,550
#engineering: 1,987,264
#jobsearch: 1,954,684
#mindfulness: 1,720,427
#job: 1,236,732
#inspiration: 1,149,633
#africa: 1,158,515
#recruiting: 1,035,234
#hr: 1,007,866
#deeplearning: 889,994
#smallbusiness : 813,627
#workingathome: 801,054
#datascience : 812,735
#contentmarketing: 654,600
#research: 623,097
#success: 843,582
#ai: 582,768
#storytelling: 501,194
#computer science: 497,515
#python: 558,875
#entrepreneur: 541,497
#fintech: 458,076
#onlineadvertising: 395,272
#selfhelp: 295,881
#neuralnetworks: 296,141
#partnerships: 260,066
#jobopening : 401,280
#cloud: 287,035
#homeoffice: 152,674
#openings: 206,453
#automation: 157,410
You may also find this article useful: Why should I use LinkedIn for my business?
Now, if you are looking for hashtags based on categories like management, sales, marketing, recruiting, etc. Let's follow the list below:
Top LinkedIn hashtags are used in general posts | Best hashtags for LinkedIn
#Thoughts
#Brand
#Mentoring
#Ideas
#Future
#Training
#Lessons
#Learnings
#Inspiration
#Entrepreneur
#Mindfulness
#Lifechange
#Coaching
#Believe
#Innovative
#Sustainability
#Health
#fundraising
#Travelling
#Culture
#Network
#Business
#Storytelling
#Leadership
#Investing
#Productivity
#Tipsforsucess
Top LinkedIn Hashtags for Management
#Management
#Innovation
#Strategy
#Sales
#Technology
#Sales
#Business
#Productivity
#Hiringandpromotion
#Advertisingandmarketing
Top LinkedIn Hashtags for health
#mentalhealth
#health
#stayhome
#success
#covid
#covid19
#corona
#healthcare
#coronavirus
#sustainability
#homeoffice
#staysafe
 Top LinkedIn Hashtags for Digital Marketing 
#DigitalMarketing
#SEO
#Socialmedia
#Marketing
#Mobilemarketing
#Branding
#Storytelling
#Socialentrepreneurship
#Socialnetworking
#Bestadvice
Top LinkedIn Hashtags for Hiring
#HR
#Jobs
#Career
#Culture
#nowhiring
#Jobinterviews
#jobseekers
#hiring
#jobsearch
#careers
Top LinkedIn Hashtags for Lawyers
#Law
#lawstudents
#lawyers
#lawfirmmarketing
#lawyerlife
#lawyering
#lawsuits
#lawschool
#lawenforcement
#lawtech
Top LinkedIn Hashtags for Job Seekers
#Job
#Jobsearch
#Jobopening
#Jobposting
#HR
#Recruitment
#Recruiting
#LinkedIn
#Hiring
#CV
#Openings
#Jobvacancy
#Jobalert
#Interviewing
#Jobhunters
#wellness
Top LinkedIn Hashtags for Technology
#machinelearning
#engineering
#management
#cloud
#security
#blockchain
#marketingdigital
#programing
#energy
#startup
#retail
#entrepreneur
#linkedin
#lockdown
#aviation
#fintech
#tecnologia
#automotive
Top LinkedIn Hashtags for community
#community
#communities
#family
#helpingothers
#givingback
#leadership
#linkedinprofiles
#socialentrepreneurship
#communitybuilding
#linkedinstories
Top LinkedIn hashtags for startups
#startups
#markets
#leanstartups
#socialentrepreneurs
#entrepreneursmindset
#happyfounders
#digitalnomad
#femaleentrepreneur
#sharktank
#startupcompany
#startupquotes
#Businessmindsets
#Crowdfunding
How to use LinkedIn hashtags?
Well, first of all, we need to have basic information about LinkedIn hashtags. To start, it is better to review a simple question. Where should these hashtags be used? Do you think it's better to use these in our posts (LinkedIn calls these posts updates) or in LinkedIn articles?
Adding a hashtag to your LinkedIn updates and articles increases the chances of it being seen by members who follow you or those who are looking for the hashtag used.
How to add hashtags to LinkedIn updates?
This is not as difficult as you think. Log in to the LinkedIn home page. Click to share an article, image, video, or another item.
Write your article, upload it, and link to the desired content.
Enter your hashtag using the # symbol. simply!
How to use hashtags in LinkedIn articles?
On the LinkedIn home page, click on the "Write an article" option.
After you've written your article and are ready to publish it, click the "Publish" button in the top right corner of the page. A pop-up window will open.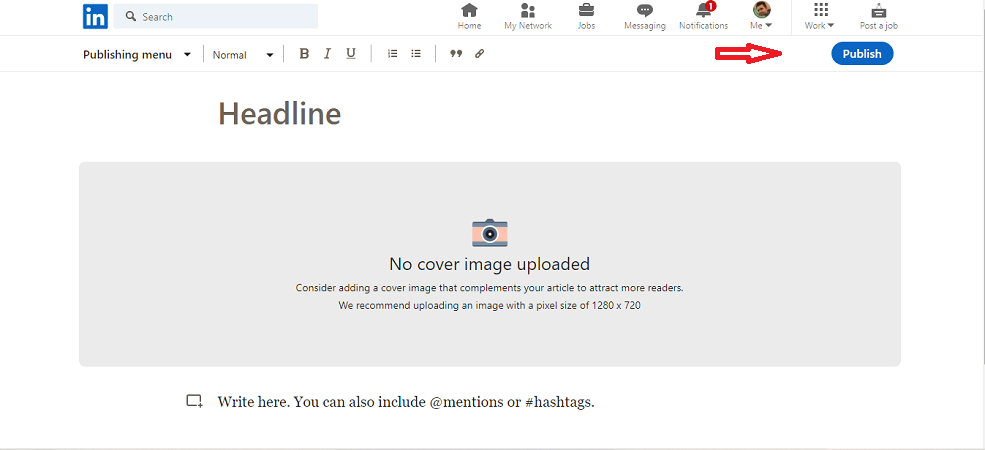 In this window, you will see a field with the following title: "Tell your network what your article is about"
Now, in this field, you can enter a text to introduce the article and use the related hashtag next to it. This section appears as a footnote above the article and helps LinkedIn members understand the published content.
After you hit the publish button, you cannot edit or delete the hashtag. So be careful in choosing this option.
As you can see, the hashtag can be added to updates and articles. But the story does not end there.
In a commendable move, LinkedIn has allowed you to use hashtags in your profile header and summary. Of course, you should remember that such hashtags have the same function as keywords without tags. Instagram also allows you to add hashtags to your bio. Maybe LinkedIn will soon follow the same trend as Instagram.
How to create a hashtag on LinkedIn
Click the "write an article, photo, video, or idea" box at the top of the home page to write the content of your post:

Add hashtags using the # symbol in the body of the post or at the end of the message:

How to find new hashtags on LinkedIn
LinkedIn lets you find and follow hashtags on the topics you're interested in.
Start by entering the topic you'd like to find in the Search bar at the top of the page. For example, when you type #socialmedia you get a list of social media-related hashtags:

Select a hashtag from the list of suggestions. #socialmediamarketing to see content related to the hashtag topic in your feed.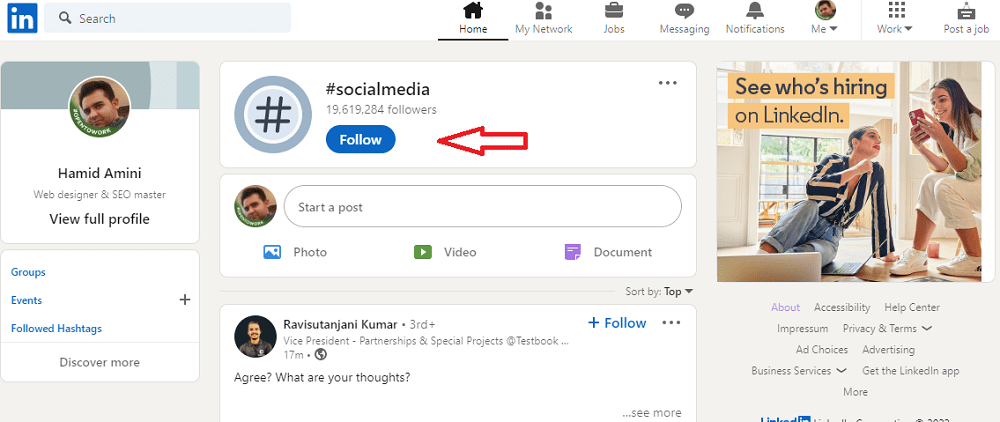 Click the 'Follow' button at the top of the page to add the hashtag topic to your list: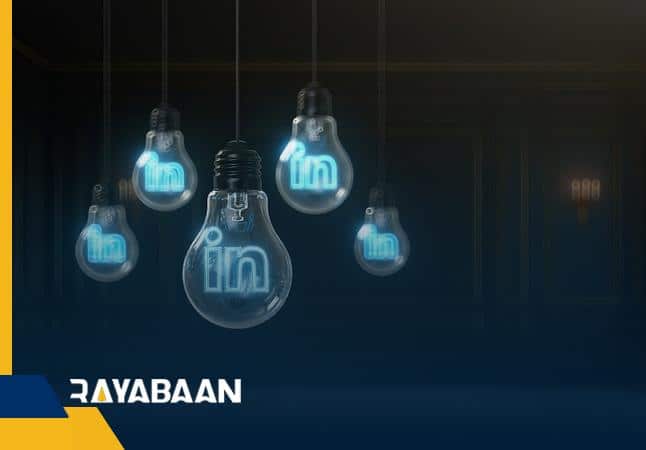 16 things you need to know about LinkedIn hashtags:
1. Use hashtags with interesting text
You can't use hashtags without writing impressive text. Even if you're sharing an image or video with LinkedIn members, you still need engaging text along with hashtags. That's why we say your posts should have at least one short call-to-action line and a compelling call-to-action.
After writing your text, you can add the desired hashtag next to it or leave the hashtag in the text. The best thing to do is to write and proofread your text. Do you think there is a specific keyword in the text that can be used as a hashtag? If so, definitely use it.
Don't hashtag every word at once and don't use any word as a hashtag. Not only does this make your text look spammy, but it also destroys important hashtag words into important words. You should always keep in mind the purpose of the article you are publishing and use hashtags to achieve this purpose
2. Don't forget the stop number, but use it where appropriate:
While you use hashtags on other social media, you can only use letters, numbers, and emojis on LinkedIn. Any spaces or symbols used in tags can cause problems.
That doesn't mean using commas, abbreviations, hyphens, or vowels (!) in your sentences.
Dos and Don'ts for Punctuation in LinkedIn Hashtags
Do not use spaces. Hashtags that use multiple words should be grouped, for example, #JustDoIt
Capitalize multi-word hashtags. This improves the readability of your hashtag and prevents it from being misread.
Do not use symbols or punctuation. Sometimes people criticize us for paying particular attention to language grammar, but hashtags have their own rules. It is for this reason that Hillary Clinton's 2016 campaign slogan "I'm with her" came up in the form of the hashtag #ImWither.
You can use punctuation marks around your hashtag. You can do this if your hashtag is a sentence and requires commas or other punctuation. Using a punctuation mark does not affect your label.
Also, check the spelling of your hashtag. Hashtags may contain spelling errors. So be considerate.
3. Don't overdo it with hashtags:
There is no limit to the number of hashtags that can be used in a LinkedIn post. However, experts in the field recommend using five hashtags per post. Otherwise, your post will look bad. Also, overusing hashtags can cause your posts to be spammed.
4. Make sure your hashtag is public:
If you have set up a LinkedIn profile for your business, your posts and profile should be public. But it is still better to check this issue again. For this, just go to your profile settings section and make sure you have made it public "Make my public profile visible to everyone".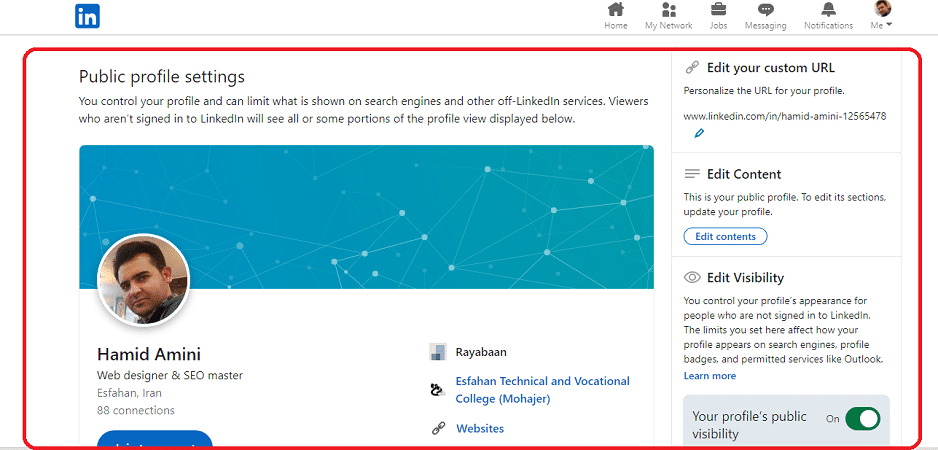 This is how you can ensure that your hashtags are searchable by 562 million LinkedIn users. If you like to share the post and its hashtag on Twitter with other people, for single posts, click on its settings and select "Public + Twitter".
5. Find your brand niche:
Every industry and subject has its niche. This is why different hashtags are used in different industries. Proper use of niche hashtags will help you reach online communities that are interested in your industry. If you're looking for inspiration, check out Instagram and Twitter too.
6. Also use popular hashtags:
Many people are not familiar with your niche hashtags. So try to balance between brand-related hashtags and popular hashtags.
7. Don't forget location-based hashtags:
More than 70% of LinkedIn users live outside the United States. If your post or article is related to a certain area or situation, you can add the destination hashtag to it and thus attract more users.
8. Also use LinkedIn's suggested hashtags:
When you start writing, LinkedIn will automatically show you related hashtags. If you feel these hashtags are useful for you, be sure to use them. Use hashtags wisely.
9. Follow top LinkedIn hashtags to get more ideas:
You can't be the only content sender. Sometimes it is necessary to follow hashtags related to your brand.
With the help of this method, you can find interesting ideas for writing articles and present yourself in the LinkedIn feed.
You can also pin the most popular ones to your home screen. Following hashtags on LinkedIn is not difficult. The easiest way is to visit the following link and add the desired hashtag to it:
https://www.linkedin.com/feed/follow-hashtags/
In the "Your communities" section, you'll see a list of hashtags you follow on LinkedIn. If you like, you can click on each hashtag to get a glimpse of how others are using them.
If your community members have a hashtag you can follow and use, don't pass this opportunity up easily. If you need more inspirational ideas, click "Discover more" in your hashtag list selection.
10. Identify your most successful posts:
Many social media have built-in analytics tools that help you measure the performance of your posts and see how you interacted with users.
LinkedIn is no exception to this rule. LinkedIn Analytics helps you find the posts and articles that perform best. What hashtags were included in these posts? If there is a particular hashtag in your top posts, keep it with you forever.
11. Use related hashtags:
Most professionals use LinkedIn before, during, or after events and conferences related to their industry. These days, most events have hashtags. So you can use the event hashtag to show your presence in the online world. You might be interested to know that the first hashtag used on Twitter was #barcamp. This hashtag was suggested by Chris Messina for networking in a series of technology-related conferences.
12. Make sure hashtags convey what they're supposed to:
If you don't want others to get the wrong idea about your campaigns and hashtags, you should be careful in choosing them. Does the hashtag you chose for your post or article convey the meaning you have in mind?
For example, BlackBerry used the hashtag #RIMjobs to announce a job search, but those simple words led to the wrong job interviews. Before doing anything, it is better to check the hashtag carefully to see what results it has on social networks.
13. Create hashtags related to your company or campaign:
If you have just launched a campaign in your company or want to start something, be sure to create a special hashtag for it. Before starting work, be sure to read the dos and don'ts of this section:
be original Do not use competitors' tags.
Do not use too many words that require punctuation.
Choose your hashtag simple and short. The best campaign-related hashtags are those that are no more than three or four letters. For example, #DoUsAFlavour
Do not forget the twelfth tip of this article and test your hashtag before doing anything.
Brands can even use LinkedIn's Elevate to create hashtag campaigns. These hashtags are automatically placed in employees' posts and help the company's visibility.
14. Register LinkedIn hashtags for future use:
There are many ways to do this. You can use note-taking applications, Google Docs, and spreadsheet software like Excel.
Registering LinkedIn hashtags in this way is a very good idea and opens up many opportunities for you. You can organize these hashtags by category or popularity, track them, and put them to good use in the days to come. For example, the hashtags #InternationalWomensDay or #EarthDay can be used on related occasions. This will save you time and energy.
15. You should know when to use mention:
Where it is better to use mentions, why do you use hashtags? If you want to tag a company or a person, tag it with the @ symbol. Additionally, you can keep hashtags for your keywords.
16. Don't use surnames in hashtags (at least as much as you can):
For example, suppose I have used the hashtag TFW in my post. Can you guess what this hashtag means? Maybe there are thousands of different sentences for this surname in the world.
Where should your audience understand the meaning of such hashtags? It is better not to use such hashtags in your posts as much as possible. Be loyal to your brand and audience. Hashtags that consist of such names may be helpful for Twitter, but they will not work on a professional platform such as LinkedIn.
Therefore, it is better to use LinkedIn analytics to get to know your target audience. If you are not sure whether such titles will be successful or not, run it for a few people and test the results.
To download videos from LinkedIn, you can use the tool developed by our team for free
Conclusion
Using LinkedIn hashtags will increase your visibility. So being unfamiliar with the world of hashtags doesn't stop you from getting great opportunities.
Hashtags are part of our culture and they won't be going away anytime soon. Hashtags are tools used in every industry.
Unfortunately, not all hashtags are supported But using LinkedIn hashtags is similar to using hashtags on other social networks
Of course, experts recommend not using too many hashtags on LinkedIn. LinkedIn users are not used to seeing hashtags.
---
Frequently Asked Questions about Best hashtags for LinkedIn
What are hashtags and why should I use them on LinkedIn?
Hashtags are keywords or phrases preceded by a "#" symbol. They are used to categorize content and make it more discoverable on social media platforms like LinkedIn. By using relevant hashtags in your posts and updates, you can increase the visibility of your content to a larger audience and reach new people who are interested in your industry or topic.
How many hashtags should I use in a LinkedIn post?
LinkedIn suggests using no more than 3 hashtags in a post to avoid overwhelming your audience. It's important to choose hashtags that are relevant to your content and your target audience.
What are some of the best hashtags to use on LinkedIn?
The best hashtags to use on LinkedIn depend on your industry, audience, and content. Some popular and widely-used hashtags on LinkedIn include:
#LinkedIn
#career
#business
#entrepreneurship
#marketing
#leadership
#innovation
#technology
#networking
How can I find the best hashtags for my LinkedIn posts?
You can find the best hashtags for your LinkedIn posts by:
Conducting a keyword search on LinkedIn to see which hashtags are popular for your industry or topic.
Check out the hashtags used by influencers and thought leaders in your field.
Experiment with different hashtags to see which ones generate the most engagement and reach for your posts.
Can I create my own hashtags on LinkedIn?
Yes, you can create your own hashtags on LinkedIn. However, it's important to make sure that the hashtag is relevant, unique, and not already being used for a different purpose. Creating a unique hashtag can help increase the visibility and reach of your content on LinkedIn.
In this article, we talked about the Best hashtags for LinkedIn and top LinkedIn hashtags, but we think that we can still use your experience to produce a better and more comprehensive article.
Share your experiences with us.