Completing your resume on LinkedIn is one of the most important tips for hiring and impressing others.
Here's a quick but comprehensive guide on How to add major and minor on LinkedIn.
"Minor" in LinkedIn refers to a person who is under the age of 18 and therefore not legally considered an adult. According to LinkedIn's policies, minors are not allowed to create a LinkedIn account, as the platform is intended for professional networking among adults.
However, some minors may still be included on LinkedIn as part of a family or business account, or if they are using the platform in an educational capacity as part of a school or college program. In these cases, it's important to be mindful of privacy and security settings and to ensure that the minor's information is being used in a safe and responsible manner.
"Major" on LinkedIn refers to a person's area of study or primary field of expertise. A person's major is usually listed on their LinkedIn profile as part of their education information, along with the name of the institution they attended and the degree they received. This information can be helpful in establishing a person's credentials and areas of expertise and can be used by other LinkedIn users to connect with others who have similar backgrounds or interests.
For example, a person with a major in computer science might list "Bachelor of Science in Computer Science" on their LinkedIn profile, which would provide information about their education and expertise to other users who are interested in that field. Additionally, someone's major can be used as a search criterion by recruiters to find potential candidates with the desired skills and education for a specific job opening.
How to add major and minor on Linkedin
1. First, enter your LinkedIn profile and select "View Profile" in the "Me" section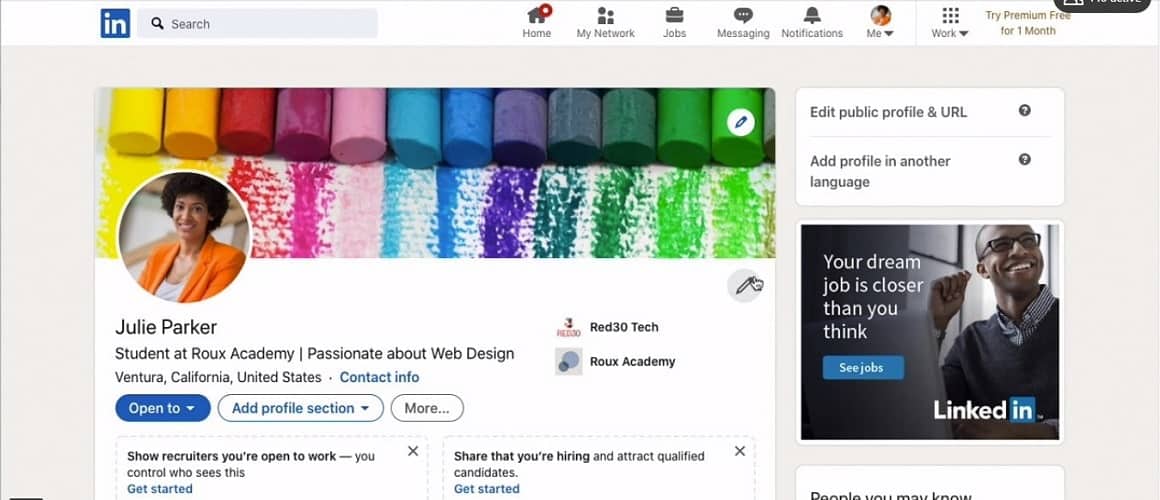 2. Click the "view profile" option at the top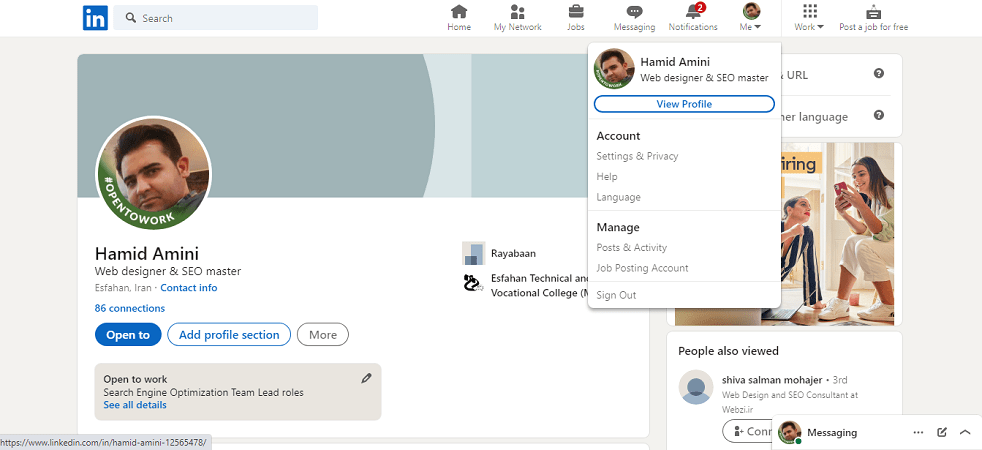 3. Scroll down a bit and see the "Education" option.
If you have completed the "Education" section, you will be faced with two options
If you want to change your previous resume, click on the "Pen" option and start editing
And if you want to create a new training section, click on the "+" option.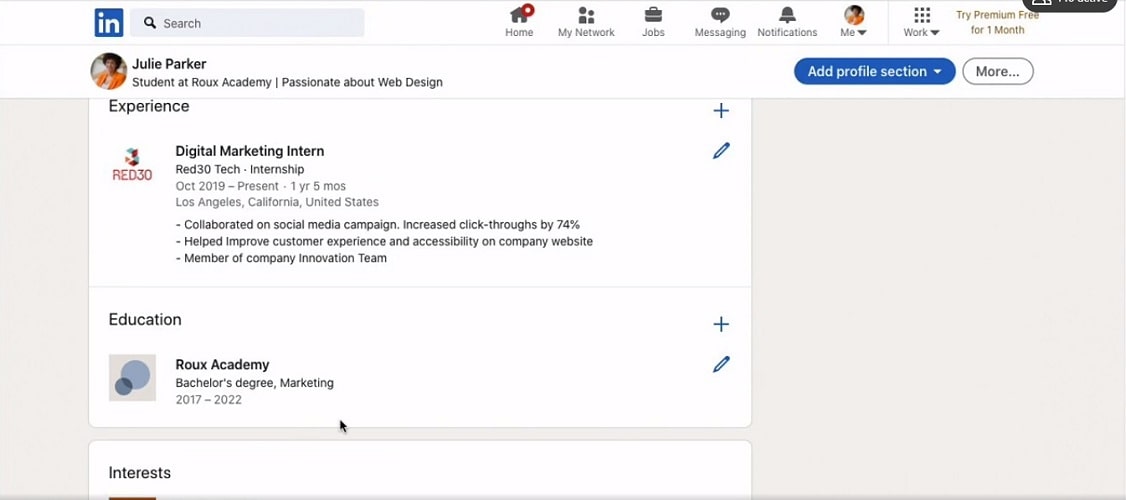 4. In this section you will find many options. We will explain this below.
School: In this field, you must enter the name of the university you are studying at.
Your university rank
Field of study: The subject area you are studying.
Start date and End date (or expected): The start and end of your studies at this university
Grade: Your score in that lesson
Activities and societies: Write down the activities you have carried out and the associations to which you belong.
Description: A description that can complement all your information and let you know more.
Media: In this section, you can attach an image of your documents.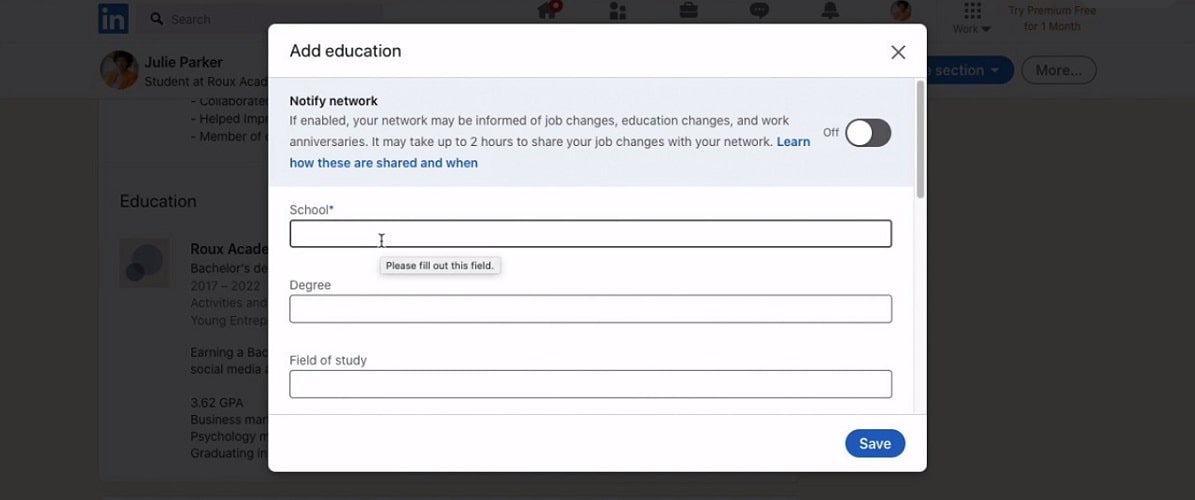 And so on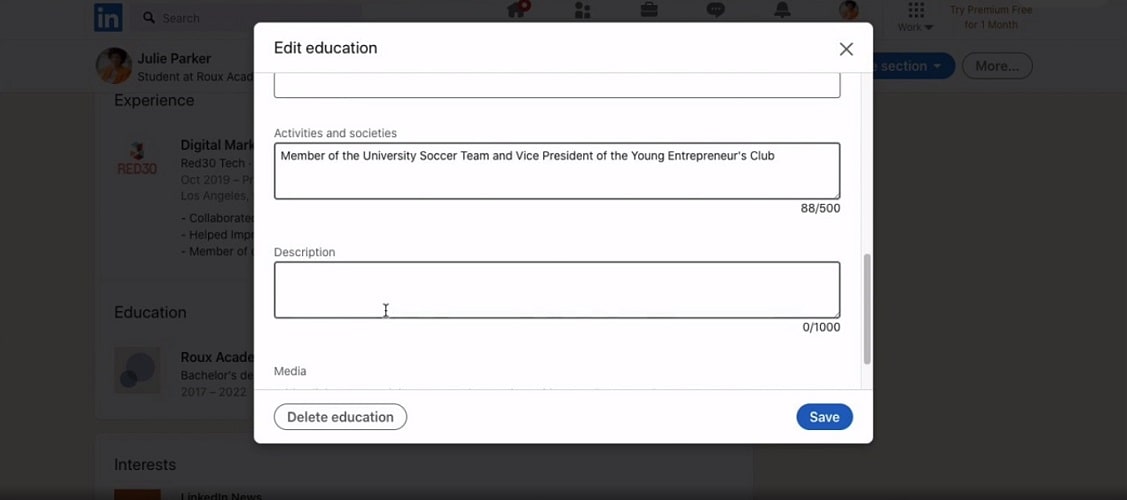 And so on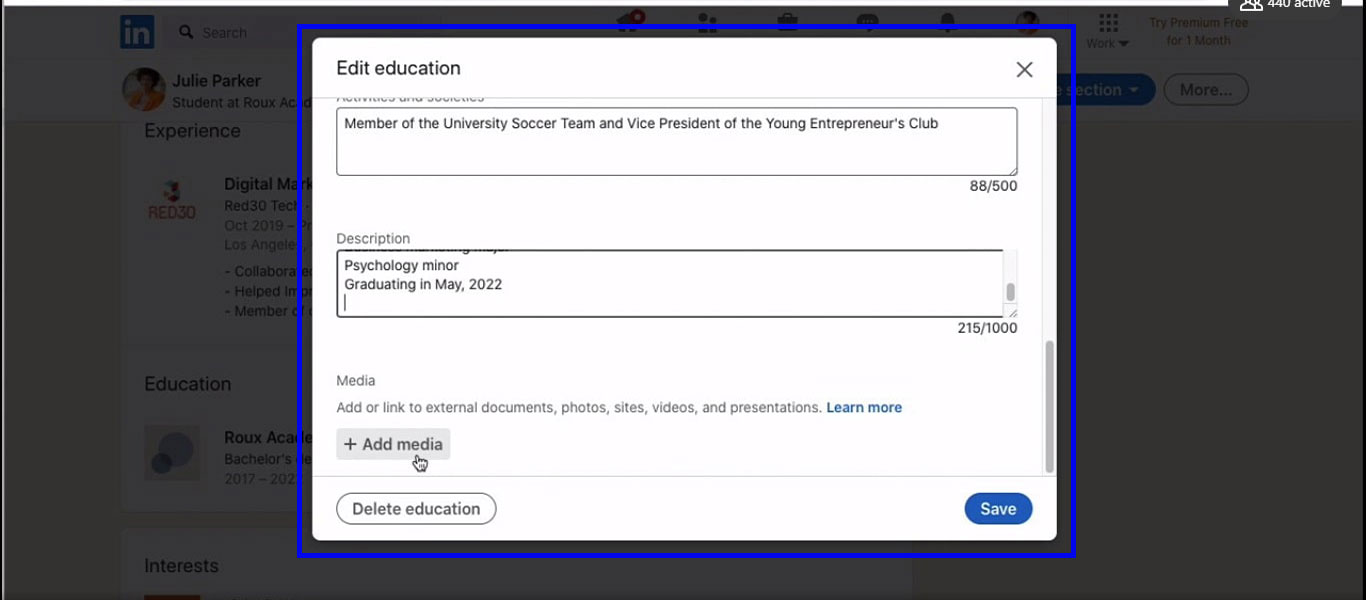 Then we want to teach you a faster way. Stay with us.
Click on "add profile section" in your profile section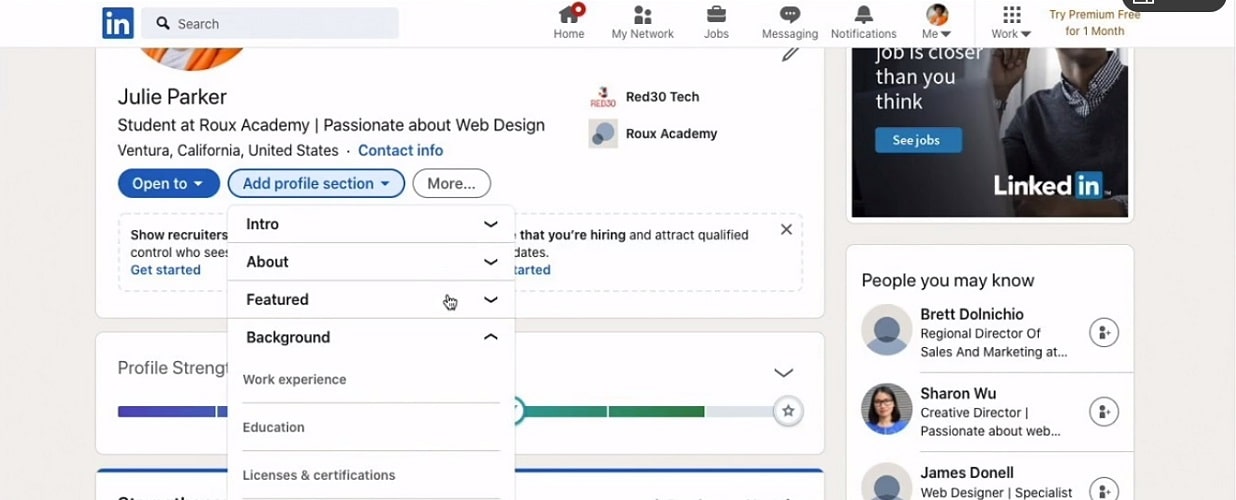 Now you have to click on the "Add Education" option and fill in the above items carefully.
Benefits add major and minor on LinkedIn
Here's a table outlining the major and minor benefits of using LinkedIn:
| Major Benefits | Minor Benefits |
| --- | --- |
| 1. Professional Networking: Connect and engage with professionals in your industry or field. | 1. Recommendations: Receive endorsements and recommendations from colleagues and employers, enhancing your professional credibility. |
| 2. Job Opportunities: Discover and apply for job openings posted by companies and recruiters. | 2. Industry Insights: Stay updated with the latest news, trends, and insights in your industry through LinkedIn's content and thought leaders. |
| 3. Personal Branding: Showcase your skills, accomplishments, and expertise to build a strong professional brand. | 3. Groups and Communities: Join relevant groups and communities to engage in discussions, share knowledge, and expand your network further. |
| 4. Professional Development: Access educational resources, online courses, and industry-specific content to enhance your knowledge and skills. | 4. Company Research: Gain insights into companies and organizations you are interested in, including their culture, values, and recent developments. |
| 5. Visibility and Exposure: Increase your visibility within your industry, making it easier for recruiters and potential clients to discover you. | 5. Events and Webinars: Attend virtual events, webinars, and conferences to learn from industry experts and expand your professional network. |
| 6. Collaboration and Partnerships: Connect with professionals who share similar interests or goals, fostering collaboration and potential partnerships. | 6. Advanced Search: Utilize advanced search filters to find specific professionals, companies, or job opportunities tailored to your preferences. |
| 7. Mentorship and Learning Opportunities: Find mentors or offer mentorship to others, fostering a culture of learning and growth. | 7. InMail: Send direct messages (InMail) to professionals you are not directly connected with, expanding your outreach possibilities. |
| 8. Professional Recommendations: Provide recommendations for colleagues and receive recommendations to strengthen your professional profile. | 8. Skill Development: Showcase your skills and gain endorsements from peers, validating your expertise and increasing credibility. |
| 9. Business Development: Connect with potential clients, partners, and investors to explore business opportunities. | 9. Analytics: Access data and insights about your profile views, engagement, and the effectiveness of your posts and updates. |
| 10. Global Reach: Connect with professionals from around the world, expanding your professional network globally. | 10. Job Alerts: Receive personalized job alerts based on your preferences and career interests. |
Please note that the benefits mentioned here are based on the general features and advantages offered by LinkedIn. The specific benefits experienced by individuals may vary.
---
Frequently asked questions about How to add major and minor on Linkedin
How do I add my major and minor to my LinkedIn profile?
To add your major and minor, go to your profile, click on the "Edit profile" button, scroll down to the "Education" section, and click on the school you attended. From there, you can add or edit your major and minor.
Can I add more than one major or minor to my LinkedIn profile?
Yes, you can add multiple majors and minors to your LinkedIn profile by clicking the "Add a major" or "Add a minor" buttons in the education section of your profile.
How do I change or remove my major or minor on LinkedIn?
To change or remove your major or minor, go to your profile, click on the "Edit profile" button, scroll down to the "Education" section, and click on the school you attended. From there, you can edit or remove your major or minor.
Can I add my major or minor if I did not complete my degree?
Yes, you can still add your major or minor to your LinkedIn profile even if you did not complete your degree.
Is it necessary to add my major and minor to my LinkedIn profile?
Adding your major and minor to your LinkedIn profile is optional, but it can help to provide more information about your educational background and can also increase the visibility of your profile to potential employers.
---
In this article, we talked about "How to add major and minor on LinkedIn" and taught you 2 simple methods. If you know a better way, please share your information with us