How to backup telegram chat_3 simple methods 2023
Sometimes, many users like to have a copy of their Telegram content, so if their Telegram is blocked one day or there is a problem with it, they can have videos, music, or anything else as a backup. In this tutorial, we have brought you a backup of contacts and chats on Android, and if your phone is an iPhone, saving messages is no different.
It has happened to you that you had a conversation in your Telegram that is very important and vital for you and you would like to have it forever. In this case, you should not delete the conversation yourself, and due to the high security of Telegram, it is not possible to delete it by itself unless your Telegram account is deleted or blocked, or the message was deleted by mistake, or someone else logged in. Reaching your phone has deleted your message. You have no way to recover a message after it has been deleted unless you have backed it up before this happens.
If you haven't taken a backup, there's no point in regretting that an important message has been deleted from your phone for any reason and you can't get it back. Even though Telegram knows the needs of many users, unfortunately, they have not included a backup feature. Don't worry, in the tutorial below, we will provide you with ways to back up, and we hope that we can help you with this task.
How to backup telegram chat
Taking a backup of important parts of this app can reduce worries. In the following article, we have gone to this topic and we have taken a look at how to back up Telegram content. If you want to learn how to back up the contents of this popular social application, stay with us until the end.
1. use the Save Telegram Chat History plugin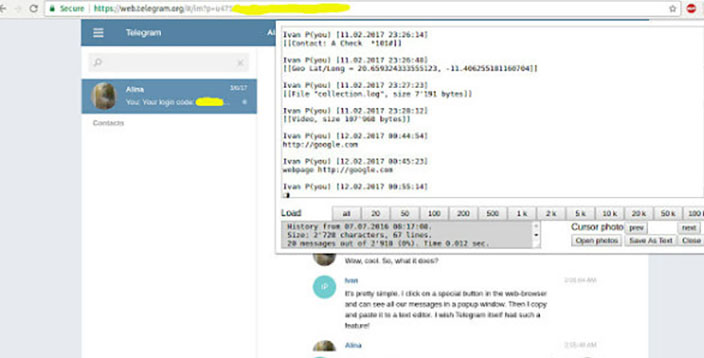 Google Chrome has a very good advantage; You can find plugins for anything, and in this regard, the popular Google browser will not disappoint you. To use "Save Telegram Chat History", just go to the Google add-ons store and then download the add-on.
After that, log in to your account through the web version of Telegram (at https://web.telegram.org). At this stage, click on any contact or group whose chat history you want to save, and open the plugin; Depending on the number of messages you keep, the saving process may take some time.
2. Print the chats
In this method, you need two things: one is to log into the account again through the web version of Telegram and also use a browser that supports the PDF format (such as Google Chrome):
1. Go to any contact or group you want and select conversations (similar to the screenshot below).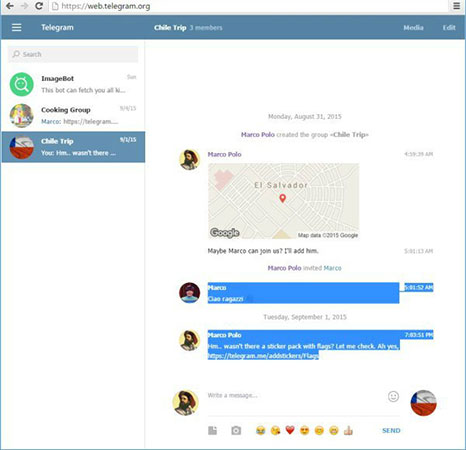 2. Click on the browser menu (top three lines, right side).
3. Select "Print" to open a new page for you
4. In this section, change the "Destination" section to "Save as PDF" and enable the "Background graphics" and "Selection only" options.
5. Finally, click "Save" to save the chats in PDF file format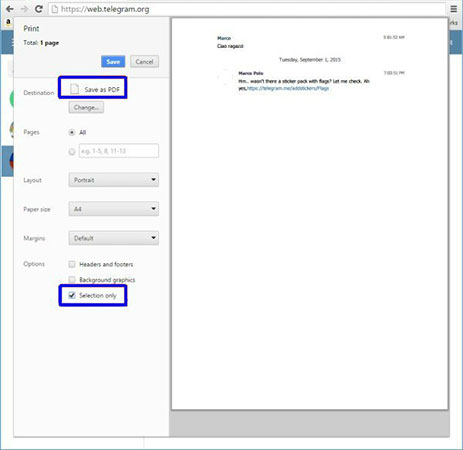 It's good to know that from step three onwards, there may be differences in some browsers. Also, this method is very useful for saving secret conversations (Secret Chat). Because unlike public messages, secret chats are displayed only on the same device where you started the conversation.
3. Back up Telegram contacts
Telegram has now become one of the main ways to communicate, and that's why many of your contacts are probably present in this messenger application. To backup the contacts of this service, you can use "Contact to Excel" application to save the contacts in Excel file format.
By default, Contact to Excel saves all mobile contacts. But if you want to keep only Telegram contacts, you will have a much more difficult way ahead. In the second method, you must first go to contact/setting/export, take a backup copy of your contacts and then save them in your mobile phone.
Depending on the mobile user interface, the second method is different on some smartphones
Because you have to delete the contacts in the next steps. Now go to "contact/setting/contact to display" section. Here, if your contacts were saved on the SIM card, tick "sim card" and if you had it on the memory stick, tick "device". Then go back to contacts and delete all contacts.
Considering that you have already made a backup copy of the contacts, so there is nothing to worry about. In fact, you do this so that your contacts are deleted and only the contacts of programs such as Telegram or other communication software remain. So now you can choose Telegram contacts as default contacts.
Now go back to "contact/setting/contact to display" and tap Telegram. Go to "contact/setting/export" again and take a backup of Telegram contacts now. Go to "contact/setting/export and import" and click on the "import" option to restore the file you backed up from Telegram contacts.
Now open "Contact to Excel" program and backup the contacts. After you are done, go to "contact/setting/export and import" and select the file you backed up from; The same initial contacts are returned.
---
Frequently asked questions about how to backup telegram chat
Why should we backup Telegram?
Taking a backup or backup file of Telegram data is the most important necessity of today's era. Many people try to properly protect all their information and data by making backup copies. Some parents prepare a backup copy of their Telegram to better control their children's activities on Telegram, some employers to monitor their employees' work, and some to restore their personal chats.
Why should Telegram chat history be backed up?
Similar to Snapchat, Telegram has the feature of self-destructing messages within a certain period of time. If you do not use Telegram for a long time, your account may even be destroyed. If you lose your phone or do not log into your account for six months, the account will be automatically deleted. So you must backup your Telegram chat history otherwise you will lose your important information.
What programs should I use to backup Telegram chat history?
iKeyMonitor allows you to backup your Telegram chat history by logging into chats and taking screenshots. In addition, also from the desired iPhone and Android logs such as SMS messages, call history, call recording, visited websites, GPS locations, chat history in social media applications on WhatsApp, Facebook, Backs up WeChat, Hike, Imo, etc.
Is it possible to save Telegram chat history with Chrome Web?
Backing up Telegram chat history with "Chrome Web" is free and convenient. But you can only save the chat history on the computer. If you want to view your Telegram backup on your mobile phone, you need to transfer it to your phone. To do this, open the Chrome browser and enter the website address https://web.telegram.org. To enter the web version of Telegram, select your country and enter your phone number. Select the contacts you want to backup. Press the "Ctrl + P" buttons, and click the "save" button.
How can I recover Telegram chat history?
To do this, go to "Android" folder > "data" folder > "org. Go to telegram" folder > "cache" folder. Open the folder and find all the deleted photos from your desired Telegram conversation.
What is the easiest way to make a backup copy of Telegram?
The easiest way to make a backup of the Telegram chat history is to copy and paste the text of the conversation and messages. To do this, open your Telegram account on the computer desktop and then copy all the messages in the device's temporary memory by holding the "CTRL + A" and "CTRL + C" buttons and paste them on the Word file. You can now print from it.
Is it possible to backup Telegram chat history with Chrome extension?
If you have a Chrome browser on your computer, install the "Save Telegram Chat History" extension and easily backup your Telegram. For this purpose, you must use Telegram on the web. Keep in mind that this method can only be used for Telegram on a computer.
Can I backup Telegram with an iPhone?
In general, the process of backing up and preparing a backup copy in Telegram on the web and using a computer is the same with Android and iPhone phones, and there is also the possibility that you can use your iPhone and iPad devices to copy Telegram chats. Make a backup.
What program should I use to backup the Telegram version?
It is not possible to directly back up Telegram messages, and the messages that are received and sent are stored in the Telegram server as "cloud". To take a backup, you can use software such as "telegram backup.jar" which is under Windows and runs on a computer, and you can also use third-party programs such as "tele backup" to take a backup of your Telegram messages.
How to backup my contact list in Telegram?
To backup Telegram contacts, you can use "Contacts Excel" software. This software makes a backup of your contacts in "Excel" format.
---
In this article, we talked about "How to backup telegram chat" and we are waiting for your experiences to use these methods. Please share your thoughts with us.