WatchThis.dev movie introduction service
The chatbot service ChatGPT has been able to attract a lot of attention in recent months and many developers have used this product of OpenAI company to create peripheral tools. The WatchThis.dev site is one of these examples that uses the mentioned chatbot to introduce movies and TV series to users by artificial intelligence, and how to use it is explained in the following article.
How to use WatchThis.dev service?
You don't need to create an account to access WatchThis.dev's features, and you just need to directly enter its address in your computer, mobile or tablet browser. The main page of this site consists of three sections, each of which is used to achieve a more accurate result.
The first part, which is a drop-down menu, is used to select the type of content and includes three options "TV Show" and "Movie" next to "No Preference". If you intend to receive offers only from movies or TV series, choose only the first two options; Otherwise, go to the third option so that there are no restrictions for suggesting titles to you.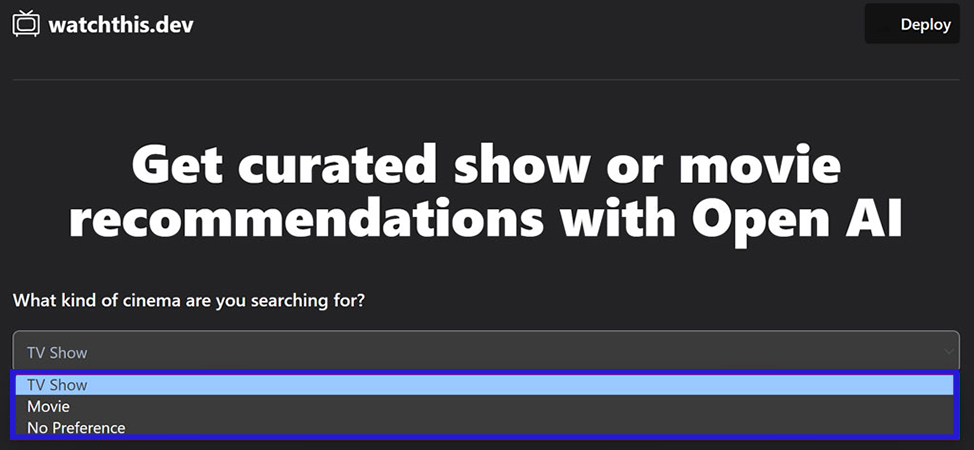 The next step is to select your favorite genre(s). The Watchthis.dev website offers more than 50 genres and users can find movies close to their taste by selecting the genres of their choice. Of course, be careful that it is better to choose genres that are close to each other in order to get a better result. You can also not select any of the displayed genres and use the description box to describe the desired movie.

Finally, you will see a box at the bottom of the page where you can enter more details about the movie you are waiting for. For example, you can tell the AI to recommend movies on a specific streaming network or recommend TV series with multiple seasons. You can use this section to enter your favorite works and find other titles close to them. In the example below, it is even mentioned that the IMDB score of the movie must be at least 7 or higher. Finally, click on the "Curate My List" button at the bottom of the page to create a list.

As you can see in the above example, the artificial intelligence is asked to show us movies similar to "Mr. Nobody" and "Elegy on a Dream" whose score on IMDB is higher than a certain threshold. In the following, we will see the introduction of 5 movies, most of which are very similar to the mentioned titles. Among the recommended films, "Eternal Shine of a Pure Mind" is closer to the previous two films. Also, almost all of them are not very pleasant.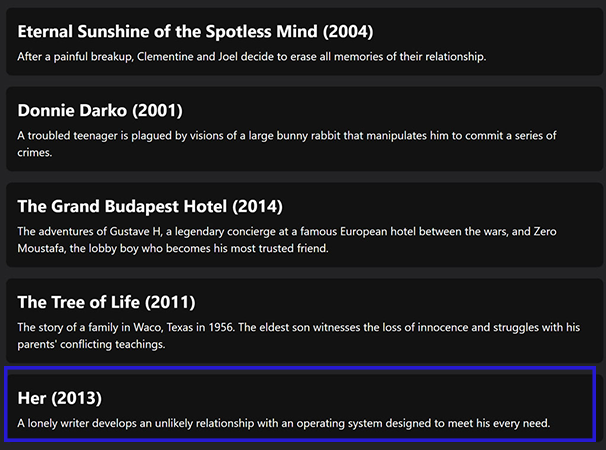 If you want new movies to be added to the list, just click on "Curate My List" again. Of course, usually, the new list will have two or three duplicate titles, and in some cases, if you have a precise description of what you want, you will always reach the same result.
By manipulating the commands entered in the description box, you can get completely different results. You will also be able to choose the actors, director, release date, and various other things. In the image below, you can see that the artificial intelligence has been asked to take into account the IMDB score and also mention their Rotten Tomatoes score in the movie description.
In the end, we should mention that the idea of movie introduction sites is not so new, and popular titles like "Flick Metrix" have been available to enthusiasts for years; But WatchThis.dev's use of ChatGPT's artificial intelligence has made it more flexible and easier for users to describe their desired movie.
It is worth mentioning that the ChatGPT chatbot can be used directly to introduce movies and TV series. The more details you provide, the better results you will get. Also, the number of movies introduced by it will not be limited to 5 and users can set the desired number of titles.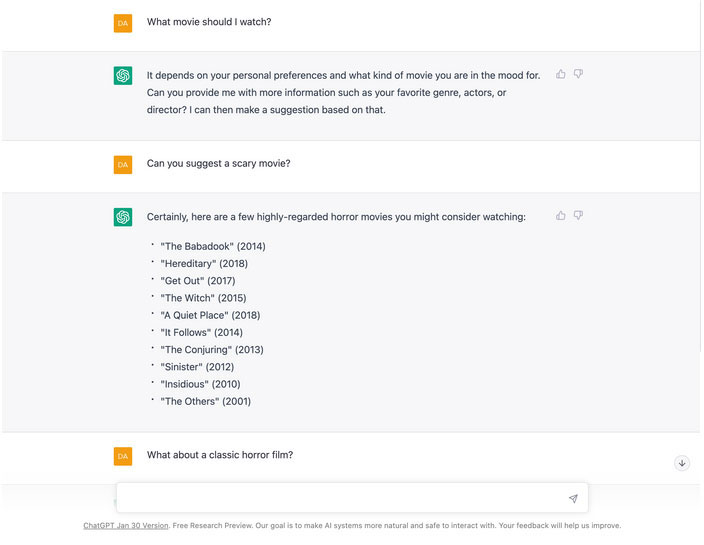 Frequently Asked Questions about WatchThis.dev video recommendation service
What is the use of WatchThis.dev website?
Users can use the WatchThis.dev website to find movies similar to their favorite titles.
What filters are available on WatchThis.dev?
WatchThis service can introduce serial movies based on genre, actors, grades, or awards won and…; It is enough to mention your desired items in the description box.
What are the best sites similar to WatchThis.dev?
The website FlickMetrix.com, along with rating services like IMDB and Letterboxd, can be good places to find similar movies.