Toyota celebrated its 60th anniversary in Thailand, part of which was dedicated to the introduction of the electric Toyota Hilux model.
Toyota Hilux is one of the famous pickups of this Japanese company in the world market, which has a considerable reputation due to its simple technical structure and excellent build quality. Hilux now reaches customers in the form of the eighth generation with six or four-cylinder engines. But it seems that the next generation of this car will be known as the first example of an electric Toyota Hilux. This news is not an assumption or a rumor, because Toyota has introduced an early model of this car. But the question is, can Toyota repeat the quality and durability of the famous Hilux in the form of an electric car or not?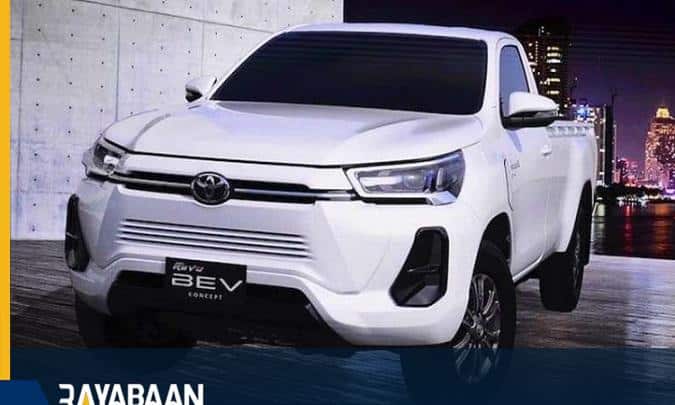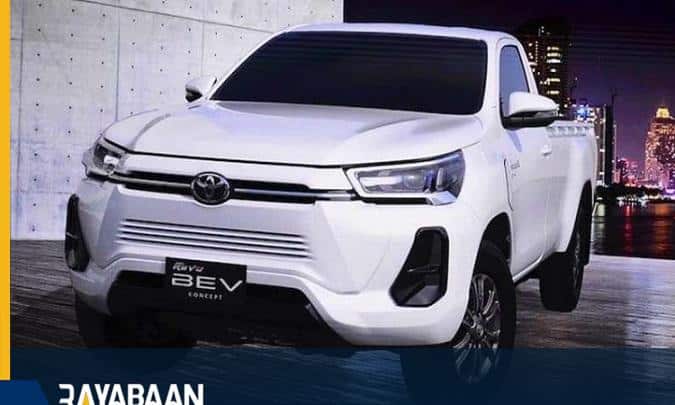 Thailand is one of the most important export markets for Toyota. This Japanese company celebrated its 60th anniversary in Thailand last week. Part of this celebration was dedicated to the introduction of the electric Toyota Hilux model; The model known as Hilux Revo Bev. Toyota refused to provide any further information about the electric Hilux. It is possible that Toyota has not yet made a final decision about the battery electric Hilux and how it will be supplied.
Toyota Hilux electric, for the time being at the limit of the idea!
Toyota Hilux is very popular in Thailand and the unveiling ceremony of this car was also done by the company's CEO Akio Toyoda. In addition to the Hilux, an electric cargo vehicle called the Toyota IVM 0 concept model was also introduced during this event. In addition to electricity, the new generation of Hilux is expected to be supplied with other alternative energies. Toyoda said on the sidelines of the ceremony: "The production of electric cars is not the only way to deal with pollution in the world."
Toyota recently received funding from the UK government. The purpose of allocating this budget is to develop cars with zero emissions through hydrogen fuel. So far, two hydrogen cars from Toyota have been released in the market, which includes Toyota Mirai and Toyota Hilux FCEV. In the pickup version, the hydrogen tanks are placed under the cabin and are responsible for providing the fuel required for the internal combustion engine.