What is the purpose of customer success ?
In today's world, business owners should benefit from having a strong sales force. In addition, having a competent marketing team is necessary. But the fact is that having both options is not enough for the growth and development of your business.
The cost of retaining customers has increased over the past decade. and with more choices and choices It is no longer possible to rely on traditional methods to increase customer loyalty.
In the face of intense market pressure and endless competition, you need to equip yourself with advanced intelligent tools for minute-by-minute customer monitoring and continuous measurement of all indicators of
customer experience
and improvement of customer satisfaction.
Now the category of customer success is the biggest opportunity that has arisen in the business world. In this article, we will try to introduce you to this relatively new concept in business and ways to succeed in it.
what is the purpose of customer success?

How important is customer success?

What is the difference between customer success and customer support?
What is the purpose of customer success
Customer success is one of the departments of the organization that helps the customer to have an effective and close relationship with the sales, marketing, and product management departments and the ability to make the most of the organization's products and services and create value. The customer success department of an organization, like the sales and marketing departments, is the creator of revenue and value.
The Customer Success Department, through active participation, seeks to improve the way we interact with customers through the use of sales, affiliate marks, editing, and word of mouth and plays an active role in improving the customer experience and successful results in engagement and expansion. the customers.
The Customer Success and Support departments, with a close and equal relationship, pursue the same goal and that is nothing but customer satisfaction at the highest level!
However, while customer support is on the front line via phone calls, email, and social networks, passively investigating and resolving customer issues and concerns and focusing on answering their requests, the Customer Success department is actively focused on engaging with customers so they can gain more value. and share their feedback during their interactions with your business.
Why is customer success important?!
Sales and marketing in business are traditionally known as growth drivers for increasing revenue. However, ignoring customers as an effective factor in business growth is a mistake. By focusing on customers and their success, you will be able to increase your customer retention rate and have a following. Customers will refer you to their friends and acquaintances and word of mouth will help you gain new customers.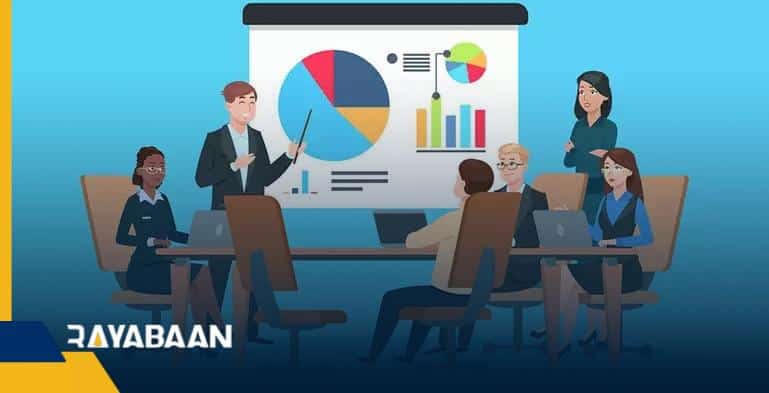 Sales used to be the primary driver of the business.
Even in the not-too-distant past and at the beginning of the 21st century, We've seen sales recognized as a key driver of growth for B2B organizations. In the aforementioned era, the market did not play much of a role. Because the flow of information is in the hands of the sales team.
At the moment, set up email marketing contact lists; Limited to a few things like printing logos on advertising and conference materials. Service and support issues are also not important. The presence of annual contracts in software and specialized services encourages customer loyalty to a certain extent. Yes, In that that there is a need to maintain a certain level of customer satisfaction. But this is usually the responsibility of a group of support members gathered in a communications center.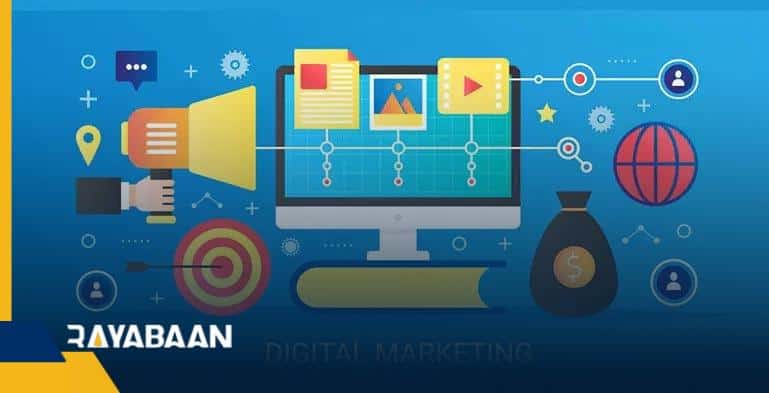 Marketing was the second engine of business.
Then the internet opened the door of information for us. Thus, potential bullies preferred to research the goods themselves rather than talk to sellers. Now, business owners have the opportunity to impress potential customers before the sales process begins. For this reason, organizations have employed new and new forces to develop blogs, advertising campaigns, online advertising, and social network management, thus expanding the field of marketing.
Of course, the seller still had a special place. However, the number of sales team members was no longer the primary concern of business owners. Remembers the marketing team needed to beam be able to motivate people to buy as much as possible and generate leads for the sales team.
Of course, customer satisfaction was also required during this time. But still, the annual contract was a tradition that kept the companies somewhat safe. In addition, the cost of acquiring new customers was pleasantly low. So the question is raised why organizations are spending heavily on customer retention due to the slow customer acquisition process?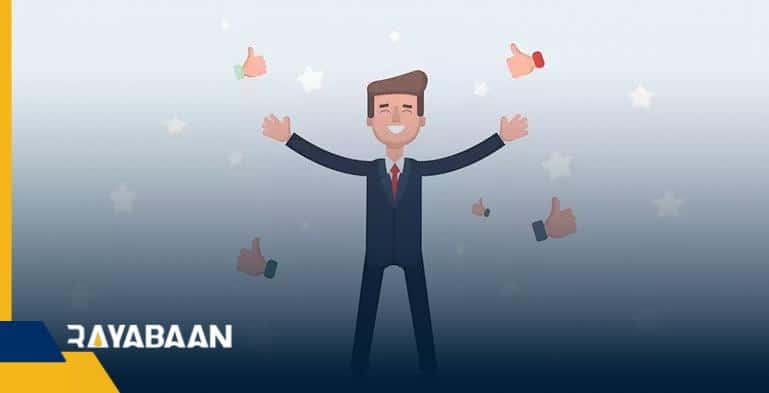 The emergence of a third brake mechanism for customer growth and success!
Today, many customers have already decided before the sale. Compared to the past, consumers today have more choices, information, action, and expectations. The balance of power has shifted so that no customer agrees to fulfill an annual contract anymore. An increasing number of software companies are offering free versions to consumers. This way it is possible to use these programs for free before buying them, and if you want, you can cancel the subscription. By doing this, companies can create a positive customer experience (CX) for customers.
Buyers today are no longer focused on marketing efforts. Surveys have shown that only 3% of people in the world trust marketing and sales professionals. With the increase in CPC across all channels, people are simply ignoring commercial messages. Today, giants like Facebook take a while to reach audiences.
As the conditions become more difficult and the cost of attracting new contacts increases and it becomes easier to leave, it is inevitable to pay more attention to existing customers and keep them satisfied, the presence of sales and marketing teams is still necessary for sales and customer service. But the number of team members and the large and long-standing sales and marketing department is not the main problem. Instead, for the growth and development of organizations, it is important to work in a way to reduce customer losses and increases customer loyalty.
Studies have shown that growing companies and organizations are 21% more likely to believe in the importance of customer success than established partners.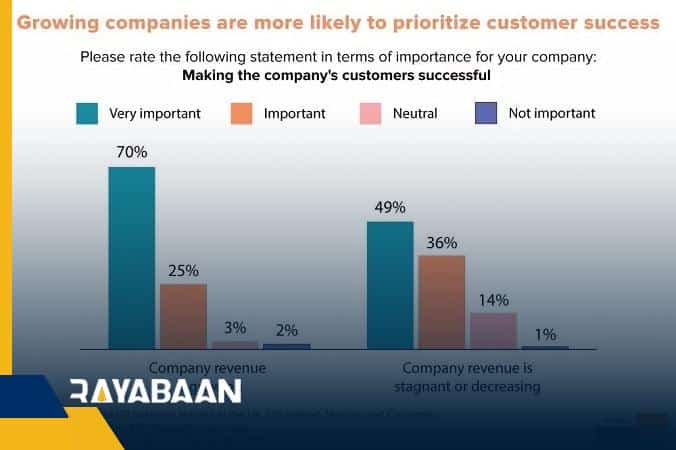 Such organizations have a lot of money, so there is no need to imagine that they can spend as much as they wEvidencedence shows that growing companies are 33% more likely to save costs than others, and this is considered necessary to keep their business afloat.
Today's growing organization has realized a very important point. They believe that customers who are not selected as the right contact will leave your organization within three months. In this way, spending money to attract such customers and sell the product only temporarily increases the sales statistics and costs nothing. Instead, in today's business world, the best economic way is to base your business on customer success and satisfaction.
Explore the difference between customer success and customer support: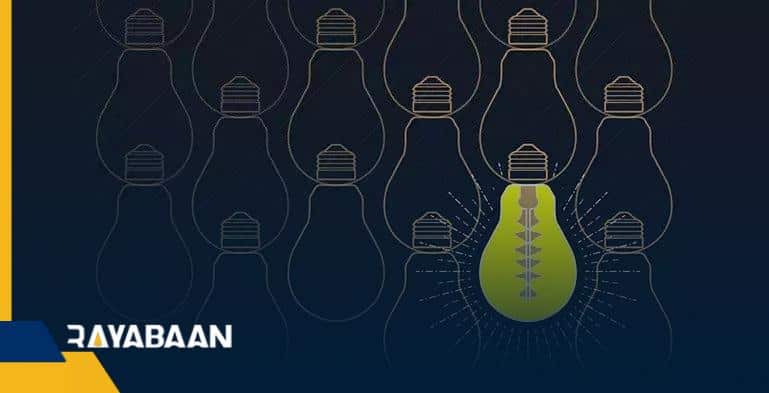 Entrepreneurs have always recognized the importance of customer success. However, according to a long tradition, the role of customer success belongs to the support department! It should be noted that the support department is often a department with a small budget and consists of a team responsible for solving customer problems.
That is, support is a passive function that solves a specific problem after it occurs! However, it has been a long time since the customer service department acted as the only department responsible for solving customer problems and is still responsible for it.
One of the biggest disadvantages of working in a support department is that team members have to solve the same problems over and over again. Of course, they manage to solve this problem every time. However, organizations are often reluctant to take steps to solve problems on an ongoing basis and spend money to do so. This is where customer success comes from!
Customer Success is one of the most productive and proactive functions that improve customer experience (CX) in the long term and pave the way for future success. In many organizations, customer support and success departments are closely intertwined. However, the main difference between these two parts can be categorized as follows:
1. Description of Duties:
The Support Department is obliged to respond to the occurrence of a problem in the relevant situation and take measures to resolve it as soon as possible. However, planning and ensuring value creation and achieving a successful life cycle for customers is one of the responsibilities of the customer success department.
The support department has a short and regular process. If the successful party has a long and stable path.
Support success indicators include several referrals, customer satisfaction index (CSAT), net promoter score (NPS), and customer waiting time. On the other hand, these metrics related to customer success include customer retention rate, customer lifetime value, product usage, customer health, and revenue.
4. Financial responsibility:
The support department is cost-oriented, focusing on efficiency and cost reduction. On the other hand, the customer success department is revenue-driven and focuses on growth opportunities.
The function of the support department is assigned to a special group that works separately. At the same time, the successful operation of the customer success department is closely related to the activities of the sales, support, service, and production departments.
The support department is responsible for submitting problems. But, part of success is providing opportunities.
The support department is expected to work based on technical expertise. Meanwhile, department performance success is measured based on customer experience, product acceptance, upsell and cross-sell.
The support department is involved in the essentials of any organization and has been established since day one. Meanwhile, success comes from organizations that grow and provide professional services.
Now, you must know that the presence of a support department or a customer success department is not a good indicator to evaluate the level of your customers' referrals.
For example, even though Amazon is considered one of the most customer-centric companies today, it is unlikely that any of the organization's Customer Success Managers will email you!
Many emerging and smaller-than-average SaaS startups also demonstrate customer focus by providing exceptional software capabilities, creativity and innovation, timely support and responsiveness, and a great user interface. Therefore, there is no need to have a formal customer success team in such a business.
However, in such teams, the presence of a customer-oriented mentality is also visible. The mentioned teams can take steps to solve it with exceptional adaptation and active support in case of a problem. Regardless of the presence or absence of a formal team, the main task of today's successful companies is to work in the context of the growing success of their clieThet the reason for such concern is that in today's world, growth and development are becoming more difficult and complex every day.
The most successful companies of tomorrow, in addition to creating the best sales and marketing teams, have taken steps towards increasing customer success and turning them into loyal fans!
In this article, we talked about what is the purpose of customer success. If you have experience with this topic, please share it with us so that we can make this content comprehensive and complete