Within 24 hours, users have withdrawn more than 500 million dollars and actually about 30,300 bitcoins from the Binance exchange, which is unusual.
According to Coinglass data, users have withdrawn a figure of over 500 million dollars and actually about 30,300 bitcoins from the Binance exchange within 24 hours, which is an unusual figure.
"Chang Peng Zhao", CEO of this exchange, announced in a tweet that USDC withdrawals have increased and they had to temporarily stop withdrawals of this stablecoin.
Although Zhao pointed out that the suspension of withdrawals is due to the token exchange and that the problem will be resolved after the banks reopen, various rumors have been published in cyberspace about Binance's financial crisis.
The CEO of Binance tries to make the situation seem normal, but the evidence shows that there is a strong fear about the situation of Binance in the market. The high amount of assets withdrawn from this exchange is not normal and fuels these rumors. Investors are worried that Binance will also suffer the fate of the FTX exchange and if such a scenario happens, the crypto market crisis will be serious and the cryptocurrency market will be shot dead.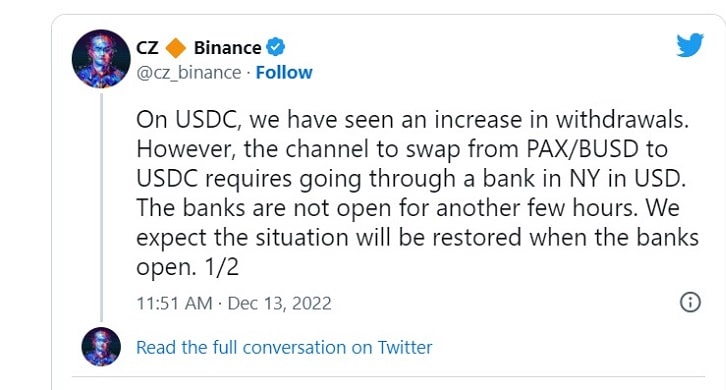 Is a serious crisis threatening Binance?
Some market analysts say that such rumors should not be fueled because Binance owns Bitcoin and will not suffer the fate of FTX. However, there is a lot of fear and FUD in the market about the state of Binance. What the statistical data of the market shows, the reserves and assets of the Binance exchange have decreased somewhat. DefiLlama data reports a drop of $3 trillion in reserves of this exchange.
Reuters published a report on Binance, calling the exchange a hotbed of illegal activity since its inception in 2018. In an article published by Reuters, it is mentioned that the Department of Justice should fine Binance for destabilizing the digital currency market.
Binance also defended its position by publishing a tweet in response to Reuters' accusation. Binance claims to make the cryptocurrency world safer with its presence in the market and is proud of its team for such a position.
While these issues are published in the media and space, the United States Department of Justice has started an investigation since 2018 to investigate the compliance of this exchange with anti-money laundering laws and related to American sanctions, but the final decision has not yet been made regarding the activity status of this exchange.
It remains to be seen where the status of Binance will go with a wave of rumors.