New research titled "Twitter files" shows that a team of employees of this social network created Twitter blacklists.
The second part of the document titled "Twitter Files" shows that a team of employees at the social network created blacklists, prevented certain tweets from trending, and deliberately prevented certain popular topics from being viewed by creating restrictions. Also, all these activities were done without the users' knowledge.
Elon Musk promised to release confidential information under the name of Twitter Files to show that he supports freedom of speech. In this regard, he first authorized the release of documents from Twitter that showed how this social network blocked the publication of an article about the son of US President Joe Biden. Now and then, a series of tweets has been published by the Weiss user account which reveals some of the Twitter activities.
After the publication of this report, Elon Musk tweeted that the social network is working on a software update to show the real status of user accounts. This update will clearly show the shadowbanned status of users and they will know if their posts or even their account has been intentionally banned.
The names of four top Twitter executives appear in these new files
In the second part of the Twitter files, the names of four senior Twitter executives, including "Vijaya Gedde", the head of Twitter's legal, policy and trust department, And"Yuel Roth", the global head of trust and safety of this social network, and even "Parag Agrawal" and "Jack Dorsey" Former CEOs of Twitter appear in these new files. Weiss claims Twitter's most sensitive decisions were made by this group, and they steered such matters. He also adds that the activities of these groups were apparently beyond the reach of observers and existing standard processes.
To prove her claims, Weiss shared screenshots showing how certain Twitter accounts are restricted.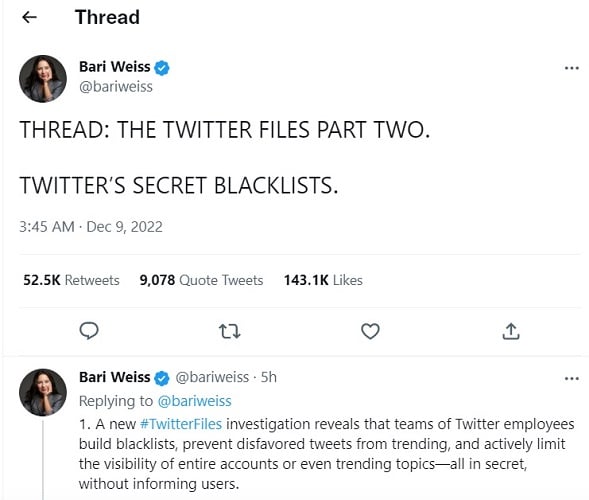 Twitter files: from hidden blacklists to limiting the number of views
Elon Musk, the new owner of Twitter, previously announced that one of the main reasons for buying this social network is to create an environment for all users with different tastes so that they can express their ideas easily and freedom of expression can be implemented on this platform in the real sense. Since joining Twitter, Elon Musk has made some high-profile decisions for Twitter.
More details have now been shared about how Twitter's internal team worked before the takeover of the social network. The tweet was tweeted by the Weiss user account, which shows that teams of Twitter employees have created blacklists of this social network. Also, these work teams prevented some tweets from trending and deliberately did not allow some tweets related to popular topics on this social network to get good views. All these activities were done secretly without the knowledge of Twitter users.
Using Visibility Filtering, Twitter tried to block the search of some accounts in order to limit access to the tweets of such user accounts. Weiss says Twitter blocks certain popular posts and places limits on how often they can be seen.
It remains to be seen what other information the Twitter files reveal.