Tesla unveiled the prototype of the Optimus humanoid robot at AI Day. According to Elon Musk, its price will be less than 20 thousand dollars.
Tesla made good on its promise and at the "AI Day 2022" event, it showed the prototype of its humanoid robot called "Optimus". This robot uses some artificial intelligence software and sensors used in the autopilot driver assistance feature of Tesla cars.
At the AI Day event, Tesla unveiled two prototypes of its future robot, one of which was unable to walk and performed various movements on its own. In the following, we will have a look at these two robots.
The prototype of Tesla's Optimus humanoid robot
The first example that Tesla showed of its future robot was able to move and perform various tasks. According to Tesla CEO Elon Musk, this prototype can do more than the event, but for the first time, it was able to walk without extra accessories at AI Day. According to Musk's prediction, the price of this robot will probably be less than 20 thousand dollars.
Elon Musk has claimed that the main difference between Tesla's design and other humanoid robots is the possibility of mass production of Optimus. In fact, the CEO of Tesla said that Optimus is designed for mass production on the scale of millions of devices.
As you can see in the video above, the Optimus prototype, called "Bumble C", can dance as well as walk. However, according to Musk, this robot has moved less than usual on the stage to increase security.
Tesla then released several videos of the different functions of its humanoid robot, such as moving boxes at work and placing them on the table, picking up a hand sprinkler, watering plants, as well as doing industrial work. In some of these videos, the surrounding environment is shown from the eyes of the robot.
Next, the Tesla team brought another prototype of the Optimus robot on stage, which was more similar to the final prototype. In fact, this robot was similar to what Tesla had shown in the past. Of course, it should be mentioned that this robot was not able to walk and instead moved different parts of its body. However, according to Musk, this prototype had actuators, batteries, and other final equipment.
Specifications of the Optimus robot
This Tesla robot is equipped with a 2.3 kWh battery and Tesla chip, and also supports Wi-Fi and LTE. At the AI Day event, Tesla also mentioned the robot's joints in different parts, such as hands and knees, and announced the possibility of picking up different objects of different shapes and sizes.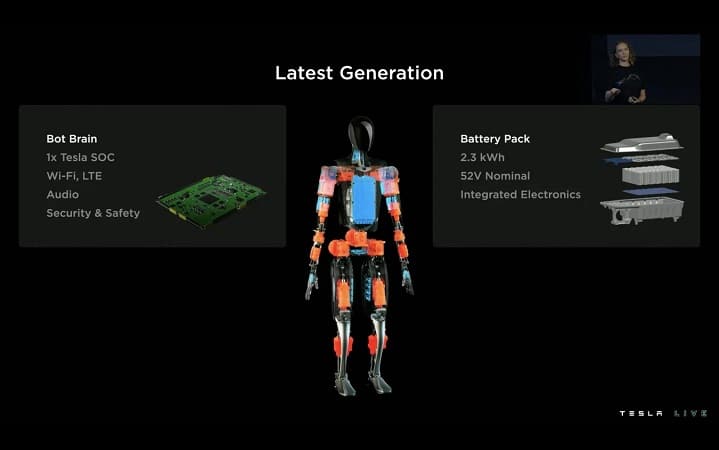 Tesla has used its autopilot software for the Optimus but has optimized it for the new body and environment. To train this robot, Tesla used videos of humans doing things in the real world so that Optimus can show its optimal performance.
This robot, which is 1.76 meters tall and weighs 56.7 kg, can move cargo weighing 20 kg. Optimus is also capable of moving at a speed of 8 km/h.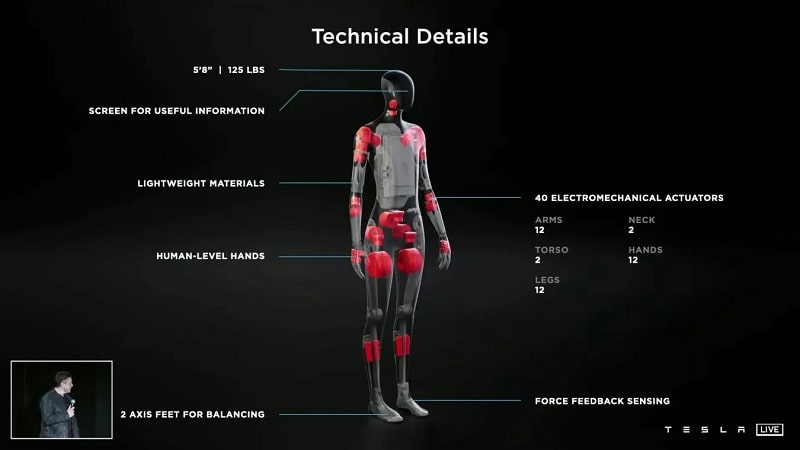 Elon Musk mentioned at the AI Day event that Optimus is the most important product developed by this company this year and can have a significant impact on the company's car business over time. We have to wait and see when this robot will enter the market.
The "Starlink satellite internet" article may also be interesting for you.