IOS 16 available for Apple iPhone
iOS 16 is available for iPhone 8 and newer Apple phones. This operating system applies important changes to the lock screen, iMessage, and gallery.
In mid-June, Apple unveiled the newest version of the operating system for iPhone phones at the WWDC event.
Sometime after the unveiling of iOS 16, the beta version of this operating system became available. After fixing the software bugs, it is now possible to download the final version of iOS 16.
Apple's new operating system ends support for the iPhone 7 series after years. Ending support for the iPhone 7 did not satisfy Apple fans and followed their criticism, however, we must not forget that it has been 6 years since the iPhone 7 was released. Apple's support for this phone is 6 years. Better than most Android brands.
Apple has said that iOS 16 will bring significant changes to iMessage, Facetime, Maps, and Gallery; Of course, not all iOS changes are available right now. According to Apple, some features like "iCloud Shared Photo" and "Live Activity'' will come to iPhone later.
This year, Apple didn't release iPadOS 16 at the same time as iOS 16. Cupertino is expected to hold another event next month to showcase the iPad Pro M2. iPadOS 16 will likely be available at the same time as the new iPads.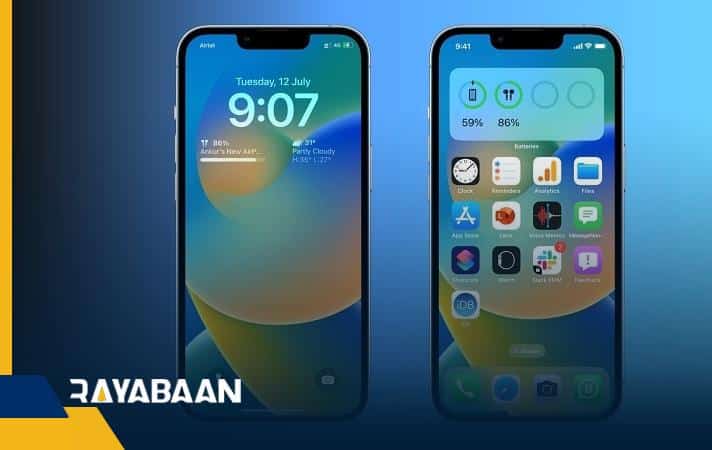 One of the interesting features of iOS 16 is the ability to personalize the lock screen. For the first time in iPhone history, users can personalize the lock screen with multiple wallpapers, widgets, custom fonts, and more. Also, they can choose a series of images to change the background of the device throughout the day.
In iOS 16, it is possible to edit and delete messages in Messages. Apple allows you to edit a message up to 15 minutes after it has been sent. Each message can be edited up to five times. Apple also fully displays the history of processing messages. Remember that it is not possible to edit and delete standard messages (green bubbles). Apple has also added haptic feedback to the iPhone keyboard. Previously, this feature was available in apps or by activating flash through the lock screen.
To get the latest version of the iOS operating system On your phone, go to Settings > General > Software Update. You might initially have trouble downloading the new iOS due to the huge increase in server traffic from Apple. We recommend backing up all your phone data before installing iOS 16.
Apple seems to have released iOS 15.7 alongside iOS 16. Unlike iOS 16 which is 2.88 GB in size, the size of the iOS 15.7 update is around 300 MB.
Devices supported by Apple's iOS 16 operating system
iPhone 13
iPhone SE second generation and newer models