Plug-in support is one of the main criteria for people to choose a default browser. With the release of iOS 15, Apple introduced the ability to use the Safari extension in its users, and owners of iPhones and iPads can add their favorite items to the device's browser.
In the past, the ability to use the Safari extension was only available to Mac users; But now they can be used in iOS as well. Ad-blocking tools, managing passwords, and finding discounts are among the things that can be added to Safari.
How to Download the Safari extension for iPhone
Apple has considered the process of downloading Safari extensions for iPhone owners to be very simple and does not have the same complications as the Mac version; As a result, like many other Apple services, you only need to go to the App Store to get the extension. Of course, it is worth noting that users must update their devices to iOS 15 or newer versions to benefit from the said feature.
After making sure that iOS 15 is installed on your iPhone, open Settings and scroll down to Safari. Next, under the "General" heading, select the "Extensions" option.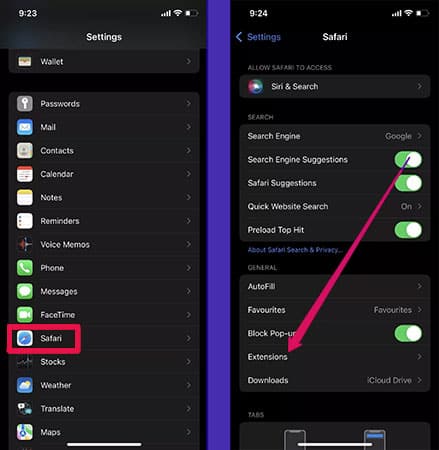 On this page, you can see the add-ons that you have installed on your device in the past. Touch "More Extensions" to get more extensions. Selecting the said phrase will refer to the "Safari Extensions Store".
In the Safari add-ons store, users can search for different titles and download their favorites in a process similar to other applications. Of course, it is possible to view plugins directly through the App Store as an alternative method. The "Must Have Safari Extensions" menu under the "Apps" section can show useful and popular extensions to the user.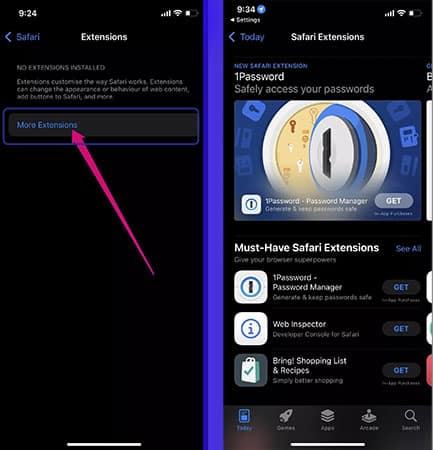 How to activate the Safari plugin
By default, any new extension downloaded for the Safari browser will be disabled and the user will not be able to use the features and capabilities of each one before activating them. Activating the extension is done manually, and first, go to the section related to the Safari browser by visiting the Settings app. Touch "Extensions" and then find the newly downloaded extension in the list. Now you can activate it by turning on the switch next to the plugin title.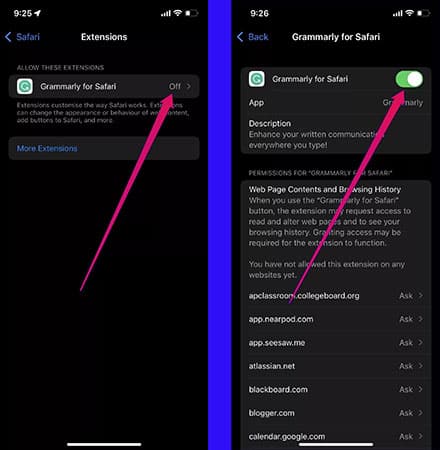 After activating the plugin, the user may be asked to authorize one or more accesses. This issue will be used in connection with the plugin features, and some of them will not require any special permission or access.
How to use the Safari extension
By going through the steps of downloading and activating the plugin, you can use its features. To start, enter the Safari browser app and then refer to the section of your favorite website. Now touch the "aA" icon on the left side of the address bar to see all the currently active plugins.
Next, choose your desired plugin. If you intend to use an installed plugin for the first time, the operating system will display the plugin execution confirmation window.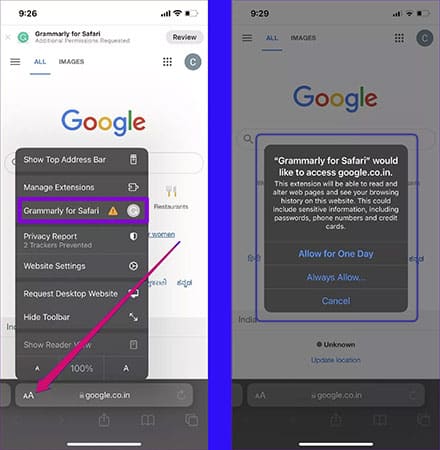 How to disable and remove extensions
Downloading and activating too many add-ons on iPhone may end up slowing down the browser. To prevent such a phenomenon from happening, you can delete unnecessary and useless titles from your device. Of course, disabling infrequently used plugins can also help increase the speed of Safari on iPhone.
To remove or disable the extension, first, open the Safari app and then go to the Favorite Websites section of the browser. As in the previous section, touch the aA icon on the left side of the address bar and select "Manage Extensions" from the menu that appears. Now find the less used plugins in the list and then disable them.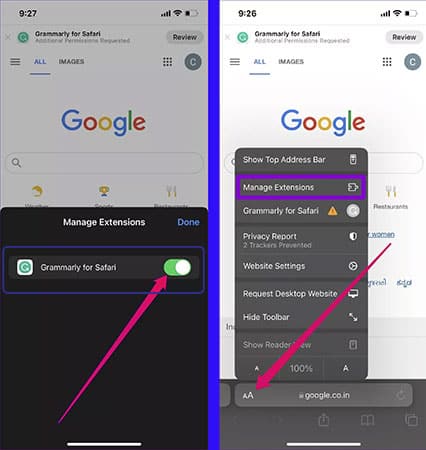 If you no longer intend to use a particular plugin altogether, it is better to remove it from the browser. The process of deleting the Safari plugin is similar to deleting applications; As a result, to start, find the desired extension icon on the iPhone home screen or "App Library". Next, touch the icon and keep your finger on it. From the list that opens, select "Remove App" and then click on "Delete App".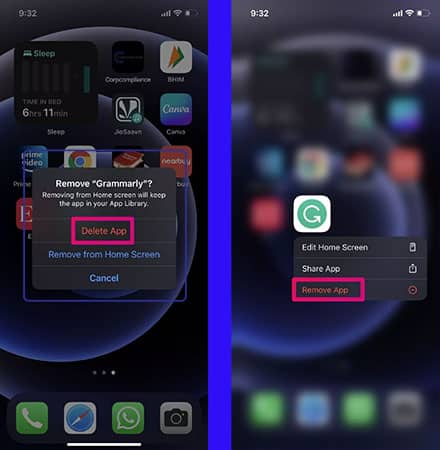 By deleting the application associated with the extension, no trace of it will be seen in the Safari browser. Undoubtedly, the extension support in Apple's mobile browser is an impressive and admirable feature; Because Google has not yet added support for extensions to the mobile version of Chrome.
From the perspective of some users, the number of extensions currently available for Safari on iOS may seem very small; But surely with the passing of a short time, we can see their stunning increase. If you have experience using Safari add-ons on iPhone or iPad, we would be very happy if you share your favorite and most used titles with us and Digiato readers.
Best safari extensions for iPhone
Safari, the web browser developed by Apple Inc., offers a range of extensions that enhance its functionality and provide users with a customized browsing experience. Safari extensions are small software programs that add features and capabilities to the browser, allowing users to personalize their browsing experience, increase productivity, and improve security. In this article, we will explore some of the best Safari extensions available, highlighting their features and benefits.
Grammarly: Enhance Your Writing
Grammarly is a popular Safari extension that helps improve your writing by checking for grammar, spelling, and punctuation errors in real time. It offers suggestions for enhancing your writing style and improving clarity, making it an essential tool for students, professionals, and anyone who wants to communicate effectively.
AdBlock: Say Goodbye to Annoying Ads
AdBlock is a must-have Safari extension for those tired of intrusive ads while browsing the web. It blocks ads on websites, making your browsing experience cleaner, faster, and less distracting. With AdBlock, you can enjoy a clutter-free browsing experience without compromising on the content you want to see.
LastPass: Secure Your Passwords
LastPass is a convenient and secure password manager extension for Safari. It stores your passwords and login information, allowing you to easily access them across multiple devices. LastPass encrypts your data, ensuring that your sensitive information remains protected and easily accessible whenever you need it.
Honey: Save Money While Shopping
Honey is a money-saving Safari extension that automatically finds and applies the best coupon codes when you shop online. It scans various websites to provide you with the most up-to-date discounts, helping you save money on your purchases effortlessly. Honey is a valuable tool for avid online shoppers looking for the best deals.
Evernote Web Clipper: Capture and Organize Information
Evernote Web Clipper is a powerful extension that allows you to save web pages, articles, and snippets of information directly to your Evernote account. It helps you stay organized by categorizing and tagging your clipped content, making it easy to retrieve and reference later. Whether you're conducting research or simply want to save valuable information, Evernote Web Clipper is a valuable tool.
Pocket: Read It Later
Pocket is a fantastic Safari extension that lets you save articles, videos, and other web content for later offline reading. With Pocket, you can curate your reading list and access it from any device, even without an internet connection. It's a great tool for those who come across interesting content but don't have time to read it immediately.
OneTab: Manage Your Tabs Efficiently
OneTab is a useful extension for organizing and managing multiple tabs in Safari. It allows you to convert all your open tabs into a list, saving memory and decluttering your browser window. You can easily restore tabs individually or all at once when you need them, making it an efficient solution for tab management.
Momentum: Stay Focused and Inspired
Momentum is a beautiful Safari extension that replaces your new tab page with an inspiring dashboard. It provides a serene backdrop, displays the time, and offers a daily inspirational quote to keep you motivated. You can also set your main focus for the day and track your to-do list, making it a handy tool for productivity enthusiasts.
Dark Reader: Protect Your Eyes
Dark Reader is an extension designed to reduce eye strain and make reading easier on the eyes. It applies a dark theme to websites, inverting colors and reducing the amount of bright light emitted by your screen. Dark Reader offers customizable settings, allowing you to adjust the contrast and brightness to your preference.
Ghostery Lite: Enhance Privacy and Security
Ghostery Lite is a privacy-focused Safari extension that blocks trackers, preventing advertisers from monitoring your online activities. It enhances your privacy and security by displaying the number of trackers on each website you visit and giving you control over which trackers to allow or block. Ghostery Lite helps protect your data and maintain your online privacy.
Tabs to Links: Convert Tabs to Shareable Links
Tabs to Links is a handy extension for sharing multiple open tabs as a single link. Instead of sending individual URLs, you can convert your tabs into a single link and share it with others. It's a convenient way to share collections of web pages, making it ideal for collaboration or saving sets of websites for future reference.
Session Buddy: Manage Your Browsing Sessions
Session Buddy is a powerful session management extension for Safari that helps you organize and save your browsing sessions. It allows you to save open tabs as sessions, so you can quickly restore them at a later time. Session Buddy is especially useful for researchers, multitaskers, or anyone who frequently needs to switch between different sets of tabs.
1Password: Securely Store and Autofill Passwords
1Password is a robust password manager that simplifies the process of managing your passwords and login credentials. With 1Password, you can generate strong, unique passwords for each website and automatically fill them in when needed. It encrypts your data and offers additional security features, such as two-factor authentication, for added protection.
Turn Off the Lights: Enhance Video Viewing Experience
Turn Off the Lights is a Safari extension that provides a theater-like experience while watching videos online. It darkens the background and highlights the video player, minimizing distractions and allowing you to focus on the content. Turn Off the Lights enhances your video viewing experience, making it more enjoyable and immersive.
GIPHY: Easily Find and Share GIFs
GIPHY is a popular extension that allows you to search and share animated GIFs directly from your Safari browser. With a vast library of GIFs at your fingertips, you can quickly find the perfect one to express your emotions or add some fun to your conversations. GIPHY makes it easy to share GIFs on social media platforms or in messaging apps.
Conclusion
Safari extensions offer a multitude of benefits, allowing users to customize their browsing experience and boost productivity. Whether you need assistance with writing, want to block annoying ads, or seek ways to enhance your online security and privacy, Safari extensions have you covered. By leveraging the power of these best Safari extensions, you can optimize your web browsing, save time, and enjoy a more personalized online experience.
---
Frequently asked questions about How to use Safari extensions on iPhone
Can I use Safari extensions on my iPhone?
No, Safari extensions are currently not supported on iPhones. Safari extensions are only available for the Safari browser on macOS.
Are there any alternatives to Safari extensions for iPhone users?
While Safari extensions are not available on iPhones, you can explore alternative options such as dedicated apps or browser features that offer similar functionalities. For example, there are standalone ad-blocker apps available on the App Store that can block ads in Safari or other browsers on your iPhone.
How can I enhance my browsing experience on Safari for iPhone?
To enhance your browsing experience on Safari for iPhone, you can take advantage of various built-in features and settings. For example, you can enable Reader mode to simplify the layout of web pages, use Safari's content blockers to block specific types of content or customize your browsing privacy and security settings.
Can I sync my Safari extensions between my Mac and iPhone?
Since Safari extensions are not available on iPhones, syncing extensions between your Mac and iPhone is not possible. However, you can sync other data such as bookmarks, browsing history, and open tabs using iCloud if you have Safari syncing enabled on both devices.
Are there any plans to introduce Safari extensions for iPhones in the future?
Apple has not officially announced any plans to bring Safari extensions to iPhones. However, it's always possible that future updates to iOS and Safari may introduce new features or functionalities that provide similar capabilities to Safari extensions.
---
In this article, we talked about "How to use Safari extensions on iPhone?+ Best Safari extensions" and we are waiting for your experiences to use these methods. Please share your thoughts with us.