How to download apps on iPhone without app store
One of the biggest problems with Apple products is its closed ecosystem. In fact, even if you are the user of the latest flagship of this company, the iPhone 14 series, you must use Apple's exclusive app store to install applications. In the past, some customers bypassed this limitation by jailbreaking their phones, but now no one goes for this trick anymore. However, there is a simple way to install apps on iPhone without the App Store or sideload.
How to download apps on iPhone without app store
The easiest way to sideload apps on Apple phones is to use a tool called AltStore. As the name suggests, this tool is an alternative app store for iOS devices developed by Riley Testut and provides the easiest and safest way to sideload apps on an iPad or iPhone.
Using this program, you can install up to three programs at the same time through your Apple ID.
How AltStore works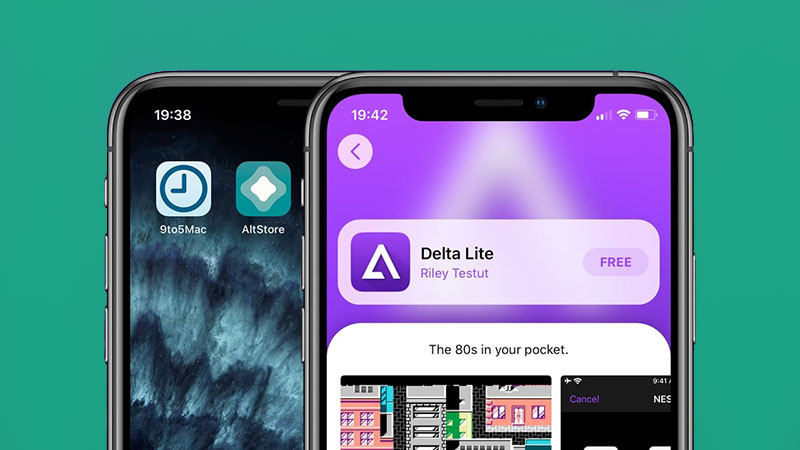 AltStore requires your Apple ID and password first, but if you don't trust that, you can create a one-time account. The developer of this app explains that the received information is not sent to any third-party server and will only be sent directly to Apple for authentication.
AltStore will then register the app with your Apple ID so it can run. Of course, for this, you need to tap the "Trust" option in your device's settings for its approval.
AltStore relies on a computer on the same mobile network as yours, running AltServer and having iTunes and iCloud installed. AltServer is a companion program through which applications can be installed and updated.
Therefore, the main prerequisites of this method include the following:
AltServer
A Windows or Mac computer
iTunes and iCloud
Apple ID
Lightning cable
Install Altstore
You need a Windows or Mac computer to install AltStore on your iOS device. You must also install iTunes and iCloud on them, and another point is that they must be downloaded directly from Apple itself. Next, you need to download AltServer, which is available from the program's official website.
After installing all these, connect your iPhone to the computer with a cable. After that, a message will be displayed on the iPhone in which you must select the "I trust" option. Finally, you need to run AltServer.
In the next step, open iTunes, and after clicking on the device icon, enter the settings and activate the "Sync with this iPhone over Wi-Fi" option.

Once activated, you can disconnect your phone from the computer. Click on the AltServer icon in the notifications section and select your phone after the Install AltStore option.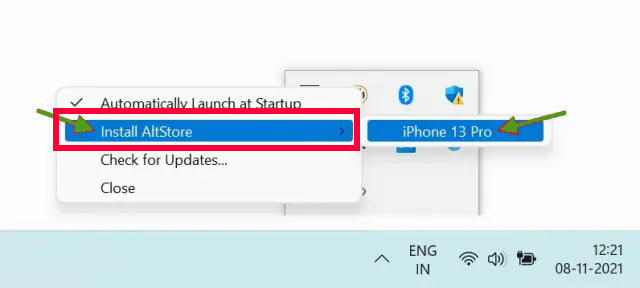 You will then be prompted to enter your Apple ID and password. After entering the requested information, wait for AltStore to install on your iPhone.
Using AltStore to install iPhone apps
First of all, there are some steps and tips that you need to do to sideload apps. From your phone's settings and its "General" section, enter the "VPN & Device Management" section. In this section, you will see your "Apple ID" in a section called "Developer App". Tap it once to open it. Then select the "Trust" option and select the same option on the opened message.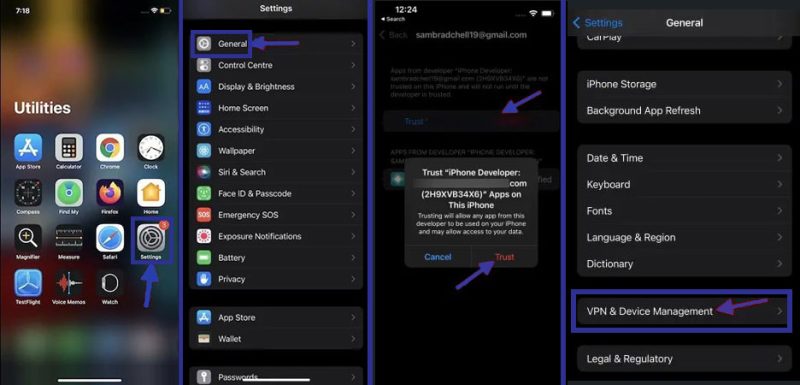 The important thing for installing apps is that your phone must be connected to the same network as the computer with "AltServer" connected to it. In fact, when you install an application, it must be signed and distributed by AltServer.
To install the program, you need the ".ipa" file. Download an app to your iOS device. You can get these files from various libraries such as "iOS Ninja".
After downloading the .ipa file, open the AltStore app on your device and go to the "My Apps" tab.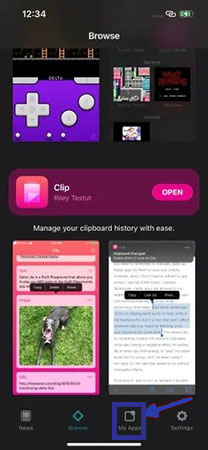 Select the "+" icon in the upper left corner of the program. A list of your downloaded IPA files will then be displayed. Click on the desired file from this section.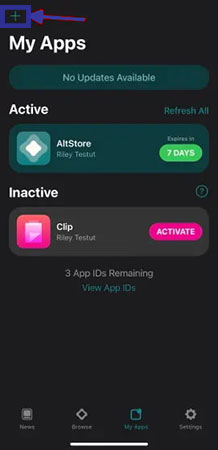 If you are using AltStore for the first time, you will be asked to enter your Apple ID and password to start the installation.
Finally "AltStore" will start installing the app, this process may take a few minutes. After installation, the app will appear in the "My Apps" tab and you can run it from this section or from the home screen.
Is it safe to sideload iPhone apps?
"Sideloading" apps in iOS is a complicated task. Apple always advises users not to do this and the most important reason is security.
While there's no harm in sideloading apps in and of themselves, you'll be putting your iPhone and private data at risk if you install malware.
Therefore, while the process described by us is safe, it is recommended to download IPA files only from trusted sources to avoid installing viruses or malware on your device. However, it is possible to install the application on the iPhone without the App Store.
Finally, we must mention several points:
It is possible that you will encounter errors while performing the above steps, however, AltStore is currently the best tool for sideloading apps on iPhone without jailbreak. Therefore, by repeating the steps or doing them with a little distance, the problem will probably be solved.
There are other options for sideloading apps on an iPhone, but they either don't work, are paid, or require a jailbreak. Therefore, in this article, a tool was introduced that is free and does not require a jailbreak.
---
Frequently asked questions about How to download apps on iPhone without app store
Is it possible to download apps on an iPhone without using the App Store?
No, Apple's iOS operating system does not allow users to download and install apps from sources other than the official App Store. Apple maintains strict control over app distribution on its devices to ensure security and prevent malicious software from being installed.
Are there any alternative app stores available for iPhones?
While Apple's App Store is the only official and supported method for app distribution on iPhone, there have been instances of third-party app stores attempting to provide alternative options. However, such third-party app stores often require jailbreaking the device, which is not recommended as it violates Apple's terms of service and can compromise the security and stability of the device.
Can I download apps from websites or other sources on my iPhone?
Generally, iOS devices do not allow you to directly download and install apps from websites or other sources outside of the App Store. Apple's security measures prevent the installation of apps that are not approved through their official channels.
Why does Apple restrict app downloads to the App Store?
Apple's strict control over app distribution is primarily for security reasons. By maintaining a curated App Store, Apple can ensure that the apps available to iPhone users meet certain standards and do not pose a risk to device security or user privacy. This approach helps protect users from potentially harmful or malicious software.
Can I sideload apps on my iPhone without the App Store?
Sideloading refers to the installation of apps on a device without going through the official app distribution channels. While sideloading is possible on some platforms, such as Android, it is not a supported practice on iPhones running iOS. Apple's operating system does not provide a built-in mechanism for sideloading apps.
Are there any risks associated with downloading apps from unofficial sources on an iPhone?
Yes, downloading apps from unofficial sources on an iPhone, especially if the device is jailbroken, can pose significant security risks. Apps from unofficial sources may contain malware, spyware, or other malicious code that can compromise the security and privacy of your device and personal information. It is always recommended to stick to the official App Store for downloading apps on iOS devices.
Is there a way to download apps outside the App Store without jailbreaking my iPhone?
No, downloading apps outside the App Store without jailbreaking your iPhone is not possible. Apple's iOS ecosystem is designed to restrict app installation to the official App Store, and there are no legitimate methods to bypass this restriction without jailbreaking the device. Jailbreaking, however, is not recommended due to the associated security and stability risks.
Can I use alternative methods to access additional apps on my iPhone?
Apple provides developers with tools and guidelines to create web-based applications (Web Apps) that can be accessed through the Safari browser on an iPhone. While web apps have limitations compared to native apps, they can provide additional functionality and features. Additionally, some apps offer companion web apps or services that can be accessed through Safari, allowing users to access certain features without installing a separate app.
---
In this article, we talked about "How to download apps on iPhone without app store" and we are waiting for your experiences to use these methods. Please share your thoughts with us.