How to get iPhone emojis on android 2023
In this tutorial, we will discuss how to change the default emoji on Android and convert it to iOS emoji.
Emojis are one of the fastest methods of emotion tools in the digital world that are widely used by users today. However, the appearance of emojis may be boring and repetitive over time and lead the user to change them. Fortunately, there are different ways to change the default emojis on Android. If you also want to know "How to get iPhone emojis on android".
How to get iPhone emojis on android
Emoji Instagram change is no different from other Android apps, and users will have three general ways to do it below.
Using an emoji customization app
Install new font packages on the device
Using a virtual keyboard with support for different emoji
1. Emoji's personalization apps
By surfing Google Play, you can find a bunch of dedicated applications for the personalization of emojis on Android devices. Of course, there may be minor differences between their emoji and the items used in Apple products, but they will be acceptable. To use such apps, just go through the steps below.
Enter Google Play and search for terms like Apple Emoji Keyboard or Apple Emoji Font.
Select the desired title from the search results and install it on your device.
You can now use new emojis in various apps, including Instagram.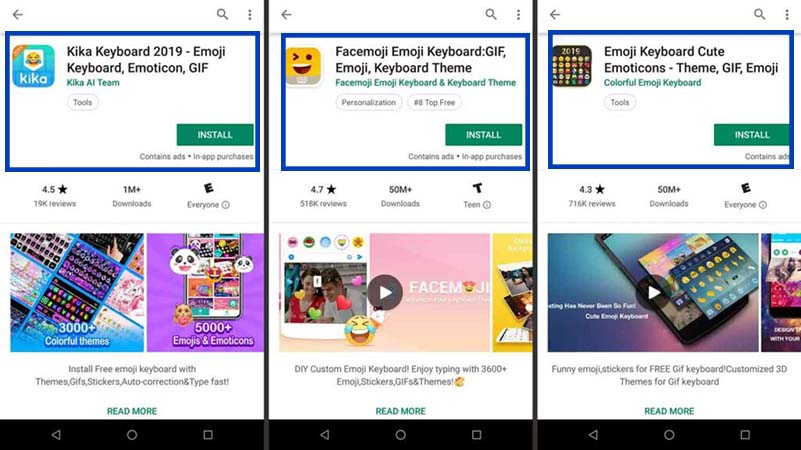 Note that some of these apps act as independent digital keyboards; While others are installed on the device as a side app for other applications and will have functions like shells for other keyboards.
2.
Use a new keyboard
Some Android keyboards, such as "FancyKey", allow users to change emojis, so if we want iPhone Emojis, they are a good option. This keyboard uses Twitter emoji by default which is very similar to Apple emoji. If the other methods mentioned in this article are not effective for you, you can use the said virtual keyboard as shown below.
Enter Google Play and search for the phrase "FancyKey". You can also access the application page through the lower box.
After installing the "FancyKey" app, log in to your Android mobile or tablet and then go from the "System" section to the "Language & Input" section. Finally, click on the "Virtual Keyboard option.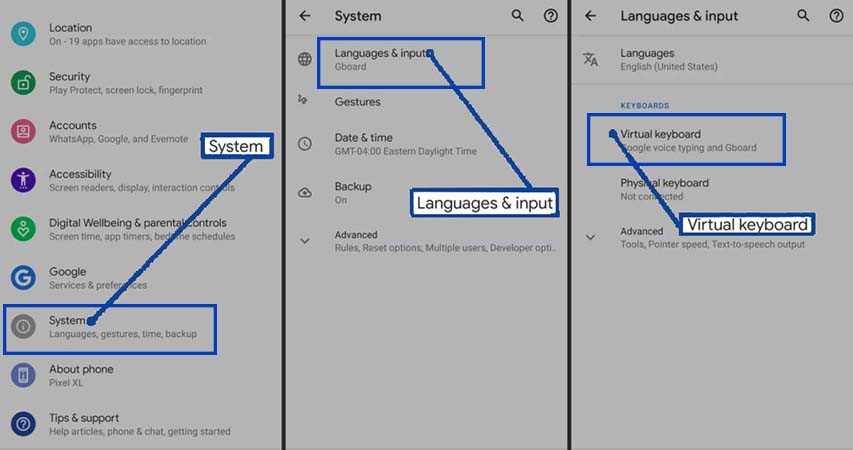 Select the "Manage Keyboards" option on the "On-Screen Keyboard" page. Continue the key in front of the title "FancyKey" and select "OK" in the pop-up window.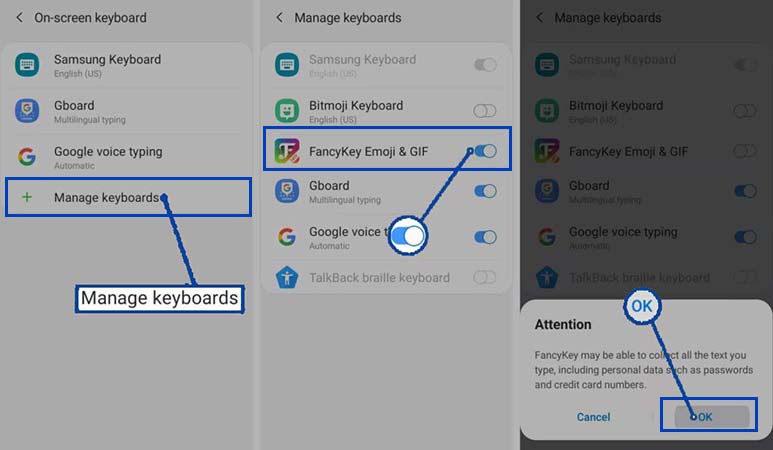 When typing in the device environment, press the keyboard key (like the image below) to open the list of selective virtual keyboards. Now select FancyKey from among the displayed.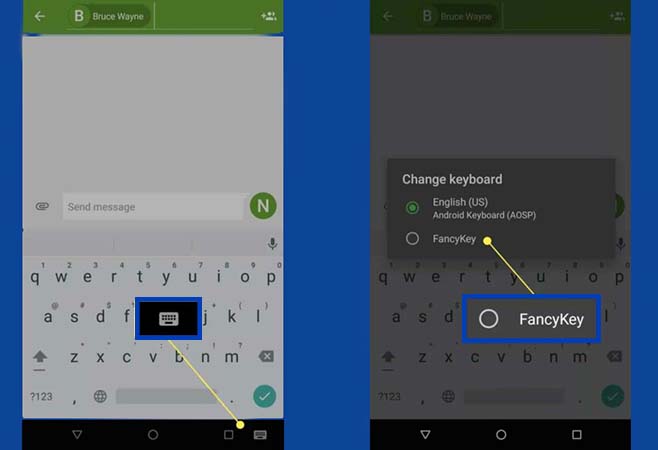 Now it's time to change your keyboard settings. To this end, select FancyKey from the list of apps and select Preferences after logging into the environment. In the "Display" section, hit the "Emoji Styles" option. A list of selective emojis is now displayed, including "Twitter". Finally, hit the "OK" key to save the changes applied.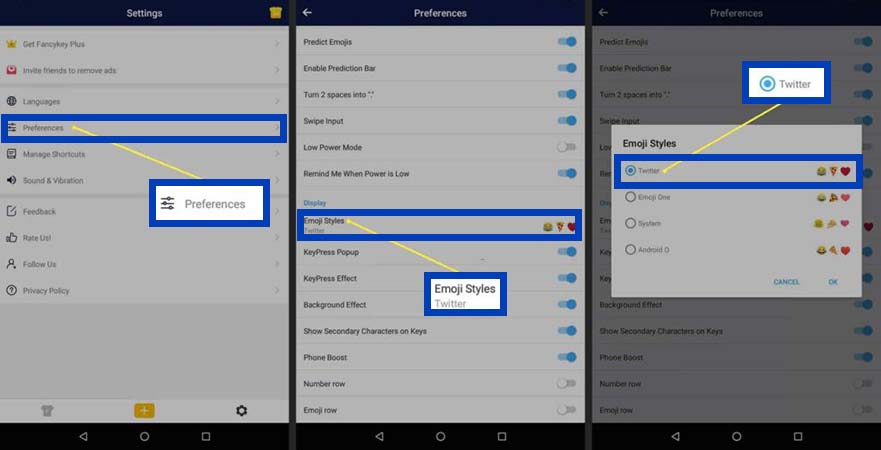 FancyKey Keyboard – Emoji, GIF
3. Install the new font package
If we want to make Insta's emoji in the easiest way, we have to go for informal font packages. Of course, keep in mind that not all devices allow users to change the default font; But in products that support this feature, it will be the fastest way.
3.1 Flipfont Package 10
Enter Google Play to get started and search and install Flipfont 10. You can also view the download link a little lower.
Enter your Android mobile Settings section and then go to the "Display" section. Here's the "Font Size and Style" option. Note that this path may be slightly different depending on the manufacturer of your device.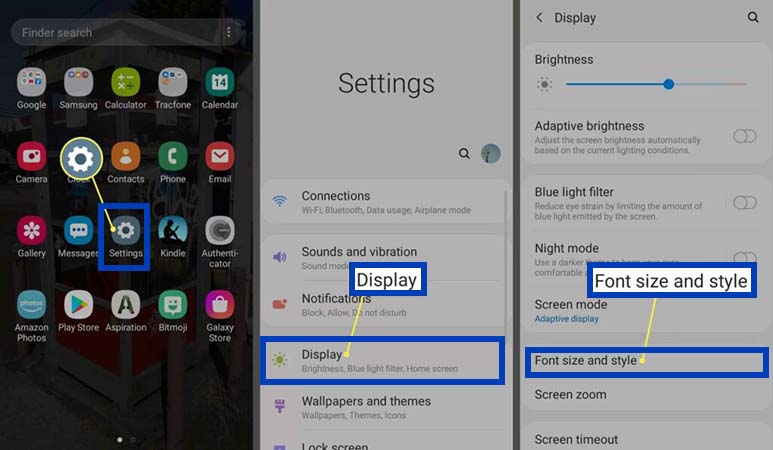 Now on the "Font Style" page on the "Font Style" page and select "Emojifont10" from the displayed. You can also log in to this page by visiting the "Flipfont 10" app and touching the "Apply" key.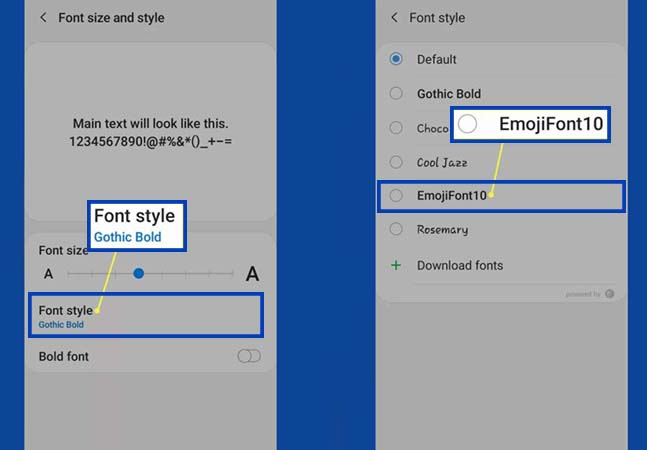 3.2 EMOJI FONT 3 package
Another popular package with which we can make the iPhone Emoji is called Emoji Font 3. Of course, this package, unlike the previous title, has not been officially published on Google Play due to copyright observation; As a result, the installation process will be slightly different. Note that the emoji of this package is quite similar to iOS.
To get started, enter your device's Settings section and go to the "Security" section. Then activate the key in front of the phrase "Unknown Sources" so you can install informal sources except for Google Play.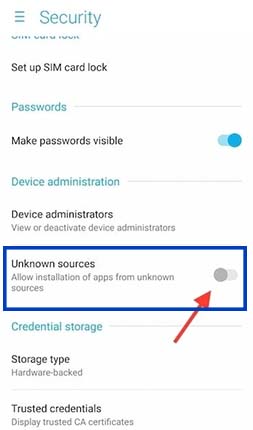 You must now download Emoji Font 3. To do this, you must first install the APTOIDE Market on your mobile or tablet and then download and install the package through this link.
Now, like the method mentioned in the previous section, you need to change the default font of the device and put it on Emoji Font 3.
Finally, you need to define Google Keyboard as your virtual keyboard. If this keyboard is not already installed on your device, you can download and install it through the link below. Now you will be able to use similar emojis to iOS in different parts of the operating system.
---
Frequently asked questions about "How to get iPhone emojis on android"
How to make an iPhone Insta Emoji?
You can bring iOS emojis to Android using a variety of virtual keyboards or installing font packages.
What is the easiest way to convert Android emojis to iOS?
Using custom font packages is one of the easiest ways to change emojis on Android devices.
---
In this article, we talked about "How to get iPhone emojis on android" and we are waiting for your experiences to use these methods. Please share your thoughts with us.