Sometimes we need Photoshop software tools, but we don't have enough time to download and install them, or our system specifications are not enough to install Photoshop. At this time, the online Photoshop site will be the best option available to us. If you are also looking for the best free online Photoshop sites, stay with Rayabaan magazine.
3 of the best free Photoshop sites online
Photoshop is a software from Adobe that is used to edit and create professional images and graphics. This software is known as one of the most powerful and widely used image editing tools in the world. Through Photoshop software, users can improve images, apply various filters and effects, design images, create logos and icons, and generally do their graphic and visual work.
Online sites have come to replace this powerful but heavy software that can meet your needs for graphic tools. In the following, we will introduce the best software to you.
Free online photoshop website, Fotopia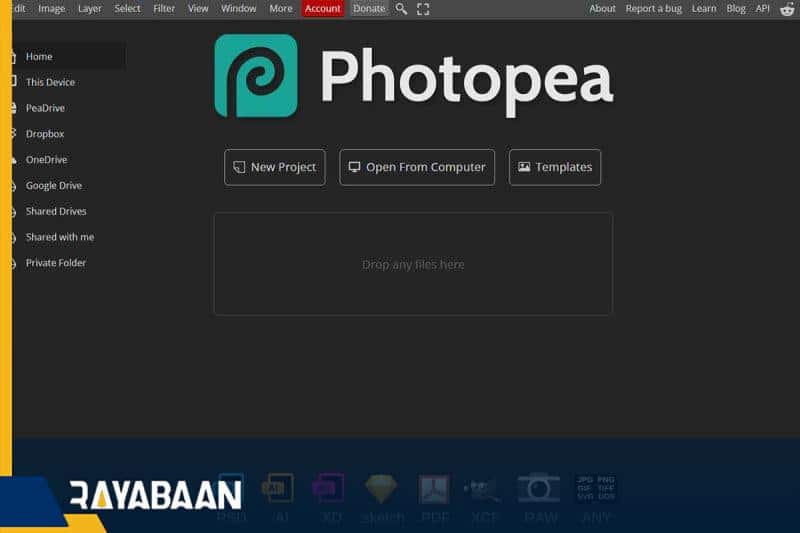 One of the best free online Photoshop sites is Photopia, whose user interface is similar to Photoshop software. In this software, you can choose one of the following three ways:
Create a new file with the extension .PSD
Open a .PSD file that you already have on your system.
Use of ready-made templates available on the Fetopia websites
In addition to files with the PSD extension, which are actually Photoshop software files, you can also open all types of files with the following extensions on the Photopia website and modify them or save your output with these extensions. The extensions that are supported in Fotopia are:
The extensions of different files in the world of graphic design and image editing are as follows:
PSD: This extension refers to the file format created by Adobe Photoshop software.
PSD files contain layered image information and image editing settings.
AI: This extension refers to the file format created by Adobe Illustrator software. AI files contain vector shapes and icons.
XD: This extension refers to the file format created by Adobe XD (Adobe Experience Design) software. These formats are used for user interface and user experience (UI/UX) design.
Sketch: This extension refers to the file format created by the Sketch software. This software is specific to the macOS operating system and is used to design wireframes and user interfaces.
PDF: This extension refers to the Portable Document Format. PDF files are stored in a multi-purpose format (text, image, graphic, formula, …) and are usually used for documents and articles.
XCF: This extension refers to the file format created by GIMP (GNU Image Manipulation Program). This is an open-source software for editing images.
RAW files: This format refers to digital camera images captured through the image sensor.
You can easily perform all the main and important features in Photoshop in the Photopia software and finally download the result of your work.
Adobe Express Free Online Photoshop Site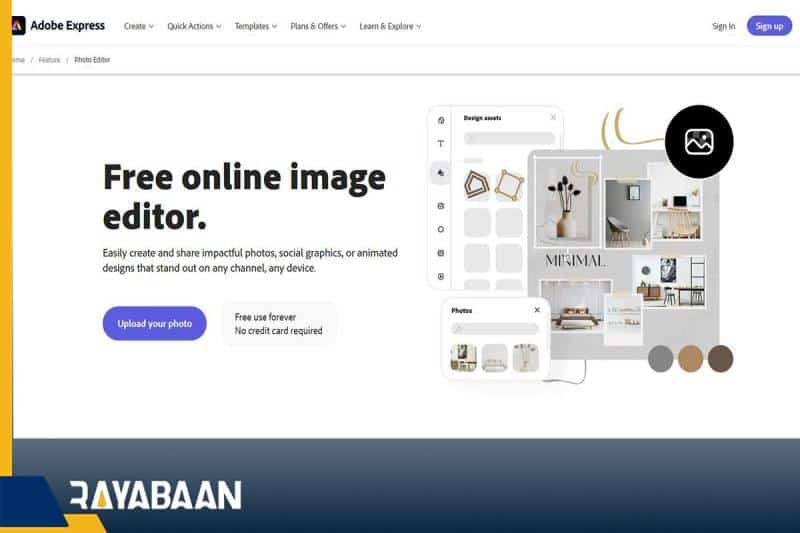 The second of the best free online Photoshop sites; Adobe Express is part of the Adobe suite and allows you to easily edit and share your images, use animations, and even create stunning collages in no time.
One of the unique features of Adobe Express is that it allows you to quickly and easily remove the background of your subjects and present images in a cleaner and more attractive way. Also, you can give your designs special effects and variety by using a huge resource of presets and shapes.
You can easily add text to images and even animate your images or use animation effects to add special effects to your images.
One of the limitations of using Adobe Express is that you need a special subscription to access Persian fonts. This limitation may be a problem for those who are especially interested in Persian writing. But with a purchased subscription, you get access to a huge resource of fonts and designs.
Finally, with compact and predictable tools designed for simple tasks, Adobe Express lets you easily edit and share your images in high quality, and enjoy your beautiful designs.
Fotor Photoshop online site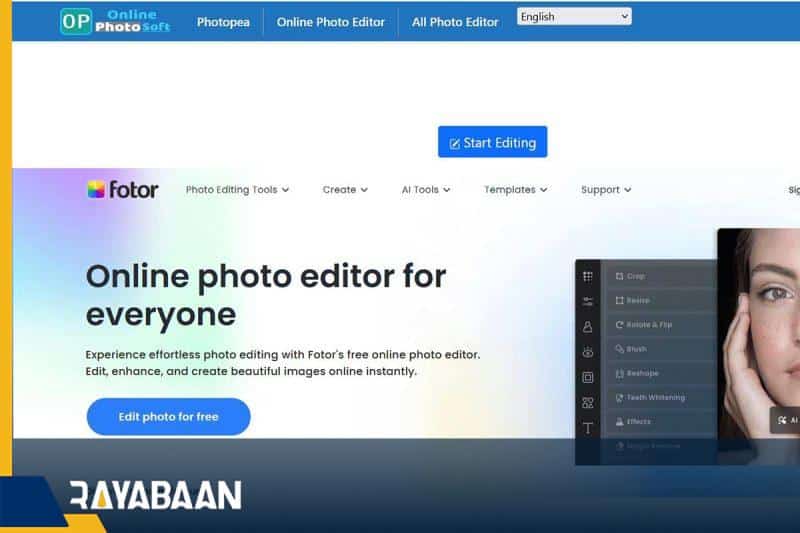 Fotor is an online platform for editing and creating images and videos. This site offers users various possibilities for editing photos, making collages, videos, and graphic designs. Below is a more detailed description of Fotor's features and functionality:
Image editing: Fotor gives users powerful image editing features including adjusting contrast, brightness, colors, and special effects. Also, you can add text and icons to images and easily change your images to the desired settings.
Create collages: With Fotor you can create creative collages of your images. This feature allows you to arrange images in different formats using special frames and collage templates.
Video editing: In addition to images, Fotor, as another of the best free online Photoshop sites, also provides the ability to edit videos. You can trim videos, apply video filters and effects, and edit audio.
Graphic resources: Fotor offers users access to a collection of graphic resources, including ready-made templates, stickers, designs, and text, that you can use for your designs.
Simple and easy: One of the advantages of Fotor is that its user interface is simple and easy to use, so anyone can easily use its features even without previous experience.
Free and Premium Version: Fotor has a free version and premium versions with more features and additional tools.
If you are interested in image editing, collage making, video editing, or graphic design, Fotor might be one of the online tools for you. You can visit the Fotor website and use its services.
Summary of the best free online Photoshop sites
In this article, we introduced the best free online Photoshop sites so that you can do all the work related to creating or modifying your images and graphic files without the need to install graphic software such as Photoshop. If you also have experience working with these websites or other online tools, share your experiences with us and other users in the comments section of this page.