The big update of Windows 11 was released with Copilot artificial intelligence assistant
In the new Windows 11 update, with a special focus on artificial intelligence, Microsoft has tried to use this technology in various programs.
Microsoft released one of the biggest Windows 11 updates. The new Windows 11 update includes features such as Copilot's AI-based assistant, a more modern File Explorer, and AI features in Paint, Photos, and Snipping Tool.
Windows Copilot is one of the biggest features of the new Windows 11 update, which can have the same functionality as Bing Chat in Microsoft's operating system. This smart assistant appears in a sidebar in Windows 11, and through it you can do various things, including controlling computer settings, running apps or getting answers to your questions. Microsoft has integrated Copilot into many parts of Windows.
Windows 11 big update features
Copilot in the new Windows 11 update is actually an AI-based digital assistant that replaces Cortana. While the Redmonds removed Cortana some time ago, it seems that Copilot has been added to the Microsoft operating system with the same purpose and of course better performance thanks to artificial intelligence.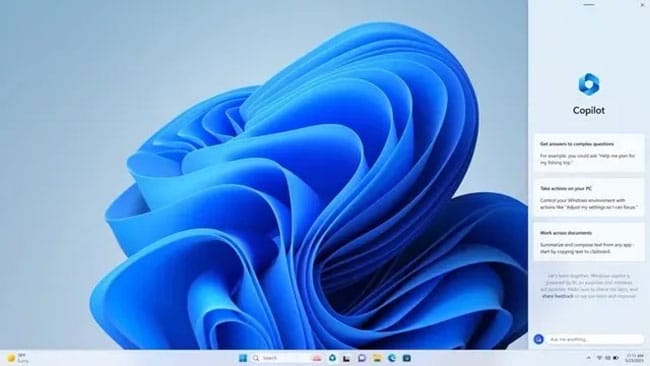 Microsoft has also added artificial intelligence-based features to Paint, Photos, and Snipping Tool programs in this update. Microsoft Paint is equipped with Photoshop-like features such as layers. Also, an image-creation tool based on artificial intelligence will be added to this program soon.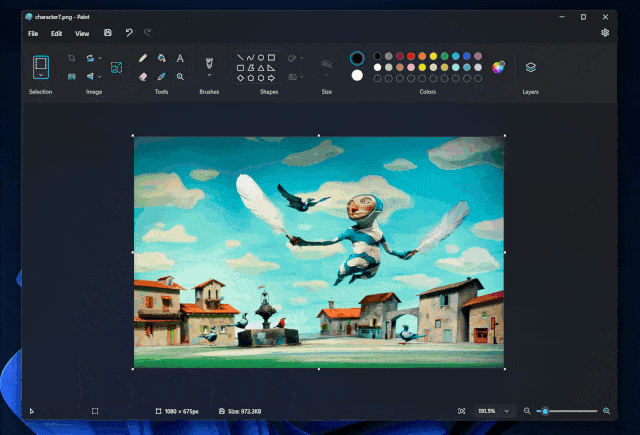 This feature, called "Paint Cocreator", is currently available to Windows Insider users. In the coming weeks, all Windows 11 users will be able to use this feature. In the preview mode, Microsoft allows users to create 50 images, but we don't know how this statistic will change after exiting the preview mode, and there is even a possibility that we will face a paid feature.
Microsoft has improved the functionality of the Snipping Tool in this update. Now you can copy the text from the images that this tool takes and share it in other apps. Also, the possibility of intelligent editing has been added to this tool so that it can automatically hide emails and contact numbers from images.
Microsoft Photos in Windows 11 is also equipped with artificial intelligence features. For example, in this update there is a new option to automatically blur the background. This feature automatically detects the background and blurs it by separating the subjects. Of course, it is also possible to customize the degree of blurring or blurred areas.
You may have to wait several weeks or even months to get new versions of Photos, Paint, and Snipping Tool. According to Microsoft, currently, the update of these apps is available to a small number of users and in the future, all users will have access to them.
The Windows Backup app has also been improved in this update and now allows you to back up your data when you want to migrate to a new device. In the new Windows update, we also see support for Passkey, which is a way to avoid passwords and use facial recognition, fingerprints, or PIN to log into different accounts. You can create Passkeys, manage and store them, and use them to access websites, apps, and services.
In the new update of Windows 11, you will face the new File Explorer with a more modern design. This version includes a modern home interface with large file thumbnails as well as a Carousel interface. These changes make File Explorer more compatible with the overall design of Windows 11.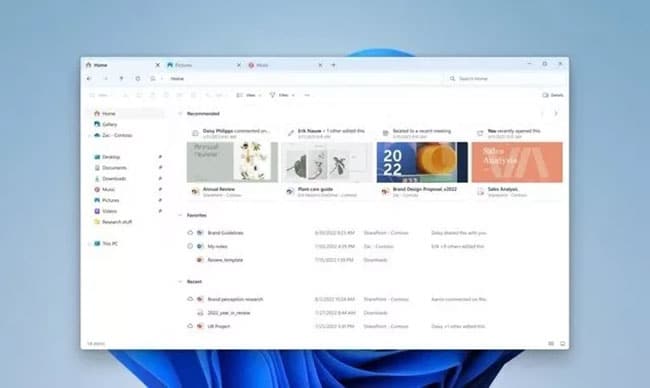 Finally, in the new update of Windows 11, Microsoft has included RGB light control. This feature, which is called Dynamic Lighting, provides the possibility to control the RGB light of various accessories, including keyboards and mice.
There are several features missing in this update. For example, there is no native support for RAR compressed files or the new Volume Mixer. These features will be released to users during another update in the fourth quarter of 2023.
If you want to access the new Windows 11 update faster, go to the settings section and then Windows Update and activate the Get the latest updates as soon as they're available option.