Snapdragon 782G is a powerful 6nm chip for mid-range phones that uses 8 processing cores and a 5G modem.
Qualcomm has unveiled a new chip from the Snapdragon 7 family that will power powerful mid-range phones. This chip, which is called Snapdragon 782G, is produced with 6nm lithography and is available to manufacturers as a replacement for Snapdragon +778G.
Snapdragon +778G is a popular chip in the market and now Qualcomm has decided to introduce its upgraded version. Like its predecessor, Snapdragon 782G uses 8-core Kryo 670 with an Adreno 642L graphics processor.
Specifications of the Snapdragon 782 G chipset
The configuration of this new chip is not different from the Snapdragon +778G, however, we are facing higher frequencies. Snapdragon 782G is equipped with a Kryo 670 Prime core based on Cortex-A78 with a frequency of 2.73 GHz, three Kryo 670 Gold cores based on Cortex-A78 with a frequency of 2.2 GHz, and four Kryo 670 Silver cores based on Cortex-A55 with a frequency of 1.9 GHz. Is.
Thanks to this increased frequency, the processing performance of Qualcomm's latest mid-range chip is 5% higher than its previous generation. In the GPU department, Qualcomm claims a 10% increase in performance compared to the Snapdragon +778G.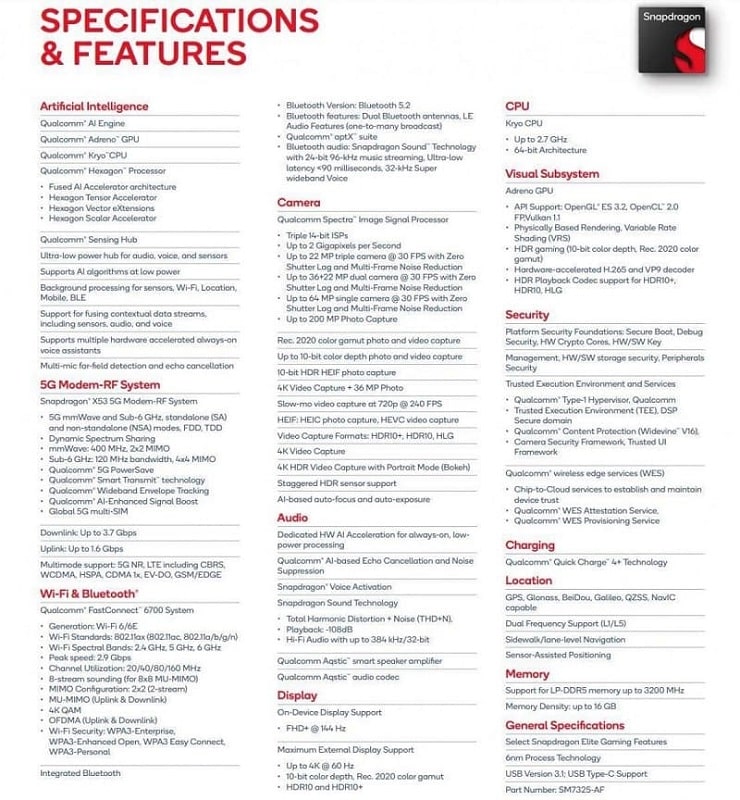 Snapdragon 782G supports Quick Charge 4+ technology and also uses the same Fused artificial intelligence accelerator and Spectra image signal processor as its predecessor. Phones equipped with this chip can have a 200-megapixel camera.
Qualcomm has even used the same 5G modem in this chip as its previous generation. Snapdragon 782G is equipped with a Snapdragon X53 modem with support for 5G networks below 6 GHz and a millimeter wave. This chip also supports Wi-Fi 6 with a maximum speed of 2.9 Gbps and Bluetooth 5.2 thanks to the FastConnect 6700 system.
Currently, Qualcomm has not announced which smartphones will be launched with this chip, but we expect the Honor 80 series to be the first product equipped with it.