Nvidia will probably unveil RTX 40 graphics for laptops on December 13, but now the benchmark results of one of its models, the RTX 4080 laptop graphics, have been revealed. According to these results, Intel's future graphics will be 20% faster than the most powerful laptop graphics of the previous generation.
Nvidia graphics have appeared in Acer's next-generation gaming laptop called Predator PH16-71. This powerful device also has an Intel Core i9-13900HX processor with 24 cores and 32 threads. It also uses 32 GB of DDR5 RAM.
RTX 4080 laptop graphics specifications
According to the benchmark results, the graphics used in this laptop has 12 GB of GDDR6 memory and a 192-bit interface. These graphics use the same AD104 chip as the RTX 4070 Ti; Of course, it's a weaker version. In fact, the RTX 4080 laptop version has 24% fewer cores than its desktop version. According to the benchmark, the maximum frequency of this laptop's graphics reaches 2010 MHz.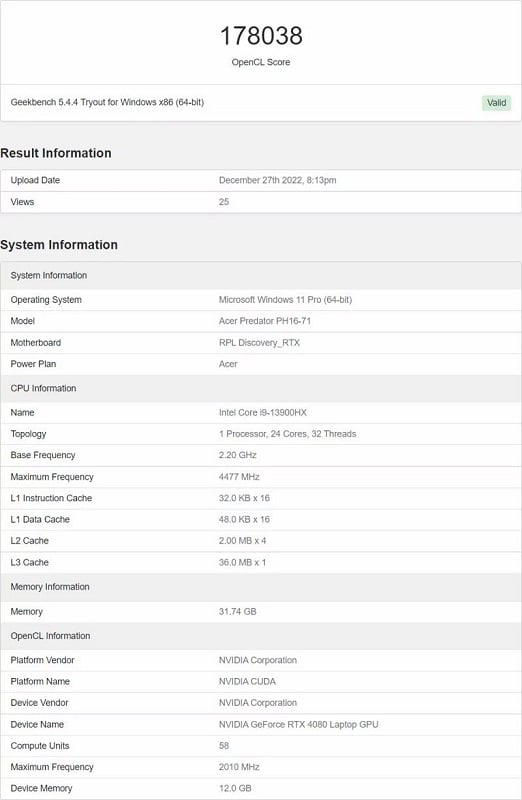 In the performance department, Nvidia's graphics have been able to show 20% higher performance than the fastest graphics in the Ampere family, the RTX 3080 Ti. Compared to the RTX 3080 laptop, this difference is close to 29%. Of course, we are not facing the highest graphics of Nvidia's next-generation laptop, and we expect the RTX 4090 to be nearly 40% stronger than the RTX 3080 Ti.
According to previous reports, the new generation of Nvidia laptop graphics, which will probably be introduced on December 13, will have up to 30% better performance than their current generation. We also come across the latest Nvidia technologies such as DLSS3 and improved ray tracing in these graphics.
Nvidia's new graphics are coming with the new generation of Intel processors for laptops; Processors that will be introduced at CES 2022. So in late January/early February, the first laptops with RTX 40 graphics and Intel Raptor Lake processors will hit the market for users to experience a new level of performance.