Mark Zuckerberg says he's ready to go head-to-head with Elon Musk, but he still doesn't expect the race to become a reality.
Reacting to Elon Musk's comments yesterday, Meta CEO Mark Zuckerberg said he is ready to fight. He says that he proposed the date of August 26 to hold this race, but Musk has not yet confirmed this date. Zuckerberg, on the other hand, says he doesn't expect the fight to actually take place.
Mark Zuckerberg wrote in a post on the social network Instagram Threads while reposting an image of Elon Musk's tweet yesterday, in which he said that he was preparing for the fight by lifting weights at work: "I am ready today. When he first challenged me, I suggested August 26th, but he still hasn't confirmed that date. I don't expect this fight to come true."
"Wouldn't it be better to use a more reliable platform that actually has the potential to make money for charity," Zuckerberg wrote in another post, sharing a screenshot of another tweet by Musk, in which he mentioned the fight would be broadcast live on Platform X. be?"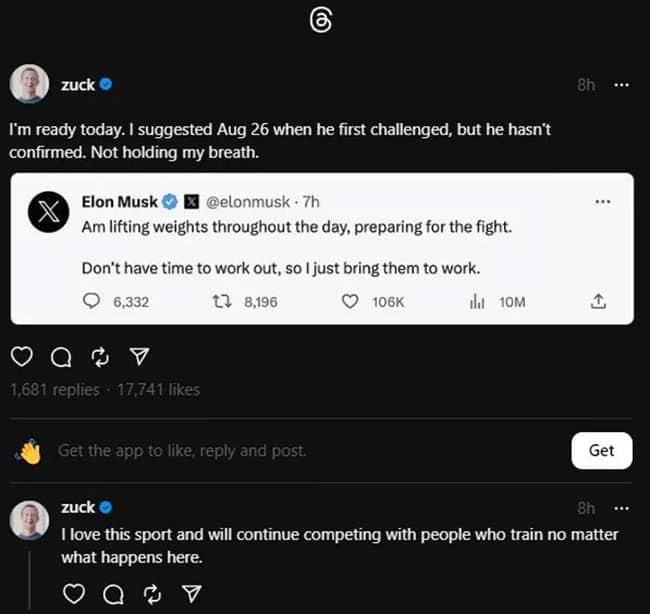 Elon Musk has not spoken to Mark Zuckerberg live
In response to a user who asked if Musk had arranged for him to go live on X, Meta's CEO said it sounded more like Musk's famous tweet, "Funding secured." Zuckerberg's reference is to a tweet that Musk published to take Tesla private, and later it turned out that the funding was not real. In other words, the Twitter owner apparently didn't coordinate with Meta's CEO about the live stream.
Mark Zuckerberg has also stated that he loves martial arts, and will continue to compete against those who train in the sport regardless of what the match ultimately turns out to be.
Elon Musk, who admits endurance is his weakness, tweeted that if the race was short, he would probably win himself, but if the race were long, Zuckerberg would have a better chance of winning.