Intel holds breath in AMD's chest with 40-core processor
A whistleblower says Intel is working on a refresh of the Raptor Lake series processors. The most powerful processor of this family will have 40 cores.
The YouTube channel Moore's Law is Dead has revealed the roadmap of Intel processors. The channel's new video confirms some rumors and reveals Intel's plans for the next three years.
According to Moore's Law is Dead, Intel wants to launch Arrow Lake Refresh series processors in the coming years.
Intel is preparing for the unveiling of Raptor Lake refresh processors (generation 14 desktops). The processors of this family experience very little change compared to Raptor Lake (generation 13 desktop); However, rumors say that the price of the Intel CPU in the new generation will be 15% higher than the price of the 13th generation CPU.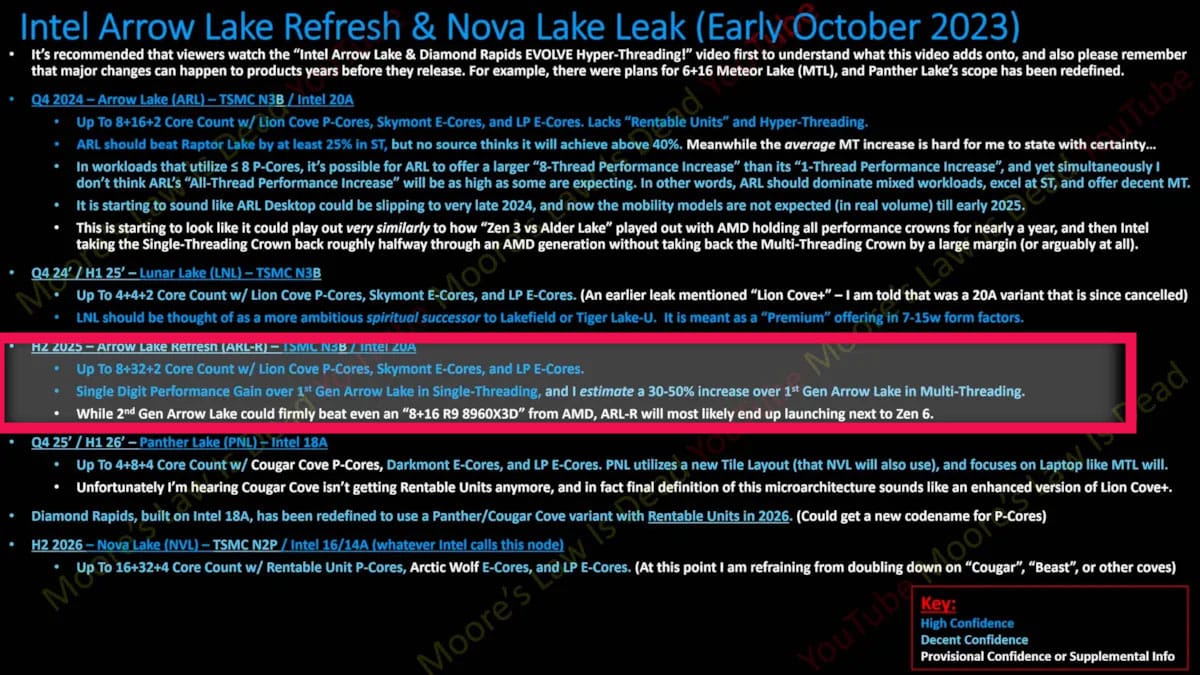 After the Raptor Lake refresh, Intel will go to Arrow Lake and change the naming of desktop processors from Core i to Core Ultra 200. The most powerful Arrow Lake chip will be available with 24 or 26 cores. After Aro Lake, it's time to refresh Aro Lake.
Arrow Lake Refresh and Arrow Lake processors will be similar in terms of lithography and core type; However, Intel wants to refresh the number of low-power Skymont cores from 16 in Arrow Lake to 32 in Arrow Lake to bring the final number of cores to 40. When migrating from Alder Lake (12th generation) to Raptor Lake, Intel also doubled the number of low-power cores.
The second generation Arrow Lake processors will be available to compete with AMD's Ryzen 8000 or Ryzen 9000 processors. We will probably see a hybrid architecture (use of low-power and high-power cores) in the new AMD processors.