We can safely say that emojis are an integral part of our daily communication with others. In fact, it doesn't matter which messenger or social network we use, emojis play a vital role in all of them. That's why many of us want to have access to the latest ones, but how to update emojis?
Emojis are updated almost every year and with new versions of Android, we face new emojis. Fortunately, there are several ways you can get access to the latest emojis.
How to update emojis on Android
In this article, we will teach you different ways to update emojis on Android phones. Stay with us until the end.
1. Update emojis with the latest version of Android
As we said above, with each version of Android, new emojis are available to users, which can be changed in the appearance of previous emojis or completely new emojis. For this reason, the first step to accessing the latest emojis is to ensure that your smartphone is updated.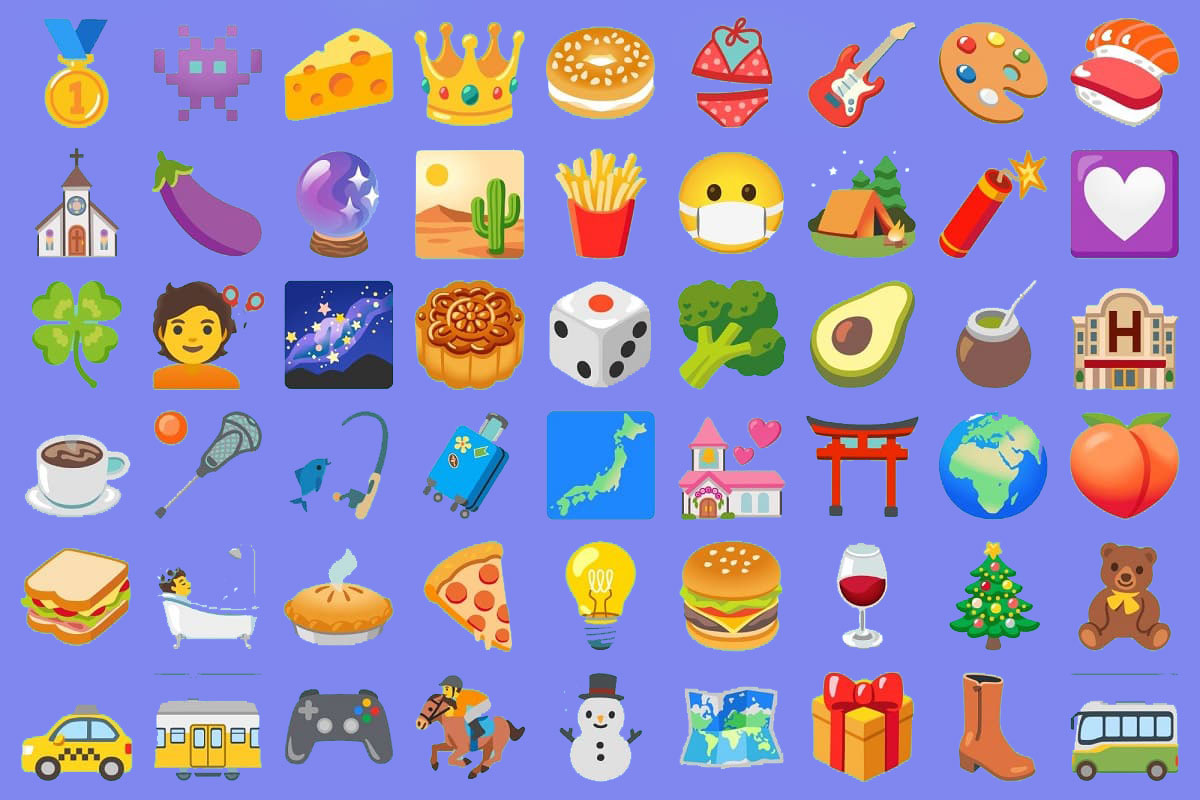 To check if your phone is equipped with the latest update or not, follow the steps below:
Go to your Android phone settings and tap on the "About" option. Of course, depending on the type of your phone, you may need to go to the system section first and then be able to check the update. In any case, tap on the operating system version and see which version of Android is installed on your phone.
To check if a new update has been released for your phone, go to Settings and About phone again. Touch the update option and if a new version was released for it, download it.
After getting the update and installing it on your phone, go to a messaging app. Now look for new emojis on the keyboard. Most likely, with the new version of Android, new emojis have been added to your phone's keyboard.
Although the manufacturers' support for Android phones has increased in recent years and companies like Samsung have been releasing original versions of Android for their products for several years, many users still do not have access to the latest version of Android, so what should these users do? Fortunately, there are other ways to update emojis.
2. Go to Emoji Kitchen
Google's keyboard, Gboard, has a feature called Emoji Kitchen that lets you create new emojis, but how do you do that? By going through the following steps:
Go to your messaging app and tap on a contact to start a conversation.
Now start typing a message and the keyboard will appear. On the keyboard, tap the emoji icon to access the emoji keyboard. Now select the emojis you want to combine.
In this section, the possible combinations of these emojis are displayed at the top of the keyboard and you can choose one of them.
Although this Gboard feature is easy to use, you should keep in mind that not all messengers may support it.
3. Install a new keyboard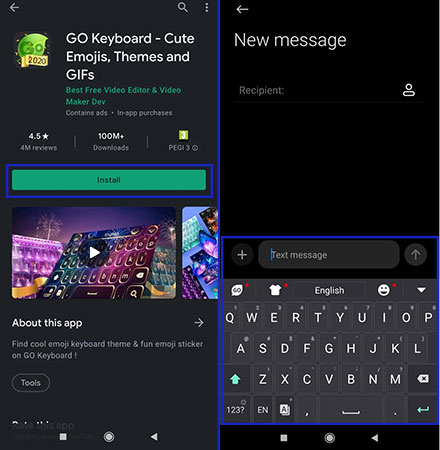 Another way to update emojis and access the latest ones is to install third-party Android keyboards. Some of these keyboards, such as "Emoji Keyboard", in addition to the latest emojis, also use a dictionary to show their meaning. This app also has a predictive feature and allows you to send stickers and gifs on social networks such as Instagram.
Follow the steps below to install a third-party keyboard on your Android smartphone:
Go to your desired store such as Google Play and search for the right keyboard.
Tap on the install option, but maybe a particular keyboard is not compatible with your phone and you have to try another keyboard.
Wait until the end of downloading and installing the keyboard on your phone.
Swiftkey and Ginger Keyboard are among the best Android keyboards. These apps are a good alternative to the Google keyboard app installed on Android phones, although some Android phone manufacturers like Samsung use their own keyboards, however, you can still install third-party keyboards on them. You can download these two keyboards through the apps of the following boxes:
Microsoft SwiftKey Keyboard                Ginger Keyboard – Emoji, GIFs, Themes & Games
4. Create your own emoji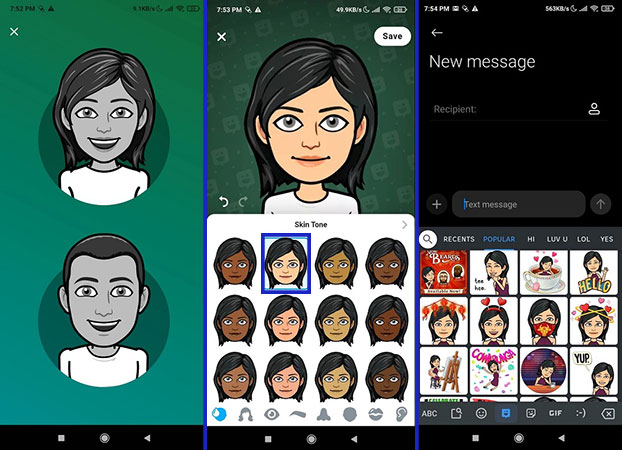 If you want an emoji to represent your personality, you can create one. There are countless emoji-maker apps on the Google Play Store that you can use on your Android device.
To access these apps, follow the process for installing third-party keyboards. "Bitmoji" is considered one of the best apps in this field, and you can access more emojis with the following steps:
After downloading the app, sign up with your email, or log in if you already have an account.
Next, choose a gender for your Bitmoji avatar. You can also take a selfie and the app will design an avatar for you. You can customize clothes, hairstyles, skin tones, and more.
After applying all the changes you want, tap the Save option in the upper right corner of the screen.
Next, select the keyboard on the home screen and then tap on Enable Settings.
You can also turn this app into your phone's keyboard by tapping Settings, selecting Manage Keyboards, and then selecting Bitmoji from the list.
Now you can send multiple emojis with your face to friends or family members. To download this program, use the app box below:
5. Use the font editor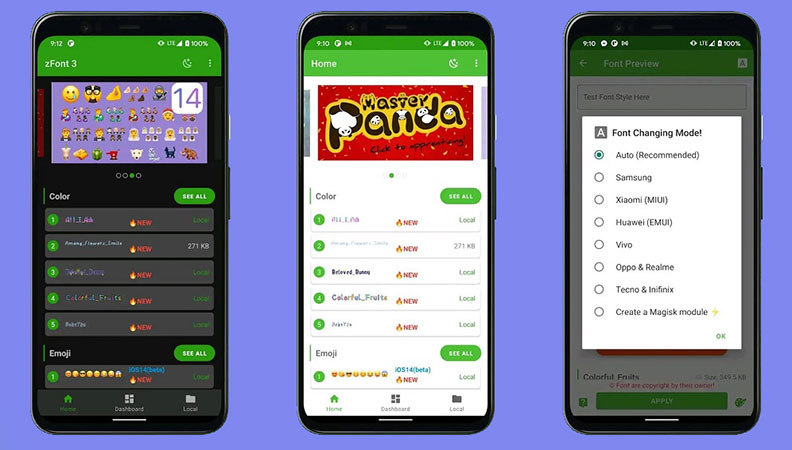 Maybe you think that the iOS operating system has better emojis than Android and you want to use its emojis on Android. To do this, go to the font editor apps like "zFont" and download it from the desired store.
After downloading and installing the app, update emojis on Android with the following steps:
After installation, you will receive a notification for permission to access media files, images, and other files, which you should tap on Allow option.
On the app's home screen, tap the Emoji tab. You can download emoji files used by various online platforms such as Windows, Facebook, and WhatsApp.
Select and download one of the new iOS versions, such as iOS 13.3. After the download is finished, a preview of the new emojis will appear in front of you, tap the Set option.
Next, you should choose the manufacturer of your phone and go to the latest installation method.
Finally, go to your phone's settings and tap on the "Theme Manager" option. Next, set the version you downloaded and finally wait for several minutes.
Note that editors like zFont may not display some fonts correctly due to compatibility issues. In addition, zFont contains many pop-up ads. You can download this program through the app box below:
zFont 3 – Emoji & Custom Font Changer
In the video below, you can see how to update emojis on Android phones:
Perhaps one of the easiest ways to access the latest emojis is to wait for Google to release them. Of course, if you are not very patient, you can download the beta versions of Gboard and install them on your phone.
Ultimately, no matter which method you choose to access new emojis, updating emojis is generally a simple process. However, it might not be bad to install a new keyboard on your phone to experience a new mood and get new emojis by updating the keyboard.
---
Frequently asked questions about how to update emojis on Android
What are the ways to access the latest emojis?
Updating Android mobile, using Emoji Kitchen, creating exclusive emojis, installing Android keyboards, etc. are the ways to access the latest emojis.
What are the most standard Android keyboards to access emojis?
Among the best Android keyboards are Swiftkey and Ginger Keyboard.
How to use Emoji Kitchen to access the latest emojis?
The Google Keyboard app has recently added the Emoji Kitchen feature to its program. To access it, just click on the emoji symbol while chatting with someone and see the suggested emojis above the chat bar.
---
In this article, we talked about "How to update emojis on Android" and we are waiting for your experiences to use these methods. Please share your thoughts with us.