How to scan QR codes with iPhone camera 2023
Nowadays, QR codes are known as one of the popular solutions for sharing links, passwords, etc., and it is possible to scan them quickly and easily with smartphones and most tablets. In the following article, we have discussed how to use the iPhone barcode reader, which is available as a system and does not require the installation of additional tools.
iPhone barcode reader prerequisites
As mentioned at the beginning, the iPhone barcode reader is included in the operating system of this device by default; As a result, there is no special prerequisite to use it. However, it should be noted that this feature is automatically activated in iOS 12 and its newer versions; As a result, if you are using iOS 11, you have to manually activate this feature. To do this, just follow the steps below.
Enter the "Settings" application (with the gear icon).
Go to the "Camera" section.
Set the "Scan QR codes" option to active (green).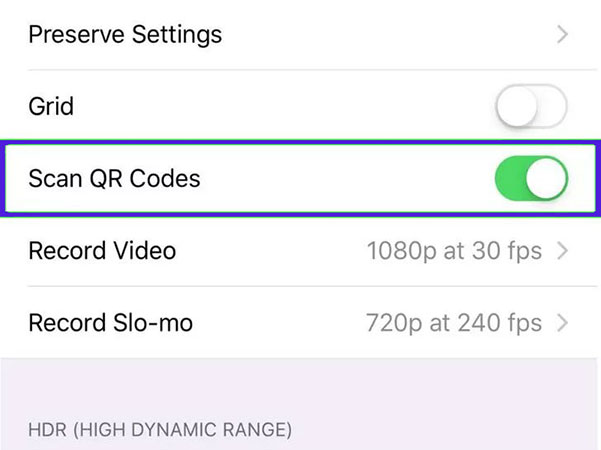 How to scan QR codes with iPhone camera
The iPhone camera program is able to automatically identify barcodes and QR codes. Of course, there are several different ways to access the iPhone barcode reader, the easiest way is mentioned below.
Go to the "Camera" app on your iPhone or iPad.
If the camera is on selfie mode, put it on the main camera.
Point the device's camera towards the "QR" code. Note that the barcode should be in the middle of the page and not in the margins.
If the QR code is scanned correctly, a notification will appear at the top of the screen with a preview of the barcode content.
Tap on the displayed notification to be taken to the page or app associated with the QR code.

---
Frequently asked questions about How to scan QR codes with iPhone camera
What is the easiest way to scan QR codes with iPhone?
If you are using iOS 12 or later, it is enough to enter the device's camera app and point its lens at the desired barcode to be scanned automatically.
Is there a need to manually activate the iPhone and iPad barcode reader?
In iOS 12 and iPadOS 12 or later versions of these operating systems, the ability to automatically scan QR codes is enabled by default; But in older versions, it must be activated manually in the settings section of the device.
Do you need an external app to scan QR codes on iPhone and iPad?
No; The default camera app of iPhone and iPad can automatically recognize QR codes in Photo mode.
---
In this article, we talked about "How to scan QR codes with iPhone camera" and we are waiting for your experiences to use these methods. Please share your thoughts with us.