Samsung's new attempt to defeat Apple
Galaxy S23 Ultra became the official camera of the world's most popular YouTuber
Samsung has partnered with YouTube channel MrBeast to promote the Galaxy S23 Ultra and Galaxy Z Flip and Fold 5.
Samsung has partnered with the popular YouTube channel MrBeast to promote its most expensive flagship phones. Based on this collaboration, the Galaxy S23 Ultra will be used as the official vlog camera in this channel. Galaxy Z Flip 5 and Fold 5 are also used in the production of content in this channel.
In a press release on its website, Samsung announced that it will work with the MrBeast channel to make Galaxy phones the channel's official vlog camera. The first video from the collaboration was released on September 16th and featured test-driving cars ranging from $1 to $100,000,000.
Samsung says ease of use, long battery life, high video quality, and unique form factors are among the reasons behind this collaboration. According to this partnership, Samsung phones will not only be used and promoted in the videos but they will also be used to record and edit parts of the videos.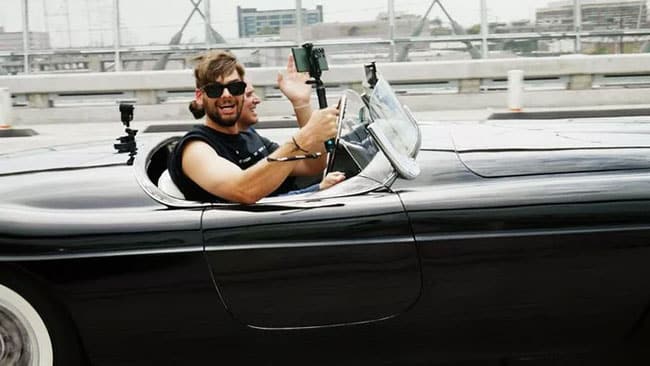 Samsung promotes Galaxy products in collaboration with MrBeast
Samsung is no stranger to spending heavily on marketing campaigns and is likely confident that the payoff from this partnership will benefit them. The company hopes that with this collaboration it can find more fans, especially in the United States, where the majority of MrBeast's audience is from.
"Content producers can do amazing things with Samsung Galaxy products," said Janet Lee, senior vice president of Samsung's mobile business in the US. We want to help all content creators and show them what they can do with Galaxy devices in their hands. We hope to inspire others to get hands-on and create content by working with MrBeast."
"Mister Beast" channel, which belongs to "Jimmy Donaldson", is one of the most popular content creators in the world and tries to push the boundaries of content creation in his videos. "We chose Samsung Galaxy devices for their high image quality, ease of use, and versatility," he says about working with Samsung. Galaxy S23 Ultra and Galaxy Z series lead to better content creation. It's as simple as that."