GTA 6 will be released in 2024, according to the document provided by Microsoft to the CMA regarding the purchase of Activision Blizzard.
GTA is one of the most popular games of all time in the game industry. Although the fifth game in this series (GTA 5) was released in 2013, it still breaks records in terms of sales. However, fans are still waiting for the latest version of the series, GTA 6, which has been rumored for years. Now Microsoft has mentioned its release date in one of its documents.
Microsoft's acquisition of Activision-Blizzard is now under scrutiny by the Competition and Markets Authority (CMA), the UK's regulatory body. The CMA intends to investigate the multi-billion dollar transaction between these two companies. Microsoft has recently defended itself by publishing a document, in some parts of which the future of the game industry and the release time of GTA 6 are mentioned.
According to Microsoft, GTA 6 will be released in 2024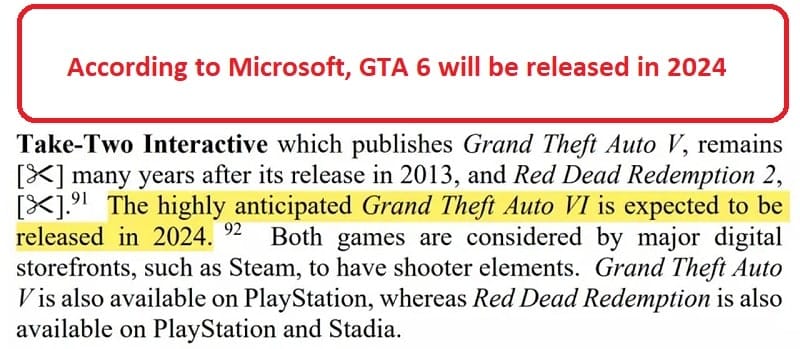 Microsoft argues in its document that the Call of Duty series, one of Activision Blizzard's most important franchises, alone does not have enough market share to hurt competition, pointing to franchises such as Grand Theft Auto. The noteworthy point of this document is on page 24:
"The highly anticipated game Grand Theft Auto VI (GTA 6) is expected to be released in 2024."
Considering the collaboration between Microsoft and Rockstar (Rockstar), the developer of the GTA game series, as well as the information that has been released so far about this game, it can be said that the information provided by Redmonds is most likely correct.
Also, some previous reports said that the long-awaited game could be ready for release by 2025, although its availability in 2024 doesn't seem unlikely. Also, since a game as big as GTA 6 requires a lot of precision and sensitivity, it is possible that Rockstar will announce the initial release date of 2024 and then push it back by a year.