Self-discipline is the easiest and fastest way to make life easier. This is the key to everything you dream of. Discipline creates freedom. Freedom to do everything!
No matter what level you are in your career or what industry you operate in, self-discipline is a trait that must be developed over time. By growing and developing self-discipline, whether in the job search process or your current role, you can successfully set goals and achieve your career and personal goals.
What is self-discipline and why is it important
Self-discipline is the ability to focus intently on a task or goal with the intention of achieving specific results.
Before reading this interesting article, I suggest you watch the following video
As with other traits that may contribute to your overall success, self-discipline is a trait that ensures sustained success over time. Individuals with self-discipline usually rely on a group of characteristics, such as:
high-mindedness
Focus
organization
perseverance
responsibility
resilience
Strong work ethic
Self-discipline is the ability to do what you have to do.
Self-discipline often means giving up comfort and temporary desires for long-term success.
For example, if you want to get fit, you should make an effort to get long-term health and wellness benefits.
Dr. Steve Peters explains in The Champ Paradox that we are what we want to be now.
Our emotional mind prevents us from acting the way we need to to achieve our goals.
Self-discipline gives us the ability to take rational action over emotional thoughts.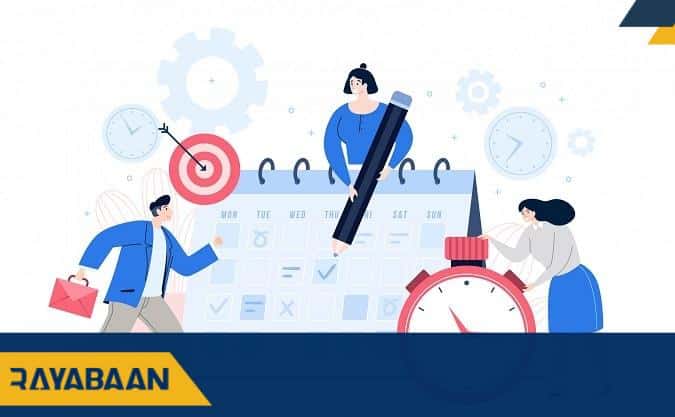 1. The principle of contradiction  in self-discipline
When making any decision, two competing criteria usually influence our choice. Part of our brain processes emotions and prompts us to make decisions based on what makes us feel good. But there is another part of the brain that is analytical. This section evaluates logically and gently invites you to consider things that have logic.
These two forces are always in conflict with each other and pull us in two opposite directions. Logically we know what we should be doing, but emotionally we feel what we want to do. Our human tendency is to make force-based decisions that are more important than other decisions at a time and place; In the short term, our emotions almost always trump rational considerations; Therefore, we make decisions based on emotions.
Most of us decide that we want to simplify our lives and do things that make us feel good in the short term. But easy choices in a short time always conflict with what makes life easier in the long run.
For example, neglecting physical exercises results in a short-term loss of exercise; But it quickly leads to medical expenses, low energy, and in the long run it lowers our self-esteem. A great metaphor here is that what seems simple and makes us feel good in the short term usually doesn't last.
Successful people know that making decisions based on what makes them feel good in the short term is a tempting shortcut requiring more work in the future. Likewise, they know that creating an easy life, in the long run, requires choosing challenging activities in the present.
The greatest paradox is that what we think is the easy way, and what seems to be the easiest way, leads to the creation of a life that is nothing but the hardest.
2. Duties; The principle of purchasing in self-regulation
No matter how you define success, achieving it inevitably requires increasing your energy (somewhat physical) and emotional energy. Emotional intelligence is strengthened by following every action. Commitment is easy at first and then becomes difficult and reaches a climax or "pivot".
This key moment often manifests as a kind of breakdown in life. We all face hundreds of turning points in different areas of life. Some never survive these points. Whether successful or unsuccessful, everyone faces these critical turning points, and most importantly, we all want to quickly get through this point of emotional turmoil and uncertainty and return to a state of normalcy and calm; But our mindset in these critical moments is what makes the difference.
Interestingly, the emotional energy involved in making a decision is many times greater than the practical energy involved in implementing that decision. It's not that hard to exercise and go to the gym, it's more important to sit on the couch and decide whether exercise is hard or not. Successful people and ordinary people alike struggle with diverse priorities and tough choices.
Decision-making is slightly different, but in the long run, it makes a big difference. All this work is limited to some degree of change in their attitudes.
3. Concentration; Theory of meticulousness in self-discipline
If you put a piece of paper on the asphalt on a hot summer day, nothing will happen to it, but if you put a magnifying glass between the paper and the sun, it will burn. why? Because the focus is power. If the sunlight is concentrated enough, it will provide enough energy to set the paper on fire. When the water is sufficiently concentrated, it can be cut into steel. The principle of zooming in focus only speaks to one of the most important facts of life: Focus is power.
One of the important steps in developing self-discipline is developing focus. If we have bad focus, we get bad results. Another way to maintain focus is to reduce distractions in life.
4. Honesty; The principle of self-ordering
The principle of creating integrity says that all creation follows a powerful and simple process: you think it, you speak it, you act it and it happens.
From the chair you sit on to the tallest buildings in the world, the company you work for, and all the media you love, this code pattern has been repeated over and over again. Words are the engine that creates actions. Words, like our thoughts, have great power when chosen with compassion and intention. Having a voice, and as a result, speaking with strength and consistency is a reliable foundation for a disciplined life. With strong commitment, you can do anything you want in life.
What are self-discipline exercises?
This question arises for many people, what are self-discipline exercises? Making small activities a habit can help you become more self-disciplined at work.
Although the following exercises may not be specifically related to your work responsibilities, they can support your efforts to maintain a disciplined state of mind. The exercises that you can include in your daily planning are:
1. Meditate for 10 minutes every day
Meditation is a popular self-discipline practice that's easy to incorporate into your daily routine. Meditation reduces stress and increases focus, both of which are necessary to achieve important work goals, and ultimately increase personal discipline.
2. To Personal discipline, make your bed
When you make your bed at the beginning of the day as the first task of self-discipline, you are starting your day by completing a task before going to work. The feeling of achieving a small achievement before starting the day can put you in a more productive and disciplined state of mind for self-discipline.
3. Eliminate distractions
When you are at work, try to avoid distractions that take your time and distract you from working towards your goal; For example, you can put your cell phone in a desk drawer, use monitoring apps or block social networks, or very simply, set a specific period on your calendar to focus on a certain task, all of these things will improve your discipline.
4. Practice gratitude
Take time in your day to appreciate small victories or happy moments. This will increase and keep your motivation high. You can write down 3 things you are grateful for at the end of each day. After 6 weeks, see how your self-discipline and motivation have been affected.
5. To increase self-discipline, keep your goals in front of your eyes
Writing down goals can increase your motivation to achieve more self-discipline. Write your goals on paper and place them on your desk or computer. Take time to celebrate small victories or short-term goals.
6. Remember that failure is necessary to achieve success
Self-discipline does not require perfectionism. There is nothing wrong with not reaching some of your goals or not being able to do the exercises properly. Failure is a natural part of success. The important thing is to keep moving forward and get closer to your goals. Acknowledge your failures, reward your victories and never give up.
You think about it, you talk about it, you act on it and it happens. It may not be what we want to hear about success, but the only guaranteed way to excel in any endeavor is discipline.
Share your thoughts about "What is self-discipline and why is it important" with us and make me a comprehensive article
We are waiting for your comments and experiences.