Twitter has suspended its policy against the spread of false information about the Corona virus
Twitter will no longer monitor tweets that spread false information about the coronavirus and will not suspend accounts that publish such content. Of course, this news was not announced in a press release but as a small note on one of the blog pages of this platform.
In an update to a January 2021 post, Twitter added a note that said: "As of November 23, 2022, Twitter will no longer have a policy [against] misleading information about COVID-19." No other information about this policy change is available on Twitter.
Under the policy, which was first introduced in 2020, Twitter said it would remove clearly false and potentially misleading content that could pose a health risk to users. On the other hand, some misleading content received a label to notify the user that their content is disputed. This policy resulted in the suspension of 11,230 accounts and the removal of nearly 100,000 pieces of content since January 2020.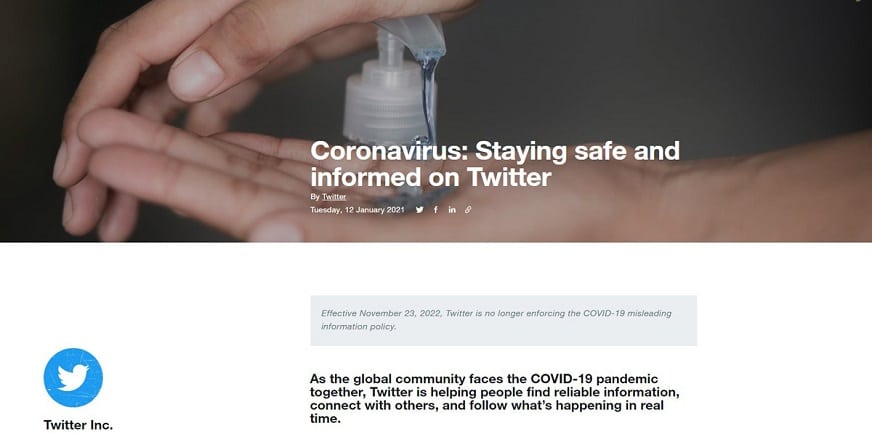 Elon Musk's Twitter pardon reached the field of Corona?
In a poll last week, Elon Musk asked users whether people who didn't break the law and didn't send spam deserved to be pardoned. Following the positive response of most users, the new owner of Twitter announced that he will return these suspended accounts to this social network starting this week.
Musk is reportedly restoring access to 62,000 users, including one with over 5 million followers and 75 accounts with over 1 million followers. It is currently unclear whether all 11,230 accounts suspended due to corona-related issues will return to the platform.
The Verge's analysis of information released from Twitter's Birdwatch program, now known as Community Notes, shows that combating misleading content about the coronavirus has been one of the biggest challenges Community Notes has addressed.
Apparently, Meta has also asked its oversight board to review whether its policies regarding misleading information about the coronavirus need to be changed. The board started its investigations in July but has not yet reached a conclusion.