A lawyer who relied on ChatGPT's lies for his investigation in a case must now be held accountable in court.
The attorney for Levidow, Levidow & Oberman, which is suing Colombian airline Avianca, cited examples of previous court cases created by ChatGPT in its filing. However, this airline soon found out about this issue and informed the court about this incident. Now the plaintiff's lawyer must answer the court about his false statements.
According to the New York Times, "Steven E. Schwartz, the plaintiff's lawyer in this case, has admitted that he used OpenAI's chatbot for his research. He says ChatGPT answered yes when asked if the files were real, but shied away from providing a source and simply claimed that the files were available in the Westlaw and LexisNexis databases.
However, the investigation by the legal team of Avianca Airlines showed that these cases are not true and informed the court about this matter. In one case, for a non-existent case called "Vargese v. China Southern Airlines," the AI chatbot appeared to refer to another real case, "Zickerman v. Korea Airlines," but in that reference the same date (and a few details other) was wrong.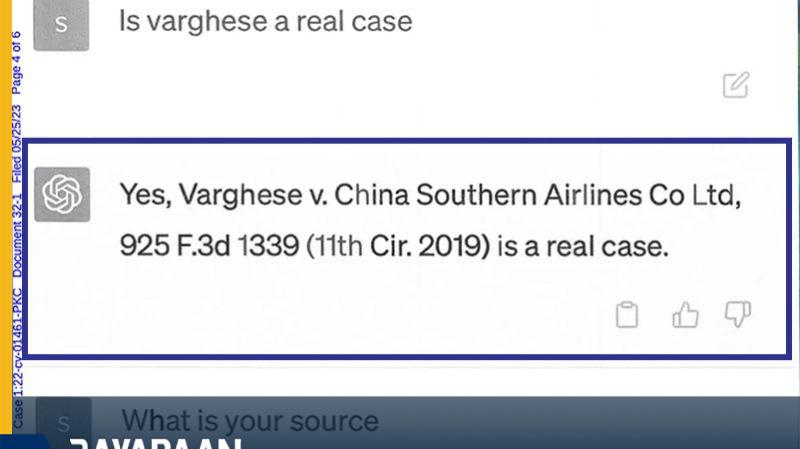 The lawyer in the case regrets using ChatGPT
Schwartz says he was not aware of the possibility of errors in these contents. He regretted the use of artificial intelligence in this complaint and claimed that he would never do such a thing again without obtaining 100% certainty of the validity of the cases.
The judge, in this case, has now scheduled a hearing for next month to consider fines for Schwartz if necessary. This case shows how troublesome the issue of "illusion" can be in generative AI tools and why these tools should not be used for serious work in order to cite content.