Elon Musk has again hinted at his fight with Mark Zuckerberg and claimed that it will be broadcast live on X.
In a post on the social network X (former Twitter), Elon Musk again discussed the fight with Mark Zuckerberg. He says he's been hitting the weights at work these days to prepare for the fight and will be streaming the fight live on Platform X.
In a situation where it seemed that there will be no more news about the physical fight between Elon Musk and Mark Zuckerberg, the owner of Twitter has once again turned the attention to this battle. In a tweet on his personal page, he wrote: "Zack vs Musk will be live on X. All proceeds from this live broadcast will go to charity for the benefit of veterans."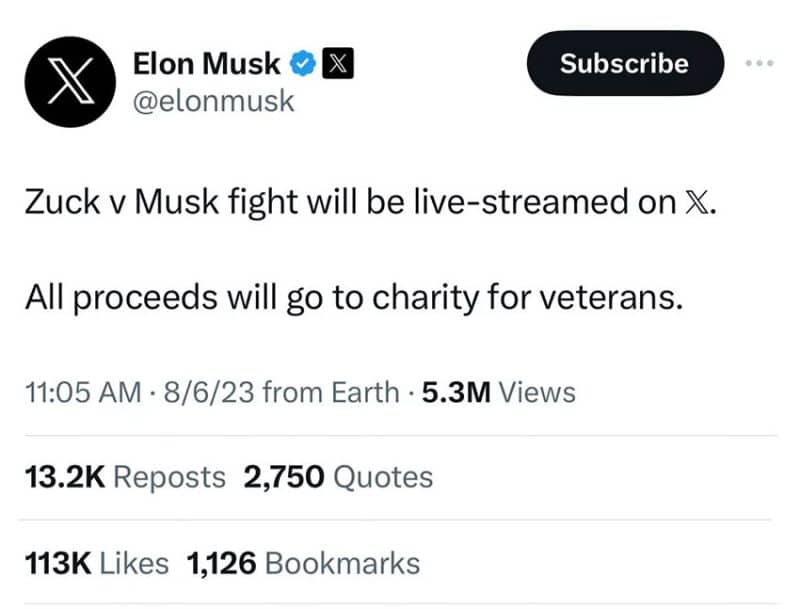 It is not yet clear when this fight will be held; However, Musk had said in another tweet a few hours earlier that because he did not have extra time for training, he had to bring training equipment with him to work and lift weights during the day to prepare for this competition.
Elon Musk recently tested Twitter's live streaming functionality, and in that short one-minute live stream, we saw that he has weights in his office that he uses to work out. Musk said that his weak point is physical endurance and he is trying to fix this problem as soon as possible.
The CEO of Tesla also wrote in response to a user who asked what his goal was with this fight: "This fight is a civilized form of war. "Men love war."
Mark Zuckerberg has not yet reacted to Elon Musk's new statements about this race. Considering that meta platforms also have the ability to broadcast live video, it remains to be seen if Zuckerberg will broadcast this fight separately on his services or if there is an agreement between the two people.