In the Steam database, two new Mac models named "Mac14,6" and "Mac15,4" have appeared, which have not yet been announced.
Although contrary to expectations, Apple did not unveil the new version of the 14-inch and 16-inch MacBook Pro this year, it seems that the company is investigating their performance, at least in the field of gaming; Because now two new Mac models have been seen in the Steam database.
In Steam's November 2022 review, two new Mac models named "Mac14.6" and "Mac15.4" appear that have yet to be announced. In the relevant list, there are also products such as Mac Studio, MacBook Pro M2, and MacBook Air M2.
In the published list, the amount of use of these new Macs on the Steam platform has been declared as zero percent. However, the inclusion of these products in the list can indicate that they are being reviewed by Apple. Apparently, Apple is testing the gaming performance of these new devices with Apple Silicon chips on the Steam platform.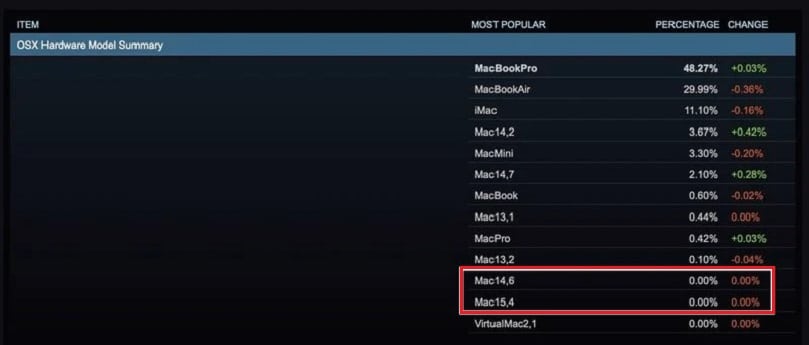 Two new Macs with M2 Pro and Max chips?
This is not the first time we come across the name Mac14.6, and in the past, this model has been seen twice with the M2 Max chip in Geekbench benchmarks. Apple is expected to use this chip in the new generation MacBook Pro 14 and 16 inches. These products, which were expected to be introduced in November 2022, are likely to arrive early next year.
The new generation MacBook Pro will most likely come with M2 Pro and Max chips, which are expected to support more RAM along with higher performance. According to the observation of the new Macs on the Steam platform, it is likely that the graphics performance of the new Cupertino chips will be significantly improved compared to the past.
In addition to the new MacBook Pro models, we expect to see the Mac mini equipped with the M2 chip as well as the Mac Pro equipped with the M2 Ultra or Extreme chip.