Microsoft has just announced that it plans to remove Twitter from its advertising platform next week. The decision comes after Twitter pulled free access to its API and charged a hefty monthly subscription. In response, Elon Musk has threatened Microsoft with a lawsuit and legal actions.
What are the consequences of removing Twitter from Microsoft's advertising platform?
In a controversial decision, Twitter has changed the way it accesses its API and introduced new tariffs for the service by emailing its users. According to Twitter's new guidelines, corporate user accounts, and research institutes must pay $42,000 per month to use the social network's application programming interface.
The recent action of Twitter has led to the dissatisfaction of many users and organizations; Because most of them cannot afford to pay such an amount and will have to close their services. However, it is clear that Microsoft does not have a problem in providing expenses; As a result, the removal of Twitter from the company's advertising platform was an act to express dissatisfaction and attract the attention of the media.
In Microsoft's statement, it is mentioned that from May 5th, smart advertising campaigns with multi-platform support will no longer include Twitter. Also, the "Digital Marketing Center" will no longer support Twitter; As a result, users can no longer access their Twitter account through Microsoft's free social network management service; But it will still be possible to use other platforms such as Facebook, Instagram, and LinkedIn.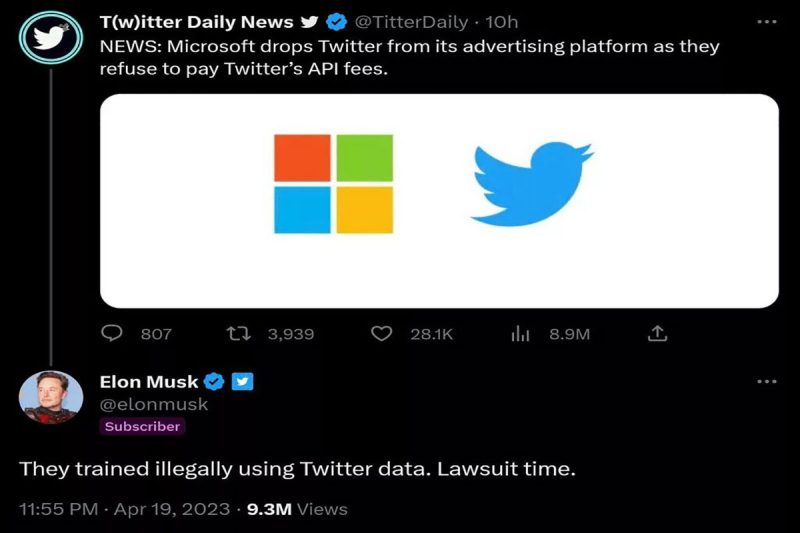 Following Microsoft's recent decision, Elon Musk has accused OpenAI of illegally using Twitter data to train its ChatGPT AI. It is worth noting that Musk is one of the co-founders of OpenAI in 2015; But after a few years, he left the company and has recently announced that he plans to create a competitor. On the other hand, Microsoft has been able to obtain various contracts by investing in the mentioned company and using its technologies in its various products, including Bing.
Twitter has lost half a thousand advertisers since the new management took over, and its removal from Microsoft's advertising platform could have dire consequences for the company. Microsoft has declined to comment on Musk's tweets and new measures. Now it remains to be seen whether Musk will be serious in his decision or just make an empty threat.