According to the published image, the OnePlus charger will use two USB-A and Type-C interfaces at the same time.
OnePlus has gradually started to offer products other than phones. The Chinese company recently launched its monitor in India and in the past it also launched many different products like headphones and televisions. Now, OnePlus is getting ready to launch its dual-port 100W fast charger.
According to published reports, OnePlus plans to introduce a 100W fast charger with two ports for the first time. The charger is said to support PD fast charging up to 65W. Also, according to the published promotional image of this product, the OnePlus charger will use two USB-A and Type-C interfaces at the same time.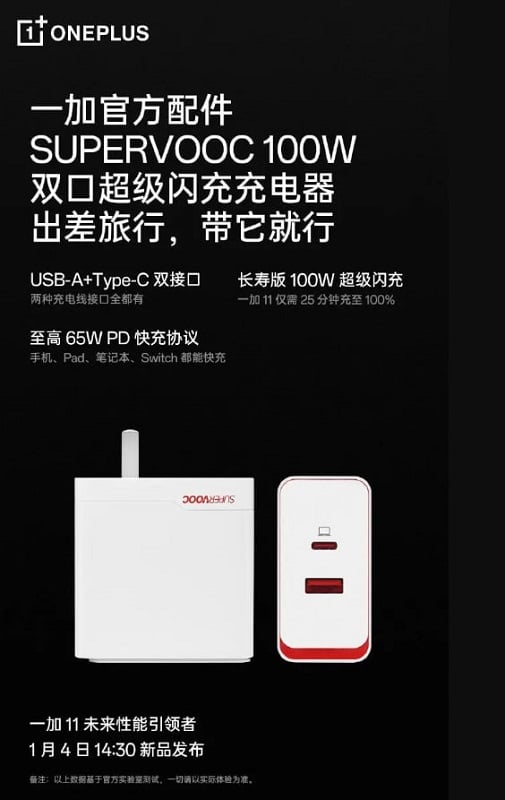 This charger can be used to charge almost all of your compatible devices such as laptops, wireless headphones, and smartphones. Moreover, there are also reports claiming that OnePlus will launch the device with its upcoming phone, the OnePlus 11, in mind.
As previously reported, the OnePlus 11 will have a 5,000mAh battery with 100W fast charging support. According to official claims, the charger can fully charge the device's battery (100%) in only 25 minutes, and the device's charge will reach 50% after only 10 minutes.
Recently, in another separate report, the complete specifications of the OnePlus 11 were revealed. According to this report, the upcoming phone of the Chinese company on February 7 (18th of February) with specifications including a 6.7-inch AMOLED display with a 120 Hz refresh rate, an 8-core 3.18 GHz Snapdragon 8 generation 2 chip and two versions with 12 and 16 GB of RAM and memory Internal 256 and 512 GB are introduced.