LG has displayed two important products, one of which has the ability to fold 360 degrees, and the other has no creases.
A few years have passed since the introduction of the first folding phones, now we are apparently entering a period where the form of folding screens will become more diverse. LG said a few days ago that it will come to CES 2023 with innovative displays, and now it has shown two new screens, one of which can be folded 360 degrees, that is, backward and forwards.
LG presented two interesting concept products at this year's CES. The first product looks like an 8-inch smartphone that can be folded in two directions. The other looks like a 17-inch laptop/tablet with a nearly crease-free folding display.
The first concept product, which LG calls a 360-degree foldable OLED display, is actually an 8-inch screen that looks a lot like Samsung's Galaxy Fold, but its ability to fold is not limited to just one side. In other words, in addition to folding this device inwards, you can also fold this screen outwards.
LG says that devices that use this 360-degree mechanism can have a variety of uses. Also, it goes without saying that a device with this design should last a long time. LG says this display is folded up to 200,000 times and is more durable than most competitors on the market.
LG's 17-inch folding display without creases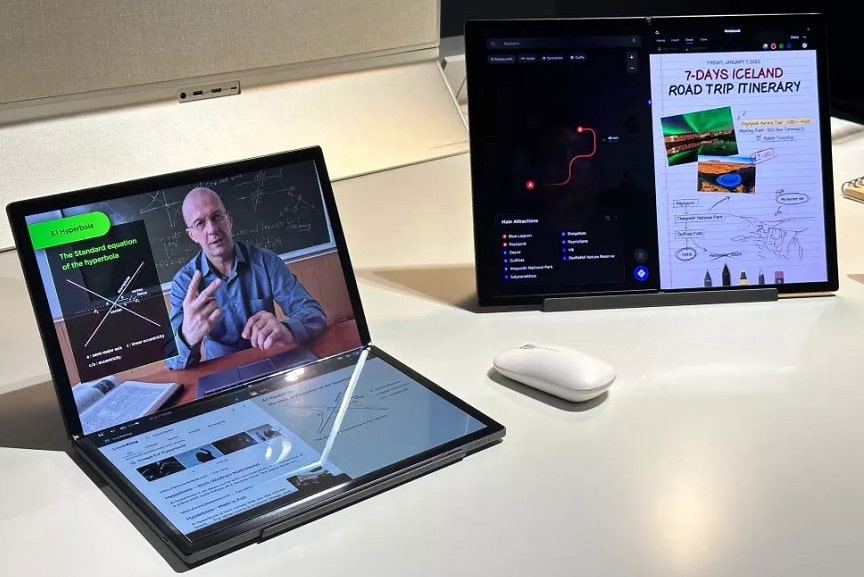 We've seen laptops with foldable displays before, even at CES 2023 itself, but LG claims that the company's 17-inch screen is virtually crease-free. Of course, Engjet media says that if you look closely at this page, you can see the folding effect on it, but when the page is opened, it is very difficult to see this folding.
Additionally, unlike many of its counterparts, this device does not create a gap between the sheets when folded. LG says that it has folded this display up to 50,000 times and there is no problem with its performance.