About a decade ago, the newspaper's wanted page was the best place to find and advertise job openings. A little further, I reached the magical age of the Internet, and we searched for job opportunities. We can say that our world today and tomorrow is increasingly dependent on social networks.
Currently, many people use social networks to find projects and job opportunities. The most crucial platform among different names is LinkedIn. The social network that which created for this purpose! Because as you probably know, LinkedIn is a platform for networking and finding professional people, finding new job opportunities, hiring new employees, and professional interactions in general. This social network has more than 660 million users, and every second, two new users register for it! So what better opportunity than this?!
But how can we post a job ad on LinkedIn to find the right workforce? Is posting a job ad on LinkedIn free?
Stay with us in the rest of this article to check everything about posting a job ad on LinkedIn.
How to post multiple jobs on LinkedIn
Before posting a job ad on LinkedIn, it is better to open a business page for your company or group. On LinkedIn, like Instagram, business pages have differences from personal pages. Having a business page is useful for placing a job position, and by creating content on it, you can pursue other goals in the content marketing department of your business.
How to create a business page on LinkedIn?
Creating a company page on LinkedIn is very simple. For this you must:
1. Click on the "work" icon in the top right corner of your LinkedIn home page. Select the "create a company page" option.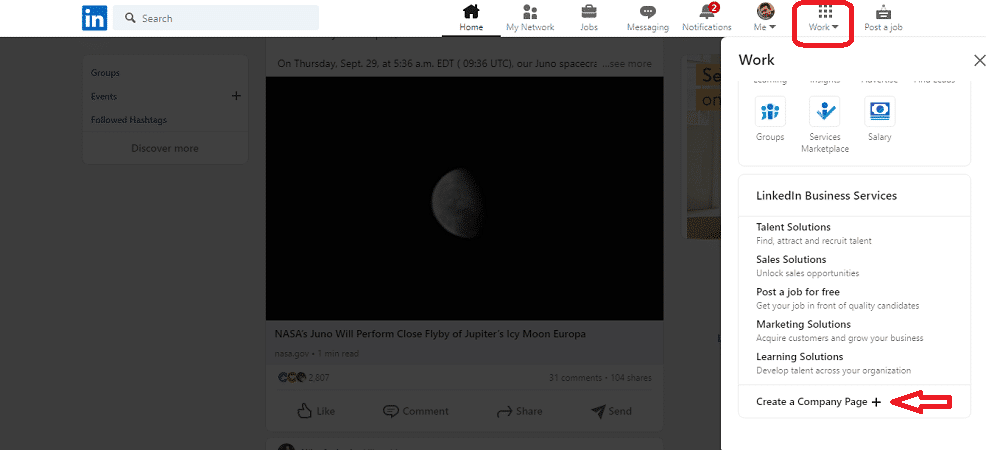 2. In the next step, according to the size of your business, choose the "small business" or "medium to large business" option.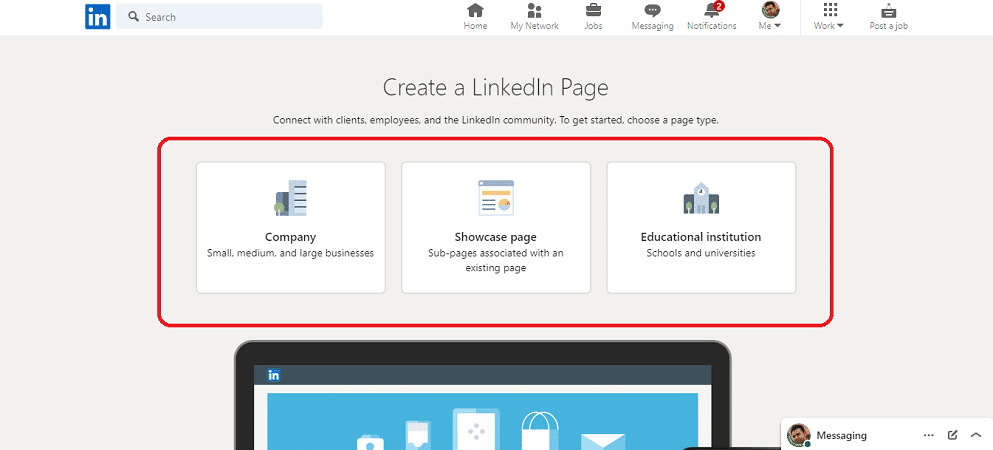 3. Enter the identity of the page, company or institution and finally click on the "create page" option.
Remember that you may receive an error message if your LinkedIn account is new. This message means that; If you want a company page, you need to create your profile and expand your network. After creating the page, click "Start building your page" and add more details.
Procedures for posting a job ad on LinkedIn
Next, to post a job ad on LinkedIn, just follow the steps below:
First, enter the LinkedIn site and log in.
From the home section or the main page of LinkedIn, click on the "work" icon as shown in the photo. Then select "Post a job" among the displayed options.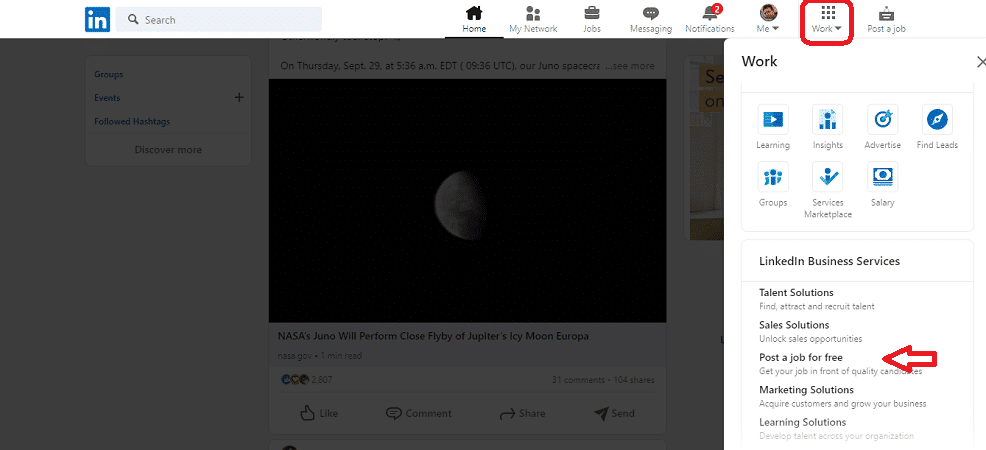 In the next step, select the blanks that include the job title and the location of the workplace, and if the job position is freelance, use the first one.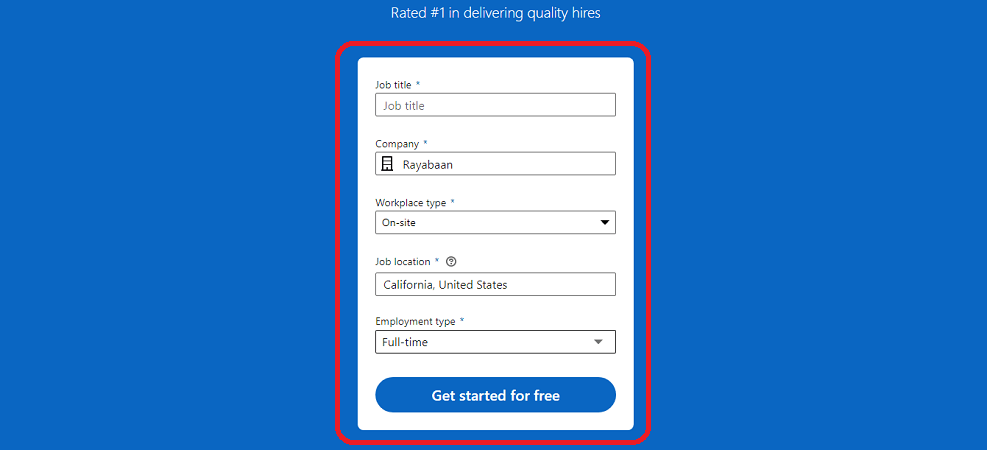 Then select the field of work related to the job title.
At this stage, we must complete the rest of the required information.
For example, you can explain your expectations in the description section. In the "employment type" section, you can specify your type of cooperation. After completing this form, use the "continue" option to reach the next steps.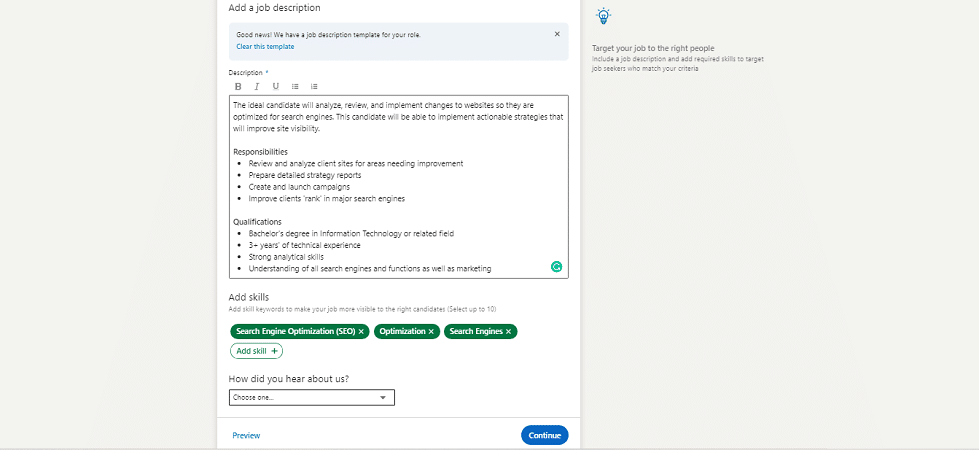 In the next section, you can add a few questions related to the job position, work history of people, etc. as desired to better identify the right people with your criteria.
In the next section you can add the considered rights to your ad information.
Complete the payment step, and after reviewing the information and confirmation, what will register your ad.
This article is also useful for you: Why should I use LinkedIn for my business?
How to post multiple jobs on linkedin for free
Did you read the steps above? Are you unable to pay for the ad registration for various reasons? Well, we have good news for you! In LinkedIn, there are also side ways that you can use to inform your job position and find the workforce you want!
Here are some simple ways to share a job posting on LinkedIn:
Leave a post
One of the simple and common ways is to publish your job position in the form of a post along with the necessary description. You can even create an online form and put its link at the end of this post so that interested people can declare their readiness by filling it.
You can also promote your LinkedIn post on other platforms to get the best results from it. Considering the atmosphere of LinkedIn, the news of your job position will likely reach the ears of many interested and active people in your field of work, and you will find your workforce with the least amount of time possible!
Get help from your employees and colleagues
If you are active on LinkedIn, you probably know many different followers and colleagues who are active in this space like you. Each person in the community has an audience that can spread the news of your job position and help it spread as quickly as possible. So be sure to use their help. Also, in addition to sharing the job position, your colleagues can talk about their work experience in your collection to encourage more people to cooperate!
Use LinkedIn groups
If you haven't joined a LinkedIn group yet, now is the time to start! With a bit of searching, you can find groups related to your field of work and join them. The news of your new job position will probably spread quickly among the people in these groups and inform others.
Be sure to read the rules of each of these groups carefully so that the publication of the employment advertisement does not violate the rules. With a little socializing in these groups, you can probably get a lot of people to help you find the right workforce.
How to get hired or find the right workforce through LinkedIn?
To conclude this article, it is not bad to answer this question from both different points of view. As a workforce, how to find the right job through LinkedIn, and if we are an employer, how to find the right people?
As a workforce, you need to take your LinkedIn profile section seriously! Complete all the different sections of your profile carefully. Follow the principles of having a professional profile and keeping your account up to date. Create content from your experiences continuously and try to make your brand stronger daily by networking on this social network. The more people in your field of work see high-quality content, and the more your expertise is seen in their opinion, the more likely they will cooperate with you.
As an employer, being present in this space, producing suitable content in the human resources department to attract labor, and proper networking with a plan will help you to find the labor you want faster and cheaper when necessary.
---
Frequently asked questions about How to post multiple jobs on LinkedIn
How many jobs can I post on LinkedIn at once?
LinkedIn allows you to post up to 30 jobs at once on its platform. However, it's advisable to post a few jobs at a time so that your hiring needs are well-promoted and your company's profile remains active.
How do I post multiple jobs on LinkedIn?
To post multiple jobs on LinkedIn, you need to have a LinkedIn Recruiter or a LinkedIn Jobs account. You can then use the bulk upload feature to upload your job postings in a CSV file. This makes it easy to post multiple jobs at once.
Can I target specific groups of people with my job postings?
Yes, you can target specific groups of people with your job postings on LinkedIn. You can use LinkedIn's targeting features to reach the right audience based on factors such as location, job title, and industry.
How much does it cost to post multiple jobs on LinkedIn?
The cost of posting multiple jobs on LinkedIn varies depending on the type of account you have and the features you want to use. LinkedIn Jobs and LinkedIn Recruiter both have different pricing plans, so you'll need to compare them to find the best option for your company.
How long does a job posting stay on LinkedIn?
A job posting on LinkedIn will remain active for 30 days unless it is deleted or marked as filled. After 30 days, you will need to repost the job if it's still open.
---
Thank you for staying with us until the end of this article. If you have a question about posting a job advertisement or How to post multiple jobs on LinkedIn for free, be sure to share it with us in the comments section so that we can check the answer.