Google Pixel 8 box images were revealed a few days before the unveiling
While Google is going to introduce its new flagships on October 12, images of the Pixel 8 box have been leaked.
The Pixel 8 series will be officially announced on Wednesday night, and we have almost all of its specifications and pricing. Now, a few days before the unveiling, pictures of the box of this phone have been leaked so that we don't have to leave anything to our imaginations.
In the images released from the Pixel 8 box, the phone can be seen with the same expected design as seen in the leaked images. In the rear frame of this product, two cameras and an LED flash are placed, and in this sample, the gray color of Pixel 8 can be seen. Of course, the color of the box itself is white.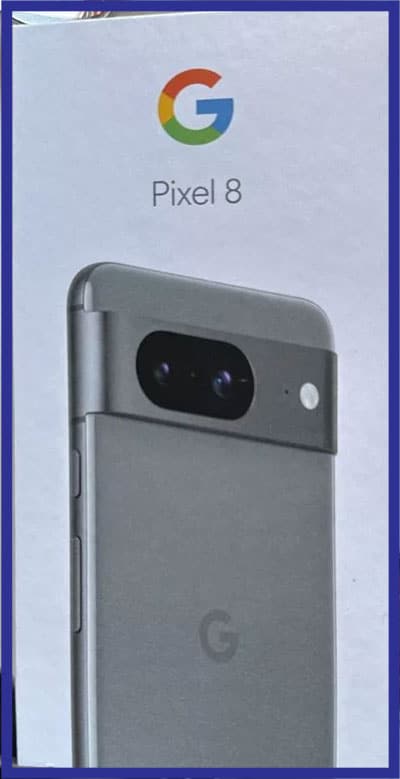 Pixel 8 technical specifications
Descriptions are written on the back of the box, which includes part of the technical specifications of this phone. Among these specifications, we can see 5G below 6 GHz, a 6.2-inch display, and 128 GB of internal memory. It is also mentioned that there is a charger cable and a Quick Switch converter in this box. Additionally, we can see the model code of this device as G9BQD.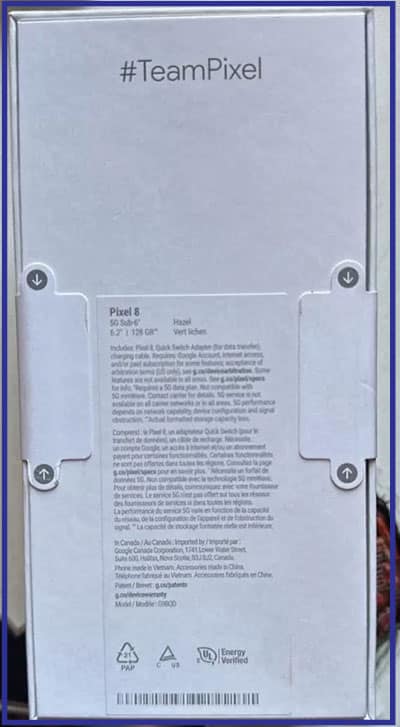 This box doesn't show us anything else important and we can only see the TeamPixel hashtag on it. However, in previous reports, almost all the features and specifications of the Pixel 8 and Pixel 8 Pro have been revealed. The Pixel 8 will have a 50-megapixel main camera and a 12-megapixel ultra-wide camera with autofocus.
Pixel 8 Pro also uses a 6.7-inch screen and uses a triple camera on the rear frame. This module includes a 50-megapixel main camera, a 48-megapixel ultra-wide camera, and a 48-megapixel telephoto camera with 5x zoom.
Both members of this family will be equipped with Google's exclusive Tensor G3 chip and will be resistant to water and dust with the IP68 standard. Join Rayabaan on Wednesday night to welcome the new products of this giant of the technology world together.