Designed to compete with Microsoft's Copilot AI, this feature can summarize free articles for users.
Google has unveiled a new artificial intelligence feature for the Chrome browser's SGE experience that allows users to summarize articles on the web. Google is competing with Microsoft's Copilot AI with this experimental feature, which can be used to make sense of complex research topics, although the tool only works with pages that can be viewed for free.
As Google explains in its blog post, the new feature has been available since Tuesday as "an early test" in the Search Labs program. First, users of the Android and iOS versions of the Google app will get access to it, and then the tech giant will add it to the desktop version of Chrome in the coming days.
Summarizing articles with Google artificial intelligence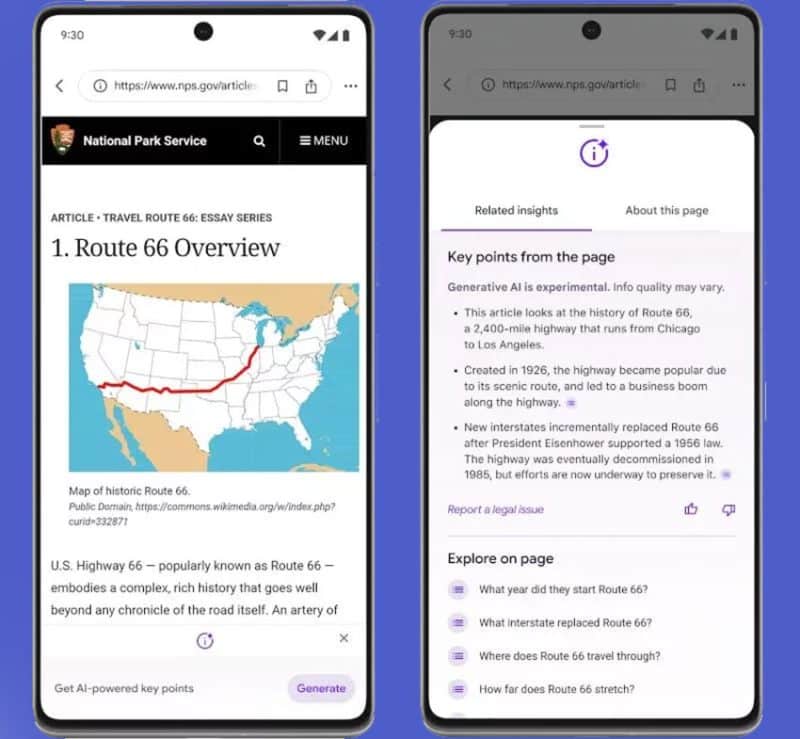 Whenever Google's AI can generate the key points of the page you're visiting, you'll see an option like the image above with a Generate button at the bottom of the page. Also, below the key points presented, there is a section titled "Explore the Page" that answers various questions about the article.
In addition, Google is also testing other AI features for the search experience through its browser. With one of these features, you can hover over specific words in articles on topics like science, economics, and history to display definitions or charts about them.
Finally, for developers who use AI tools to code, Google has added new capabilities to its search AI experience that can help you better understand and debug generated code. Google explains that with this new update, parts of the code will be highlighted and colored so that elements such as keywords, comments, and strings can be identified and checked more quickly and easily.