Elon Musk has said he will step down as soon as he finds someone stupid enough to run Twitter.
Elon Musk finally responded to the results of his poll two days ago on whether to resign or continue to manage Twitter. Twitter's new owner has tweeted that as soon as he finds someone stupid enough to run Twitter, he will step down as CEO and focus solely on managing the software and server teams.
Elon Musk said last month that he does not want to be the CEO of any company and the management of Twitter will be temporary. But since then, he did not talk about his resignation until a poll was held. Two days ago, the new owner of Twitter held a poll about his continued management, and the majority of users wanted him to step down as CEO. Of course, according to reports, Elon Musk was looking for his replacement on Twitter before conducting this survey.
Elon Musk is stepping down as CEO of Twitter
In the survey conducted by Elon Musk, more than 17 million users participated, and nearly 10 million of them, i.e. 57.5%, agreed with his resignation as the CEO of Twitter. Elon Musk had said in this poll that he would remain committed to the results, so we were waiting for him to announce his resignation shortly after the results were announced, but now he has done so.
Elon Musk said in a tweet, following his survey, that he will apply as soon as he finds an alternative:
As soon as I find someone stupid enough to run Twitter, I will resign as CEO. After that, I will only manage the software and server teams.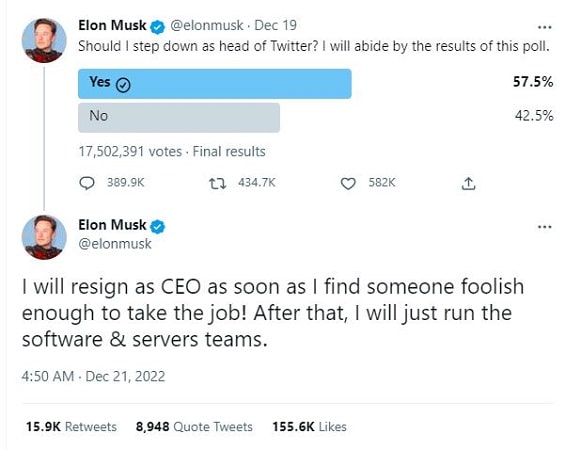 Elon Musk's management on Twitter is short-lived, but in this short time, he has experienced many troubles. The new owner of Twitter, who sought to increase the income of this social network in various ways, launched the new Twitter Blue service, but due to various reasons, including impersonation, he had to stop offering it at first, and after a few weeks, he did it again. resume Of course, despite all the efforts, the company's revenues are expected to experience a significant decrease.
But that's not all. The purchase of Twitter by Elon Musk and the focus on this social network also resulted in the protest of Tesla shareholders and the value of shares of this automobile company experienced a significant decrease, to the point where Elon Musk is no longer the richest person in the world and after a long time, he lost this title from has lost
Now we have to wait and see who will be chosen as the new CEO of Twitter and whether the performance of this social network will change with the new management. In addition, it remains to be seen how Elon Musk as an owner will influence the new CEO's decisions.