Elon Musk claims that Apple has threatened to remove Twitter from the App Store for unspecified reasons. He also claimed that the iPhone maker has almost stopped advertising on the platform. Musk then conducted a survey asking users whether Apple should publicly announce all its censorships that affect users.
The current CEO of Twitter addressed Apple in several tweets and announced that the company has stopped buying ads from this social network and threatened to remove their app from the App Store. However, some Apple bloggers say that the Cupertino ads are still there on the platform and can even be seen right next to the corresponding tweet from Elon Musk.
This news has been published in a situation where Elon Musk recently said that if necessary, he will build a mobile phone to compete with Android phones and iPhones. He has also previously criticized Apple's 30 percent fee on the App Store. Since then, "Phil Shiller" as one of the leading managers of Apple, following the purchase of Twitter by Musk, had removed his account from this social network.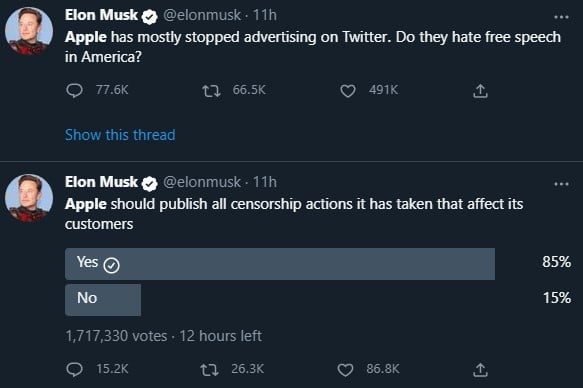 Elon Musk puts Apple under the pressure of public opinion
Twitter has long struggled with App Store regulations. With its app store, Apple exerts great pressure to control social networks, and in this way, it forced Discord and Tumblr to hide some sensitive content. A former manager of Twitter said earlier that Apple and Google will ultimately have the greatest influence on the way this social network is run because of their stores.
Apple CEO Tim Cook recently said in an interview about Twitter: "They say they will continue to manage content. I also count on the continuation of this procedure." However, given Elon Musk's emphasis on free speech and rising tensions between the two companies, it remains to be seen whether the world's richest man is really looking to build a replacement for the iPhone and Android, and is even capable of doing so.