Android 14 makes it possible to send SMS via satellite connection for Android phones, especially Samsung Galaxy and Google Pixel phones.
It has been a while since satellite communication entered the world of smartphones, but this feature is still not widespread. Now it seems that Google wants to spread satellite communication among Android phones with Android 14, of course, to use this feature, your phone must have its own hardware.
According to a tweet published by the Pixel team, Android phones with Android 14 will be able to support SMS based on satellite communication.
Android 14 satellite connection for Pixel and Samsung phones
According to the published tweet, to benefit from satellite communication, you need special hardware. Therefore, manufacturers should move in this direction so that their products can support satellite communication in Android 14. Of course, according to this tweet, at first, this feature will be available to Samsung Galaxy and Google Pixel phones.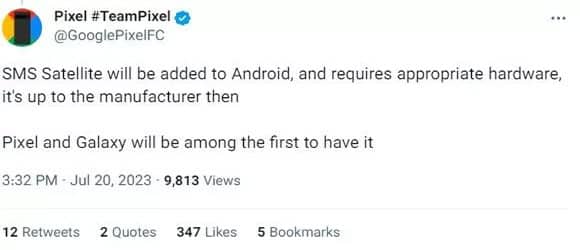 We must point out that satellite communication is currently limited to sending SMS (probably emergency SMS) and for now there will be no news of making satellite calls or streaming video and accessing social networks through satellite communication. Of course, some time ago AST SpaceMobile company in cooperation with AT&T was able to make the first satellite call with a regular phone with the Galaxy S22 Ultra.
Currently, we do not know how Android 14 uses the satellite communication system, and of course when Android phones will be able to support it. If Samsung takes such a path, over time, other companies will also bring support for satellite communication to their products.
The stable version of Android 14 will arrive soon, and of course, the Pixel 8 series phones with the Tensor G3 chip are also on the way. Therefore, it is expected that Google's future phones, like Apple's iPhones, will be able to support satellite communication for sending messages.
Finally, we have to wait and see if Android 14 can make satellite communication universal in the Android world. Of course, considering that soon all Snapdragon chips and Qualcomm 5G modems will support satellite communication thanks to "Snapdragon Satelite" technology, we must prepare ourselves for the spread of this communication system.